"Bale and James have no injury, but they are not available"
"It is not a technical decision, they still do not train with the team and then they cannot play tomorrow," argued the white coach at a press conference.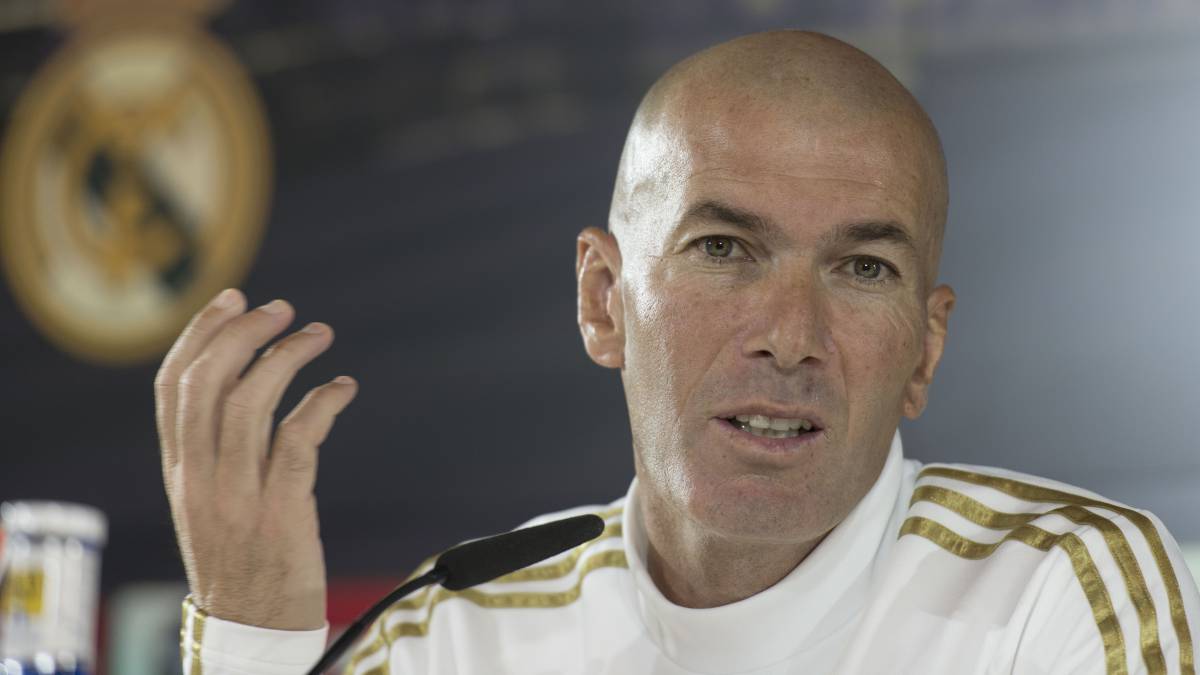 Zinedine Zidane appeared in Valdebebas before the media to analyze, in the press conference prior to the meeting this Saturday before the Eibar, the news of the white team.
How do you see the match in Eibar?
All matches are complicated. Maybe in Eibar it could be that more, because it is a field very different from the others, something smaller. In this League there are no easy games. We are prepared to make a good game knowing the rival.
Leonardo's criticism. Do your statements influence the will of Mbappé?
I said nothing. I said only what the player said, that it was his dream to play here. Everyone then don't know what he wants.
What do you think of the Super Cup going to be in Saudi Arabia, with the social context of that country?
We are here to play. The Federation has made the decision. We are going to respect that and we are going to think about playing
Do you feel brave about putting Rodrygo and that now you can't sit for his performance?
We are 25 players and I have 25 holders. Every game we have to choose and what I'm going to do is always choose
Can you say what Marcelo has?
I'm not going to tell you what he has because I don't have permission from anything. But I know it's a small thing. We are a little quieter with Marcelo.
Do Bale and James have any recommendations not to play with their selection?
Not available, not injured. In the sense that they are not available to play. They will go with the selection. I do not want to do anything. They have five or six days and see if they are ready to play with the national team or not
Do you mean that you are not injured?
No, it's not that. Now they are not available, they are not ready to play tomorrow. They have not trained with the team. Something in the field they have done, but they have not trained with the team. If they do not train with the group, they are not available. They will assess if they can play with the selection. They have six days
Are they not convened by a technical decision?
No. Players do not train with the team yet. When you don't train with the team, you can't play. It is not technical. They are not available to train with the team, I don't decide. They decide and they are still missing something.
Was Rodrygo and Valverde's progression in the preseason
?
I'm not surprised. They are there for that. Each player wants to play and demonstrate what they do. And that's what the two have done lately.
Are you afraid of the break?
This is inevitable. I hope nothing will happen. That we have available to all.
How important is keeping the goal to zero in the last four games?
It means that the whole team works for that, so that at least we try. Then every game is a world. We have to repeat and try.
Challenge in Ipurua
We've had few days to prepare the game. It is a message to our players knowing that it is a different field and that they in their field also play differently than outside. We will see how we are going to play. We are preparing it and we hope that we will have a game as it should tomorrow.
His role with young players like Rodrygo and Vinicius.
It is to talk with them from time to time, nothing more. They also have an environment, a family. They are people who are well wrapped. Also for the club and for the people who work here. Especially at work. You can have a lot of quality and a lot of future, but if you work you will improve and that is important for them. They are 18 year old players and they have a lifetime to learn. I learned myself being 34 years old and playing at Real Madrid.
Modric has played less than a third of the minutes. Do you see it prepared to make you understand that it has to be dosed?
I will never say this to a player. Modric's role is going to be important here. Modric is Modric, we know the quality it has. We are going to have seven or eight games after the break and we need it.
Photos from as.com