Aitor: "I would sleep in Mondragón and then go to San Mamés"
The goalkeeper has been called as a substitute for a polling station on Athletic-Levante day in Mondragón. Today you will know the resolution about it.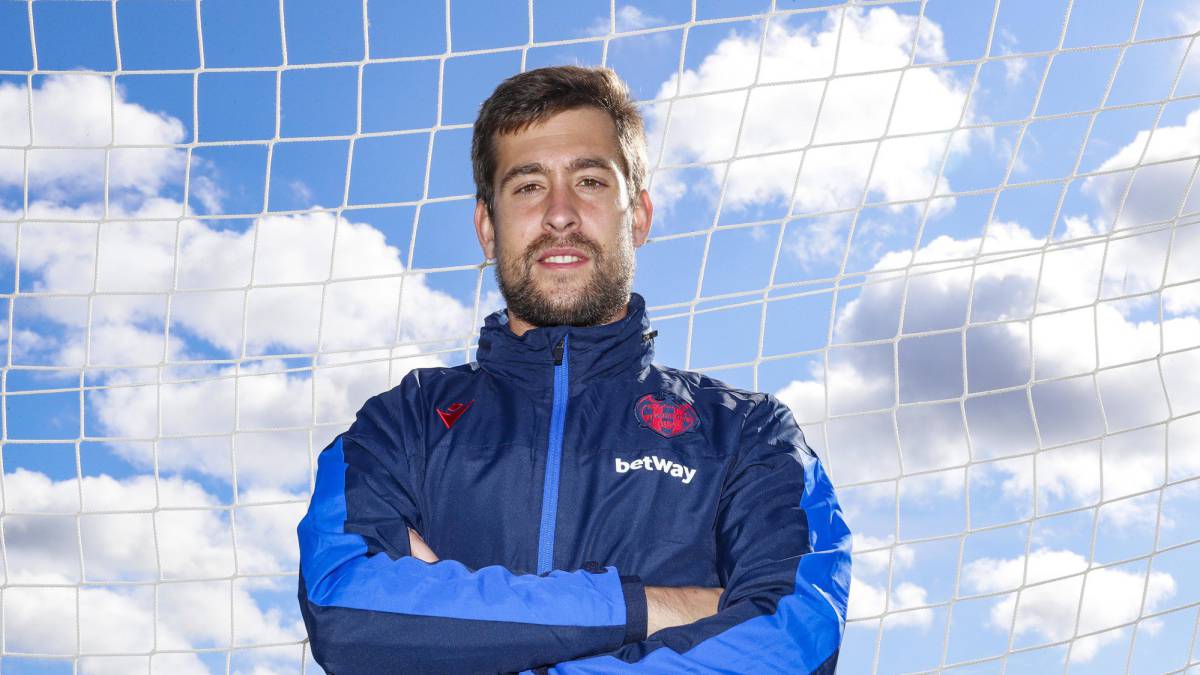 Aitor Fernández tells AS about the rocambolesque story he could live on Sunday morning to participate in Athletic-Levante in San Mamés, having been summoned as a substitute at a polling station in Mondragón by the general elections. The goalkeeper relies on the resource raised in the second instance by the Orriols group. Today you will know the resolution
How are you?
Well, looking forward to Sunday and get the three points
What history of yours.
Well, in the end it is what it is. It's a raffle and it's my turn. The club is working so that on Sunday I do not have to introduce myself and there is no more. It only remains to assume that there is to be done
What time do you know?
This is coming from behind and the club has been trying to solve the problem for some time.
Regardless of the resolution, it gives you time to reach the match.
Yes, yes, that's why I'm not worried. I tell you, the club is working on it and hopefully go to the game. I am focused on the game, today I think 100% that I will play the game and in that sense there is no problem.
How can that totally untypical Sunday morning be for a soccer player?
(Laughs) I already tell you that the club is working on not being able to introduce me on Sunday so I don't know how it will be. I will travel with the team and whatever it will be. I already tell you that I am very focused on the game and it is already .
If you go, what would the odyssey look like?
Well, I don't know, we should raise it. I already told you that I had not thought anything, I imagine that I would have to go home to sleep or whatever, introduce myself there and return to San Mamés. It's about 40 or 45 minutes and so there would be no problem.
It has been published that the president of the table is from the Royal, is a good incentive at least
Yes, I found out in the press that they had been talking to her. I don't know if it seems quite right because in the end the poor woman is not to blame for anything; but hey, it makes you calmer if she intends to appear around
There is a precedent with Williams in the same circumstance, and precisely against Levante, where he played and scored
Well, now that it's the other way around, isn't it? Let me free, let the game play and win.
Same situation for Miramón and he has been saved
Well, in the end it is true that it is rare for one to be accepted and the other denied. But you have to accept everything that has happened and there is no more, we are not going to give it more turns.
Inside the hand, what a coincidence that has been in Mondragón and can attend the meeting independently.
Well, I already tell you that the club is working so that I can't introduce myself, so wherever I think there would be no problem. But it is true that the coincidences have wanted it to be that way and it is already.
And if you have to go, take the opportunity to vote imagino.
No, the vote is already taken by mail so there is no going back.
Above the circumstance occurs and Oier is injured.
Yes, yes, in the end this is capricious, it is curious and, well, I do not know if it is a situation that will have happened a lot in the world of football but this is how the problem has come this and is already.
And it is a chain problem that affects the whole school in some way but it also represents an opportunity for Cárdenas and Picón.
They are goalkeepers that I think are prepared. In the end they work daily with us and know the rhythm of the First Division. But well, we will see why I think that I hope you do not have to move the entire infrastructure of the school because in the end the truth is to move a lot and many teams will notice the lack of their goalkeeper.
The goalkeeper who stops most in LaLiga, what a season.
Yes, yes, this first third of the season is coming out very good season and hopefully work like this. They are data that do not tell me anything, that if the one that stops more or the one that stops for the end, we work for when the team needs us and things are going well, I am helping the team and happy about that.
Year and peak in First, and it seems longer. How have you lived it?
Well, at first I think you live a much more nervous Aitor. In the end you debut with 27 years in the First Division and you don't want to lose it, you don't want to lose what it cost you so much. Right now, more settled, with Paco who trusts me a lot and the truth is that I am trying to restore confidence.
What does the figure of Paco López tell you?
I will always be grateful to Paco because in the end he was the coach who made me be able to be in a First Division squad, made me debut in the category and is giving me the necessary continuity in First. I will always be grateful to him. I know that he had to work hard for me to come here and I am very grateful to him and I believe that I can never return that for anything, but to the greatest extent try to return that trust.
He is seen much more leader on the field.
Yes, I think in the end you take a little gallons in the locker room with the games, with the results that are going on. I think that playing well in a locker room also respects you a lot more and that is what is happening. In the end I am quite pushed forward and you notice a certain weight in the locker room.
A growth that will be reflected in its renovation.
Yes, in the end you go up from Second Division to First and the contracts because we already know how they are. The club the truth that from the first moment that saw it and wanted to help me in every possible way and the truth that, well, it is working on it and I believe that in a short time there will be some news.
How have you lived it personally? Respecting club times due to financial difficulties
Yes, in the end I am comfortable here, we have given all the facilities in the world to the club so that things are done and being comfortable here there is no problem.
And why isn't it official yet?
It has not been signed yet, I think there have been many circumstances that make it difficult to do. In the end there are many games during the week and everything and the truth is that I am calm and I think that soon, the positions are quite close, there will be news.
It gives the feeling that it is time: Headline, seated and with good performance ... football, in the end, is very changeable for better or worse.
Renewals always come when you are playing, if you have more years of contract because the contract improvements. It always comes when you are playing, but if you are playing you cannot demonstrate a contract improvement and in this case it is being like that. Playing, I think doing it well and I already tell you that the club from that moment transmitted that tranquility to me, so that's why we have respected the deadlines a bit. The club from the beginning told me that my contract would look, so they have respected theirs and me too. It is a very familiar club, I am very comfortable here and that is why it has been so natural.
At the details level (one more year, clause increase), how do you rate your contract?
Well, the details of the renovation have not yet come out, it has not been closed, so I prefer to save it.
On the other hand, how do you see the team?
I think that Levante since Paco López has arrived is wanting to implement a much more offensive football, much more touch, much more colorful and I think that for the public it is also better. Yes, it is true that there are moments where we want to be protagonists with the ball and if you are not successful, it can be a bit frustrating. But I think that these last games are playing at a very high level and this has to be the line we have to follow. We trust our game and I think this is the dynamic and hopefully it will not stop until the end of the season.
Barça, chicken-skinned day
Yes, well you have to be told that it was Halloween and such and you think that hopefully it is not that day that scares you. In the end you see the alignment of them and I think they went out with everything and I think it was a true great match. The second part I think I do not know if I touched any ball with my hand beyond a shot at the last moment of Ansu Fati head. I think we did a great game, giving Barça a lot of scares and I think there won't be many teams in LaLiga capable of doing that.
Go back home. What made you tired to make the jump to the first Athletic team?
Man, I have always said that a goalkeeper reaches maturity with about 27, 28 or 29 years. I started training with 16 years. I thought I was prepared, but over time it has been demonstrated and I also believe that I was not prepared to play in the First Division. I think it goes over there. Then I had a couple of injuries that prevented me from continuing that growth and in the end you have to look for beans elsewhere.
After the transfer to Barakaldo was there any option to return?
No, not really. After Barakaldo, Villarreal contacted me, I still had a contract with Athletic, I had that half year and another. And Athletic helped me at all times because it didn't hit me so that I could continue my growth.
Is the generation of Remiro, Kepa and Unai Simón the best in Athletic history?
I don't know, the truth is that I think a very good generation and many goalkeepers have come out in a short time. But well I think that Athletic has always been characterized by having very good goalkeepers and I don't know if the best generation, but it is true that they are very good goalkeepers with little distance in ages.
Do you hope to return to Athletic one day?
See, you always like to play near your home, at home and everything. But here I am very happy, my girl is very happy and the truth is that we are very happy here and the truth that I have never considered returning there. I do not know, if one day it happens then we will have to decide but today I do not even think about it. All I want is to reach the goals with the Levant, get all the individual and collective goals and that is the only thing that worries me.
Do you know Ezkieta and Oleaga?
Well, Jokin Ezkieta is true that I know him more than Oleaga. His stage at Barça, Barça B, I once think we have been rivals. I know something else, but well they are goalkeepers who are much younger than me. Oleaga has always been in the lower categories of Athletic, Laudio (?) And the truth is that they are goalkeepers with a very large wingspan but I have not seen them much to be able to talk about them.
Do you know that Herrerín was about to arrive in Levante?
Yes, in the end I think that before they signed me, Herrerín's name came out here. You see it in the press, you hear it out there and you don't know how true it was. I haven't talked to him so I don't know, I don't know. Luckily they signed me and I'm very happy here (laughs) .
Was Remiro's shocked this summer surprised at Real, the eternal rival?
Man, it's something curious and more because Kepa had come out and I think he could be the starting goalkeeper of Athletic for many years. Internally what would be there I do not know, are things between Remiro and the club. But the truth is that it is something that surprises you a little, but many times we speak from ignorance and do not know what will have been between them.
Photos from as.com