Aguirre: "The minimum that must be given to the public is to leave the skin"
The coach of Leganés asked the dressing room to forget the result and focus on the effort to give everything to Barça. "They must leave motivated even without a coach."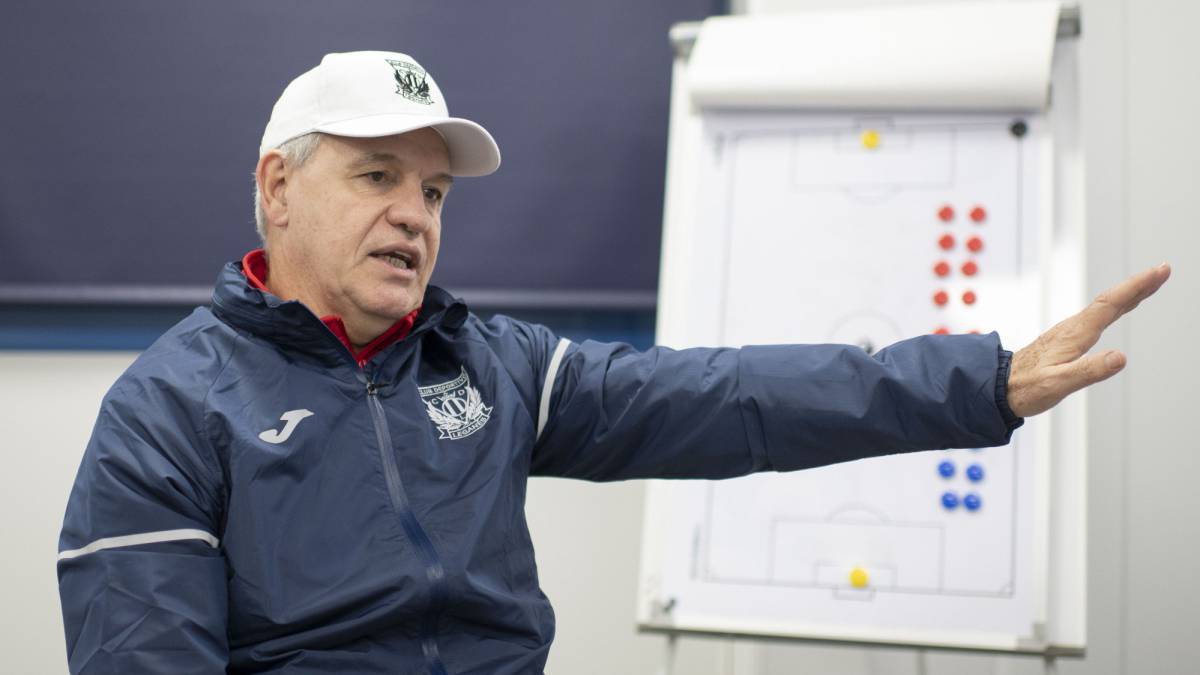 Vasco Aguirre has the virtue of attracting the spotlights with an unusual naturalness. Since arriving in Leganés the team added it as a last name. Now it is the Leganés de Aguirre. Fast fusion of effervescent momentum and immediate effects (point in San Sebastián) that tomorrow will premiere at Butarque against FC Barcelona. A giant rival that, far from bothering the Mexican, excites him. "We already won last year, why not repeat?", Says firmly in his will that his boys are trained to do so, and without doubting that the important thing is not the marker, but the attitude. "The minimum is to give the public the pleasure of seeing that we leave our skin."
What casualties does the team have? Could Rubén Pérez, who would play 100 with Lega, play
?
Rubén I see it well, very well. You will make your match 100. Are you going down? Two by suspension: Recio and Kevin. Rivera is out, Szymanowski is still out, Erasmus is fortunately incorporated. And that's it ...
Leo Messi is a danger at fault. Have you prepared anything?
The logical thing would be not to make unnecessary mistakes, but it is complicated when a team attacks you, you face it. The probability that you make mistakes is high, higher than in other games. The indication is that: "Try not to make unnecessary mistakes." We will not let them pass either. You have to be smart. And if it happens ... we will try to minimize that high statistic that Messi has.
Del Barça everything is dangerous ...
Even the master is dangerous ...
Yes, but of that danger, what details must be taken into account.
Good question! Good because the important thing is the details. Last year it was won because there were details that operated in favor of Leganés. These big teams that have that, which out of 10 games win you 9, you have to take maximum care of what you have. Do not make mistakes, do not hesitate, get plugged in from minute 1. Make a perfect match ... and still they can beat you.
What is a perfect match?
Perfect match I mean don't make mistakes in the deliveries, that individually do what you deserve. You have to make it perfect individually and collectively. Nobody loses order, no one disengages ... all that we say coaches. But even then, nobody guarantees that they won't beat you because they have imbalancing people. Not only Messi, but anyone can make you a virguería. We will try to compete. That is guaranteed.
What other Barça player than Messi would stay with?
Suarez, Suarez! He is an extraordinary scorer. I discover nothing. It has been irreplaceable for several years. Last year they had a replacement there that didn't work. It is very valuable. Without belittling others: Piqué, Lenglet, Busquets, Arthur, Griezmann, Fati, Dembélé… you don't finish. Anybody make you a suit. But Suarez would stand out, no doubt.
How are the boys after the break?
Well, look, the truth is that maybe the weather helped us ... because we moved a lot. We were intense. The weather invites you to move. And yes ... for example, Tarín came from an injury and as there is a new coach he wanted to show up. Every day they did very well. I want to congratulate you. The tasks were with, without the ball, the videos ... good, good, good. We lacked seven internationals and there are losses, but Barça also lacked. There is no excuse. We are in the same boat. The team really trained very well. Then we will see if we can capture it in the field, but physically they are winning and in confidence we are there. The team believes that it is a football team, they believe in their possibilities, they believe they can compete ... I do perceive that.
A good result against Barça changes everything?
You do not change everything, because you arrive last, even if you win, you are still there in decline, you would still tie the last one, but it would come as an incentive. Moreover, I told the players, I really say it, I told them to separate the final result: let's play football, let the people who support us, go home happy, go to sleep, have a snack ... whatever . The least is to give people the pleasure of seeing them leave our skin. That we tie, that we lost ... whatever, but I like that. We have a debt with people. We will compete, that's for sure. We already won last year ... why not repeat?
Why did you remove the areas in training?
It is an exercise for the strategy, so that they do not run so much distance. As I throw corners from both sides, so they don't run so many meters. It's just for that, to save efforts 24 hours before the game.
How to correct the lack of goal?
There are teams that have more than ten boys who scored. I told the boys. That is corrected by daring to throw the bow, daring ... If the three who have scored continue to score, I didn't care at all. But it is true that there is a deficit of goal in favor and also against. In these statistics, we can get pessimistic, but in the end we start from scratch and go step by step. Hopefully in May we are not the most winners, nor the last, nor are we the least scorers.
How is the team motivated and how do you motivate yourself for a match like this?
Against Barcelona they should go out to play even without a coach. If you don't get plugged in and motivated against them, they paint your face. I assume that there is a natural motivation. How many of us here would give a finger to play against them tomorrow, to play against Messi? I don't know if a finger, but a nail does. Millions of people will see it and if we win, people will know us. How well this one played, what a great goal for Ter Stegen. I take that motivation for granted, but that does not reach you. It helps a lot that the team comes out wanting to win the game, wanting to defend their colors and their shirt against their people. From there you have to try to play football well, which is sometimes with the ball and sometimes without the ball. Generally Barcelona takes your ball and you have to know how to play well without it.
Is there a special plan to stop Frenkie De Jong?
It seems to me that he is an excellent player whom Valverde has used in the three positions of the midfield. We will try not to be a majority of them in the center of the field, but especially there is no special plan for him, a player on top or something. There is something to try to stop Barcelona.
Are you thinking of reinforcements for January?
At the moment I am not thinking of moving anything. It is true that I told the players that I wanted to see a good attitude from here to December because there is a possibility that someone would leave if the attitude was not good. Only departures, not arrivals. But I have not thought about the winter market. Zero at all.
How important is to recover Guido Carrillo in the face of the team's goal?
Guido is full of morals, wanting to play a minute or ninety if I give them to him. Train like a lion and have a goal. The other day he played for a while and was close in a header. He's a boy with a goal, that's clear. It is my obligation to give him scoring chances, try to supply him with balls. The technician has to try to improve in that aspect. Or at least make those kind of players get balls.
Is the feeling of going back to LaLiga different and training every day than being with a national team?
I have trained with Japan, with Egypt and with Mexico and work is different. The form is different and the background is the same, try to prepare the team as well as possible. But every day if it is missed, being here dealing with the things that are emerging, putting together the equipment, putting on and taking off, having the quarry available ... is neither better nor worse. I am happy, I am here, comfortable with this day to day. I hope it lasts a lot.
Is it an ideal day to face Barcelona after the selection stop?
It's never good to face Barcelona. If you give me an ideal moment, the coaches would say at the beginning of LaLiga. On day one or both we are all preseason, they come from making preseason in other places, we all start with zero points ... But I am not to demand anything either.
If Lainez decides to leave Betis, would she contemplate him for Leganés? Do you plan to sign a Mexican in December?
That question was asked when I arrived. At the moment I don't know how my team is doing. I have 28 players, I don't know how the foreigners limit is. I don't know, I haven't noticed it. It is not time to pronounce on Diego. If you ask Betis or the player himself they will tell you what to expect, that November is not the best time to express yourself. There are professionals that I would like them to know from my own voice if they will continue or not. I understand the question and I'm sorry I can't answer it. Yes I like working with Mexicans and I also tell you that all LaLiga has Mexican players on its agenda.
En-Nesyri has scored with Morocco. Have you talked to him?
Yes, of course. I told him he had two, two. Because it marked Eibar and Real Sociedad. He told me that it was not yes, that it was three out of three. He counted Morocco, but that doesn't count (laughs). Let's see if there are four, four tomorrow. I'm talking to him, I'm sticking with him.
What system will you play with?
I left three players from the back line but tomorrow we are going to play with five.
Which headline would you like to give up the Leganés performance? It is not worth saying 'The Leganés won'
If you're not worth it, why do you ask me (laughs) .
Photos from as.com