Aguirre: "We are not less than anyone, we will not go victims"
The coach of Leganés warns that his players will go to compete in Pizjuán against Sevilla after two good games to which he puts a score of "7 or 8". Roque is low and Rivera returns.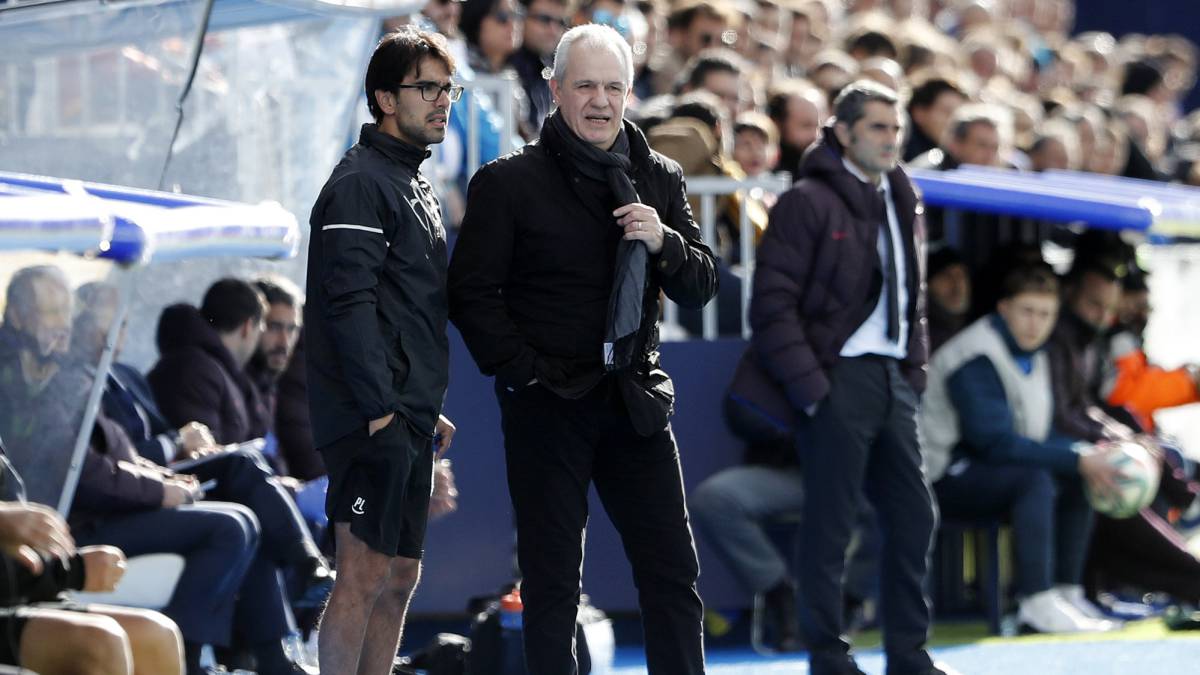 Javier Aguirre has been in the Leganés for two games. They have not been any encounters. Real Sociedad first, and Barça, later, welcomed him on his return to the League as he looks at gayola. Major challenges to which they have to add another third Everest before facing four duels against direct rivals for salvation. Sevilla, on Sunday, at Sánchez Pizjuán, will be the next enemy to beat. It sounds difficult, but Aguirre sees more than feasible to beat them.
"I told the boys that we are not less than anyone. We have a team full of important players, experienced and know how to compete, "said Vasco, confident that his team" has begun to believe in us. That looks like. It shows, "he insisted on the previous one of a complicated duel, but not impossible. "We cannot, nor should we go as victims," insisted the Mexican. His team puts "a 7 or an 8" in these first two games. For this third match he will not have Roque Mesa, sanctioned, but he recovers Rivera. Rosales will be doubt.
What casualties does the team have?
They will not be Roque by sanction. Rivera is already with us, but Marc Navarro and Szymanowski, not yet
How to face a match in Pizjuán?
Faces with personality. We cannot shrink before that ambience that Pizjuán has. We cannot go beforehand as a victim. We can't, we shouldn't. I mean try to play. To try to isolate ourselves from the environment. We are against eleven with a referee in between. Seriously, with responsibility, with commitment. These are characteristics that the team has shown in recent games.
Has the ball stopped a lot this week? He did not look very happy after the game against Barça ...
As for quantity, I don't know. You have to look for quality at work. Sometimes you do 100 corners and in 85 they are laughing, distracted ... and maybe you throw 10 and if you have them with clenched teeth, marking well ... that's what I mean. But yes, we have worked with images of how badly we did it. Not for goals anymore. Because we finish three times in area in three corners. In the first corner there was a player from Barcelona who walks, just enters and is in the whole corner alone. It is an unfortunate mistake, of all the technical staff that was not able to assign brands. Yes we went, rather, but they changed a man and when he saw him outside, the score was disregarded. That happened in the first corner and they corrected it ... it's those concentration things that we are trying to correct. In addition, Sevilla, with Eibar and Osasuna are the ones that throw the center of the League.
Does the team remove pressure from playing against a rival of the high zone?
The three games I had here have been against complicated teams. In Champions, leaders ... They are very complicated, but we have done a correct, serious job. It has not reached us, it is true. The other day we were able to tie ... but that's it. You have to correct mistakes of the parties and try to be something better, take a step forward. Training we have been growing. They are boys that, we see them much more interested, more committed and participatory. More alive. It is not the same as a player who only receives instructions and carries them out to one who says "Mister, how about we do this or that?" Look, the image of the other day that I have left is that, after losing 1-2 with Barça, which is not small, they were dejected. Barça, who thrashed Borussia! They were hurt. That speaks of a team that is alive. That seems silly, I like to look at the details, I thought it was fantastic.
Sevilla loses Ocampos. Is it a relief?
I don't like it, I really mean it. I like to see the best in the field. If you win, you beat your best team. Ocampos is spectacular, the most relevant of LaLiga. It is not a discovery because I knew him. It is not relief, but it can help. I believe that Navas will arrive. And yes, Ocampos is important. We are trying to see who his substitute is. There are options. We want to guess and counter one or two options.
What did you say to the players looking them in the eye?
I have held them responsible for their mistakes. I make my own and they have to make their own. I have told you that we are still in the last place, that we need points, that we are urged at the end of the first round to make as many points as possible so as not to get off the hook. That we are professionals and that we are not less than anyone. After they beat me in the field, it costs them like the other day. But we don't start the game with ten players or nine before, we don't present a team with eight youth. We carry a team full of important players, experienced and know how to compete and that for various circumstances we are in the last place. We have two games together, they have begun to believe in the work of the staff, I have seen it. They do it with conviction and determination. And it has not reached us, it is true. In both we made two goals, but the opponent in one made one and in another two, took the three points. Because it's football and it's Barcelona. I think, and without fear of being wrong, Messi knocked on the door once in ninety minutes. It is a symptom that we did a good job, but not complete. We neglect, and these teams can not give them a centimeter. Nothing. He hit Rubén Pérez's boot and Rakitic's was ten centimeters away, if it hits his he was offside. But of course, if I had two wheels it would be a bicycle.
Have you remembered the god of the calendar? Because ... what a calendar ...
I have not remembered, but yes ... What a little mother! Nothing helps me. A colleague of yours told me at the beginning that if I lost all three the ghosts would return and I thought 'let me enjoy that day'. I have not enjoyed since that day because I see the classification ... how screwed. I reached six points down, today I am eight. We're worse than when I arrived, don't fuck me. It is what it is, but there is no room for complaint. It is an asymmetric calendar, you play two at home or you go two outside. Surely I will face the same team twice before facing one that I have not faced. It's the same for everyone and I didn't remember anyone's mother
Do you feel special pressure for not winning in the first two games?
Pressure always exists in this position, it is inherent. The board wants results, players want results and want to play. The press also wants to write about a victory, because the fans want to get their heads out and look higher. The pressure is normal. It depends on how you carry it. I am a guy who already has some experience in these tasks, I try to convey tranquility to my environment. This does not end in November, it has never been like this. We don't start the games with ten, we don't have eight injured
important. We are very alive and competitive, like many. There are four or five of another level, we must recognize it, and they threw us three at the beginning. Let's see if later we are able to solve the deficit that we have, hopefully
What grade would you give your team these days?
As for results, about ten a four or a five or more below. We have made one of six. As for performance I am happy, a seven or an eight
Photos from as.com