Zion Williamson is crazy: 23.7 points with 71% in shots!
Premiere at home to an audience delivered and exhibition number 1 of the draft against Rudy Gobert: 26 points with a 9/12 in pitches.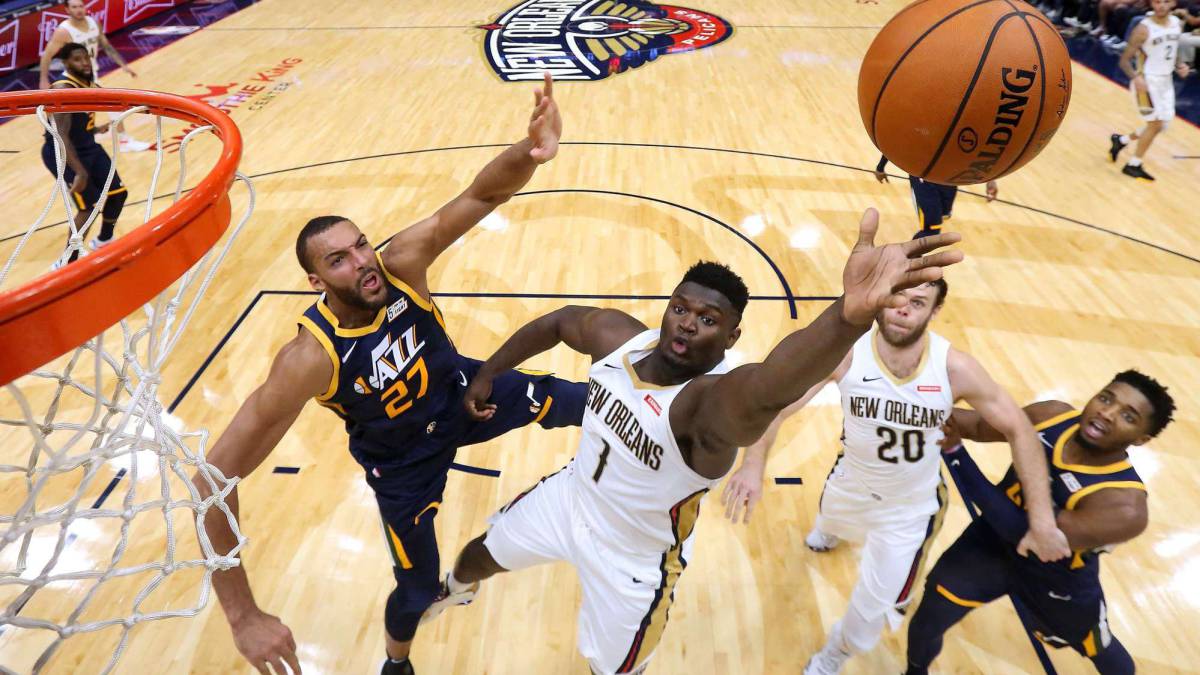 We knew it even before his lush season in Duke, when it was a viral phenomenon on social media: there is something irresistible in Zion Williamson. They are his mates, of course, but it is everything he does with a body (1.98 real height, almost 130 kilos) that seems more suitable for football than for basketball ... until it gets moving. With 19 years of age in July, it was such an expectation that the NBA was waiting for him that the big question was whether Zion could survive Zion. And after three preseason games (3-0 for their Pelicans) the answer is yes. Flatly and no matter how preseason. Zion is irresistible, a player who returns the fan to a state of almost childish happiness. The return to the admiration of impossible things.
It is what is happening in New Orleans, a franchise hitherto dysfunctional and seemingly doomed to ostracism and suffering, perhaps a long-term move, following the request to leave Anthony Davis, a historic player from whom they only extracted a tie from Playoffs won in seven years. But David Griffin arrived at the offices, the return of the Lakers in the Davis operation arrived and Zion Williamson arrived with the number 1 draft although in New Orleans they only had 6% of options to get hold of him after the lottery, and although It seemed that everyone outside Louisiana, including the NBA itself, preferred to see it in other destinations: New York, Chicago ...
Yesterday, two hours before the game that the Pelicans won the Jazz (128-127), there were already people around a Smoothie King Center that brought together more than 17,000 people during a preseason game (it used to be a pavilion with serious capacity problems: it seems that of course it has already changed) a few days after putting more than 10,000 in training. It was Zion's first home game, which is certainly going to be one of those traveling attractions that leave money in every pocket of the NBA. The Hawks put 10,945 people against the Magic after starting the preseason with 15,441 against the Pelicans. In that game Zion Williamson finished with 16 points, 7 rebounds and a 6/13 in shots. Then he has played two games, against Bulls and Jazz, in which he has added 55 points (29 and 26) and 9 rebounds (4 and 5) with a 21/25 in shots (12/13 and 9/12). Of those 21 baskets, 20 have been very close to the hoop (almost all trays or mates). In total of the three games he has played, 23.7 points and 5.3 rebounds in 26 minutes with 71% in field shots! Against the Jazz, he also scored the only triple he threw and was fine from the free throw line (7/9), one of the issues in which he has room for improvement (64% in Duke).
He played, not to be forgotten, against the iron Jazz and a Rudy Gobert who has been Best Defender of the league the last two seasons. Faced directly with the French pivot, Zion, with his 1.98, drew in two attacks two trays scored, two fouls and a rebound that he bounced (double play) to complete the action with a mate. In total and in his first face-to-face against an elite NBA defender, 3/4 in shots and 3/4 in free throws: 9 points. Of course his game is not perfect and of course everything that glitters is not gold. We are talking about a 19-year-old rookie who has to improve a lot in defense, in the NBA the simple physical imposition that applied in the NCAA on that side of the field no longer works, and that he has not yet faced, with his complexion, to the rhythm criminal of a Regular Season of 82 games. But Alvin Gentry knows what he wants to do with him (open spaces for him to penetrate, run as soon as possible) and his ability to finish plays near the hoop, with an impossible speed for his weight, he is moving to the NBA intact. Even against Gobert. With what we are seeing, it already indicates that its soil will be an important and productive player. From there, its roof is simply unimaginable right now.
These new Pelicans, which drag a huge hype but largely justified, are much more, of course. Of the rookie litter (three elections in the top 20 after operating with Lakers and Hawks), the premiere of number 8, the pivot Jaxon Hayes (a machine producing highlights that is still missing an oven blow, is becoming much more timid, at least) that of the 17, the electric guard Nickeil Alexander-Walker, who is scoring with the same ease as in Virginia Tech: this time 22 points in less than 17 minutes (4/5 in triples) and in three games, 15 , 7 and 4 assists on average with 52% shooting in 16.7 minutes. The veterans (Jrue Holiday and the new Derrick Favors and JJ Redick) for now are limited to accompany and the package received from the Lakers responds more or less as expected from the start. Josh Hart works with little consistency in attack and Brandon Ingram produces (18 points to the Jazz) with the feeling that he still does not know how to squeeze his immense faculties and with a taste to knead the ball that clashes with the frantic style that he tries to to impose Gentry and that it feels like a glove to Lonzo Ball, which tries to teach (with results for now disparate but promising) its new shooting mechanics while it shows everything that the Lakers fans already knew, that they did see virtues that seemed hidden to the rest: first level defensive instinct, privileged game vision. So far and with his new shirt, 8.7 points and 6 assists on average. And the certainty that his alley oops to Zion will be a classic in highlights compilations.
In the Jazz, no incumbent passed the 27 minutes of Donovan Mitchell (10 points). Mike Conley added 13 and 7 assists in 23 and Bojan Bogdanovic, 15 and 8 rebounds in 24. They are the two great novelties with which the team of Quin Snyder wants to go from uncomfortable outsider to aspirant with gallons. A team that except debacle has a guaranteed place in the 2020 Western playoffs for those who, however infernal the Wild Conference may once again seem, cannot be ruled out at the start of the Pelicans. Not quite: this is the Zion effect ...
Photos from as.com