"When we remove the almost Mejri I will be very happy"
Madrid is measured Thursday at Maccabi with the return of Carroll and about to announce Mejri. The white coach talks about Thompkins: "His attitude is very good and I see it better."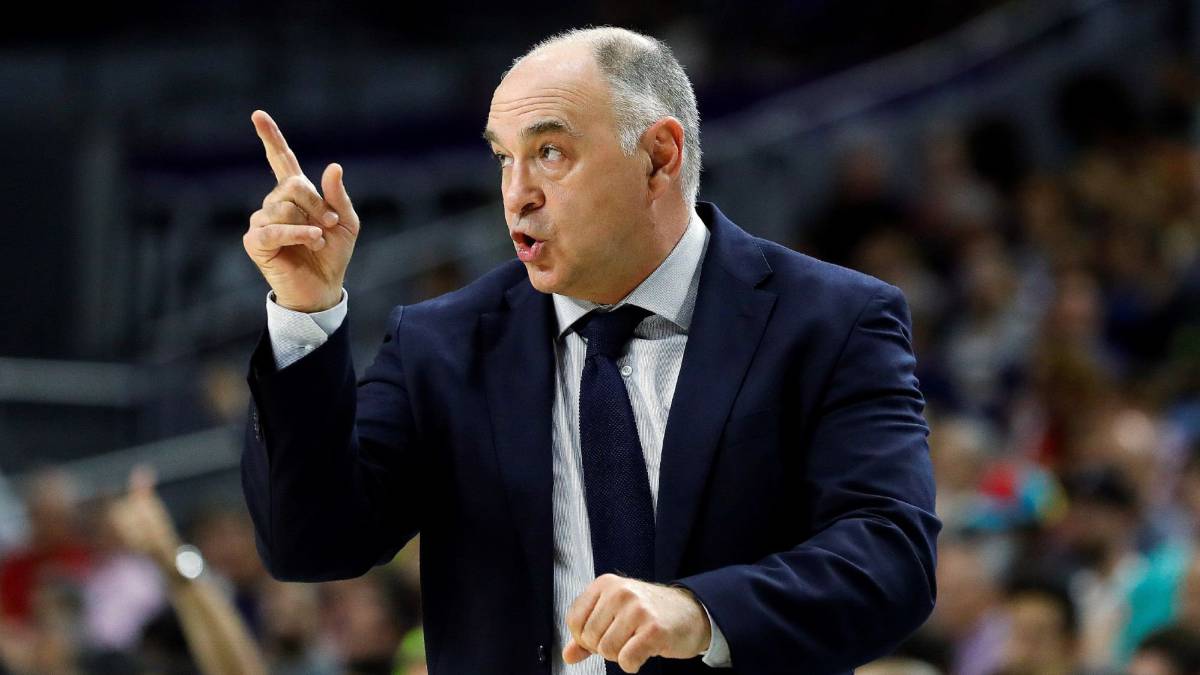 Real Madrid is measured on Thursday at Maccabi at the WiZink Center (9:00 pm, Dazn) on the second day of the Euroleague. Pablo Laso attended the media and confirmed that Carroll is back after the hard fall of ten days ago in the match against UCAM Murcia. The white coach talked about how a template with seven pivots is managed, which he will have when announcing the signing of Tunisian Salah Mejri, who could pass the medical examination on Thursday. "As soon as the Mejri is almost removed, I will be very happy," said the coach, who also explained that Mickey's ideal position is five, like Tavares and Mejri, and Deck's is the forward and of Llull, the base. The Vitorian also spoke of Thompkins' response to the club's attention: "His attitude is very good. I have no complaints. I see it better and I consider it a very important player for us. "Carroll, Thompkins and the available players. "In principle, before Maccabi I have all the players available. The only one we don't register is Trey (Thompkins). So I have 14 players. Rudy was hit on Tuesday, nothing serious. And Felipe (Reyes) has had some discomfort in his back today and must have left training, but in principle the 14 will be available. "Has Thompkins responded well to the touch of attention? "Yes, his attitude is very good. I have no problem or complaint. I see it better and I consider it a very important player for us. "The moment of Madrid. "I find the team well regardless of the results, which always affect. Last week we had two very difficult commitments, against Fenerbahçe at the Euroleague premiere and the complicated departure to Tenerife, and we responded well. "The rival, the Maccabi. "The physiognomy of the team has changed a bit, a very athletic block, very intense. Sfairopoulos's hand was already noticed at the end of last season and is now a very difficult opponent to win. He lost in the Khimki field, but for me he dominated the game even if it was always behind on the scoreboard. It's hard to explain, but it was like that. You can play with a very large quintet, also with a smaller one, it has players that are growing a lot like Zoosman and Avdija. I believe that Maccabi is one of the most fit teams at the start of this season. To hurt him you must be prepared to defend many different situations well: shooters, low post, one on one ... From the defense we have to impose our rhythm and that is where we can hurt him. "Two games at home this week. "We will lose less time on trips, we can train and recover better. It is also important for us to play before our audience. We will try to make two good meetings. This season will see more double days (seven, in total), in two or three weeks we will face four games in seven days. And we will have to arrive well because then we will have little time to train. "The positions of Mickey, Deck and Llull. "For me, Jordan Mickey's ideal position is" five ", but he can play" four. " And Deck is a 'three' that can act as 'four'. And Llull is a base that can play 'two'. The versatility of the team. "I believe a lot in the versatility of the players, in that they are able to move in different positions, but I also believe that each one has an ideal position. That they can be used in another situation speaks well of the team, but it is a matter that you must work hard. For me Sergi (Llull) is a base, another thing is that I can play 'two' or another base on the track. "The return of Jaycee Carroll. "He is a very decisive player, he gives you difficult-to-match situations in the game. He has a great ability to get out of the block, make a detour and get baskets out of nowhere. No one is irreplaceable, but Jaycee is a guarantee. I am very happy that he is back. "Mejri's signing is almost done. "As soon as we remove him, I will almost be very happy, but if you ask me about Salah now, it is as if you do it for any other player who is not on the team." How do you manage a template with seven pivots? "Same as last year or previous seasons. Now we have suffered some loss in some position, players who can play indoors or outdoors, in the end all the templates are difficult to handle because all players want to play. "Have there been players trying to crush from the free throw this week? "No, and the coaching staff is not for mates either. I was very happy with the impact of Jordan Mickey's mate. In the game we all stay a little ... It has been followed a lot in social networks, it is a more contest than a match mate and speaks very well of Jordan's capabilities. That mate in a matched finish? It is wrong that I say so, but when I saw him jump I thought: 'Oops, oops, oops ...'. Then I had to eat it (laughs), but the first thing I thought was that. And I toldl ".
Jordan Mickey: "My friends were impressed"
"Another very difficult team, with many new players. We will have to play the right way. Personally, I'm not at my best yet, but I have to keep working and be very focused. The atmosphere at home on the first day was very good, there were a lot of fans and they supported us a lot. The position on the court? I don't care much, what the coach needs. After the mate some of my friends called me, others wrote to me, they were surprised, impressed ... I am happy that everyone saw me. I hope I can do more math like that. "
Photos from as.com