TO. Márquez: "I am mine, but I hope Marc wins"
He made the pole and about the fall of his brother, he says: "I was changing and I saw after he got up and was lame. A little scare. "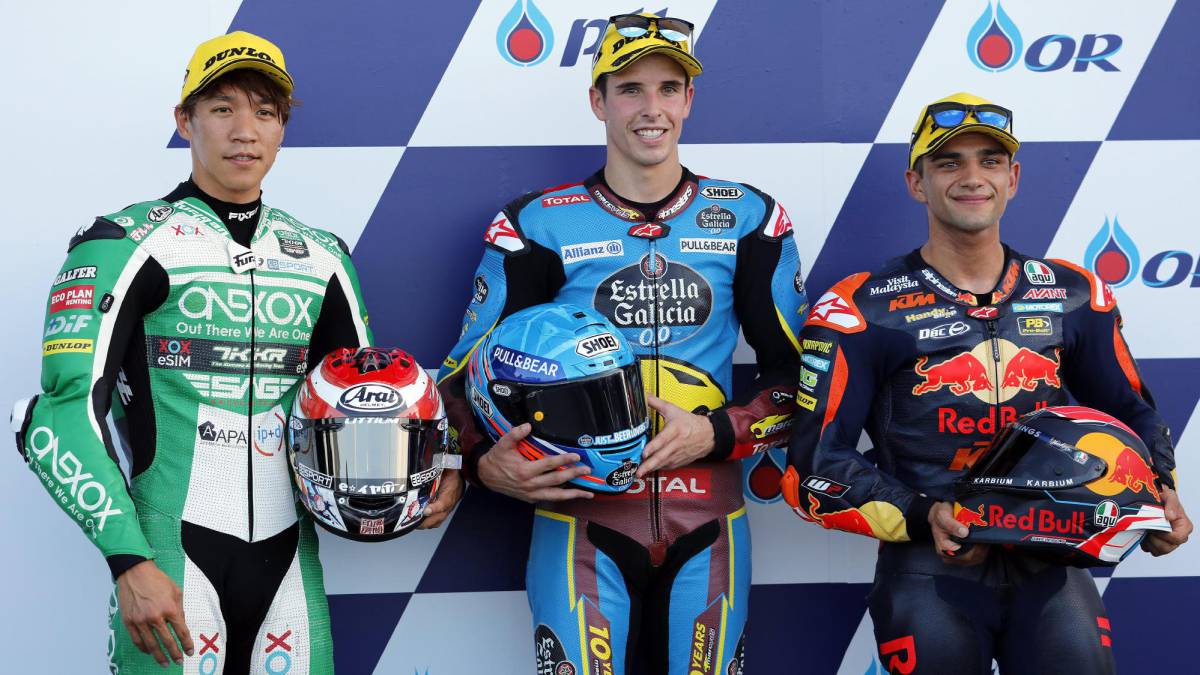 Fifth pole of the season for Álex Márquez in Moto2, with his first opponent in general, Navarro, 38 points away, leaving 21st. He says he prefers not to run with the calculator and strives not to think about the possible title of his brother Marc in MotoGP.
-How good is this pole, right? As if there were few points of advantage at the head of the general ...
-Today it was important to make the pole because it has been seen in the FP3 that in 0.2 you were the first or the twenty. So it was important to be ahead. It happened a little in Austria, where I failed the officer and left far behind and everything was very tight. So doing pole or being in the front row was the key to tomorrow. I have been able to get it. And then the pace that I have maintained has been very good, coming from the fall of the FP3 I have been able to redo a bit of the feeling I had in the FP3 and it has been a very positive qualy for us.
-Will you ask to be marked Navarro's position?
-No, no ... He has had problems today. We are trying to be in each race as far ahead as possible and try to take advantage of our rivals' mistakes but I am sure that tomorrow Navarro has a pace to recover and be ahead, because especially his career finals are good. So we have to do our career, there are five left, a lot left, and we only have 35 points.
-What career do you intuit?
-I think it will be tight. In the rhythms Nagashima is being seen very strong throughout the weekend, Marini also seems that after Aragon found the way again, Fernández sure will be, although he is suffering a tad more will also be, Vierge is not bad, because He has made a good Q2. Then I think it will be quite open and in the end it will be tight because here, with the two straight lines, you can win something back.
-Is it more important than other times to take advantage of the pole and open a gap from the start to avoid trouble?
-I do not know, because also with new tires everyone is able to make a good first laps and go fast, so you have to finish thinking and see after the warm up where we really are. In the end, if I go out first, I have to try to do my pace and throw without losing my mind and not making mistakes.
-Is it a day to run with the calculator?
-I think it would be a mistake, you have to throw the same way and be aware that, yes, you have to finish the race and you have to be there. Fernandez is sixth, Luthi is also eighth, so we have to do our career and if there is a chance to win, we will try.
-When I was in the jackpot picking up the motorcycle, was I aware of what was happening on the track?
-Yes, yes. I had a strange fall, and I did not know if there was something on the track, so yes there was a pending tilt, because there it was easy for one to fall. I got a little scared but luckily it went a little to the left.
-How do you see your brother Marc?
-Well, especially of rhythm I think that in FP4 he has done a very good one, so I see him prepared.
-Did you get scared with your fall yesterday?
-I was changing, so I didn't see him at the time ... I saw that he would get up and go lame. A little scare yes but luckily it's ok.
-And with today's one?
-Well, he tried, as always. Does not change
-Do you see him champion here?
- (Doubt). I do not know. In the end he has to see tomorrow where he is. He has also talked about Dovi, and he knows well what the rhythms are. But I'm focused on mine and I hope tomorrow I can win.
-Will you participate in its celebration?
-I don't know anything, I don't know anything, really.
Photos from as.com