The reasons why Simeone regrets Lucas's goodbye so much
The Argentine coach confessed to El Larguero that "what has hurt us the most is Lucas, because he was ours." He lost youth, versatility, quality ...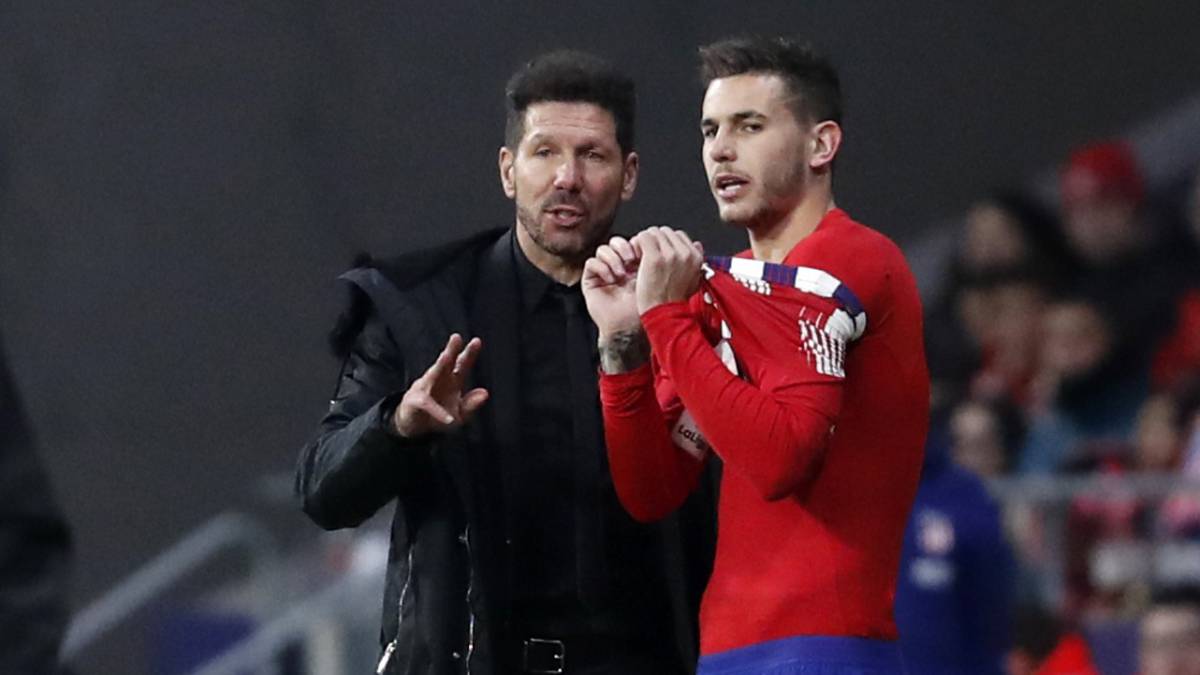 Atlético lived a very busy summer, where it lost important capital pieces and proper names such as those of Griezmann, Rodrigo, Godín, Filipe or Juanfran. But Simeone made it clear in his interview El Larguero which was the loss that hurt him most: "Every situation is different. What has hurt us the most is Lucas, because it was ours, from the quarry, like Saul or Koke. Thomas it's extraordinary because we've been working with him for five years. Lucas was coming that way. "
In spite of the 80 million he left in boxing with his departure to Bayern, the goodbye of the Frenchman was a defeat for the Argentine coach, who lost one of the most promising defenses in the world and whom he had seen evolve from cadet to be champion of the World Cup with France A player in full flight who had debuted at the orders of Cholo on December 3, 2014 in the Copa del Rey game against L'Hospitalet and had his first major test in a derby against Real Madrid de Copa (7-1 -2015) where he started and met with a note on the left side in the 2-0 victory. Since then he had become a player in full growth game by game and fully grounded in style and embedded in the rojiblanca defense. There are several reasons why Simeone is so hurt by his departure.
Youth and versatility
The first of these is the time invested in its progression. Simeone was always very close to Lucas to mark the patterns of his evolution, make him feel important despite the fact that at the beginning it cost him to have minutes and prevent him from deviating from the path set by the technical staff. Many talks and private lessons like the ones he is currently having with Lodi to specify exactly what he expected from the French. A player molded by his hands since he came of age.
Because his youth was another of Luke's great values. The Frenchman will turn 24 in February and his goodbye came with 110 games behind him with Atlético's first team. A veteran despite being still a U23. Lucas was called to accompany Giménez as the leaders of Atlético's defense in the future, a pair that could have formed a partner in the center of the defense for more than a decade. The Frenchman always showed character and was considered a player who was going to increase his hierarchy year after year until he was one of the team's captains.
One of Lucas's most valued features was his versatility. Although his natural position was that of central defense, the Frenchman adapted perfectly to play as a left back, a position that he assumed with Filipe's injury and that served to be summoned by Deschamps with the French team and raise the World Cup in Russia as a starter. In that position he also won the Europa League and the European Super Cup with Atlético, where with his speed and technical capacity he did not suffer the slightest when moving to the side. Something that is wanted now in Beautiful, but that Lucas developed to perfection practically since his debut with the first team.
The sixth most valuable defense in the world
Lucas was also a player of the house, a youth player who had become a personal triumph for Simeone as well as Saul, Thomas or Koke, who had been in the first team for years at the arrival of Cholo but who truly adapted and became a fantastic player under his command. Lucas was a zero-cost footballer who had progressed without pause, significantly improving all his virtues and filing his defects and had been burning stages and testing all possible competitions under the Atlético shirt.
In spite of the 80 million of its clause paid by Bayern to gain its services, a figure that made it one of the most expensive defenses in history surpassed only by Maguire, Van Dijk and perhaps De Ligt (depending on the variables), Lucas is the sixth most valuable defense in the world with a price of 75 million for Transfermarkt and a constant progression year after year. Only Van Dijk (100 million) and De Ligt (75), Alexander-Arnold (80), Laporte (75) and Koulibaly (75) themselves have a higher market value.
Luckily Lucas is established in the sixth place tied with Giménez, which is also quoted at 75 million. The two could have formed the most valuable central duo in the world, however Lucas decided to leave and head for Germany. The player chose to match Bayern's offer and became the most painful casualty for Simeone in Atlético's busiest summer, something that had no qualms about confessing the coach himself.
Photos from as.com