Simeone and the style: "Listen, don't confuse us!"
The coach of Atlético was in El Larguero: "The exit that hurt us the most was Lucas." From João Félix: "If people think it's Griezmann, they are wrong."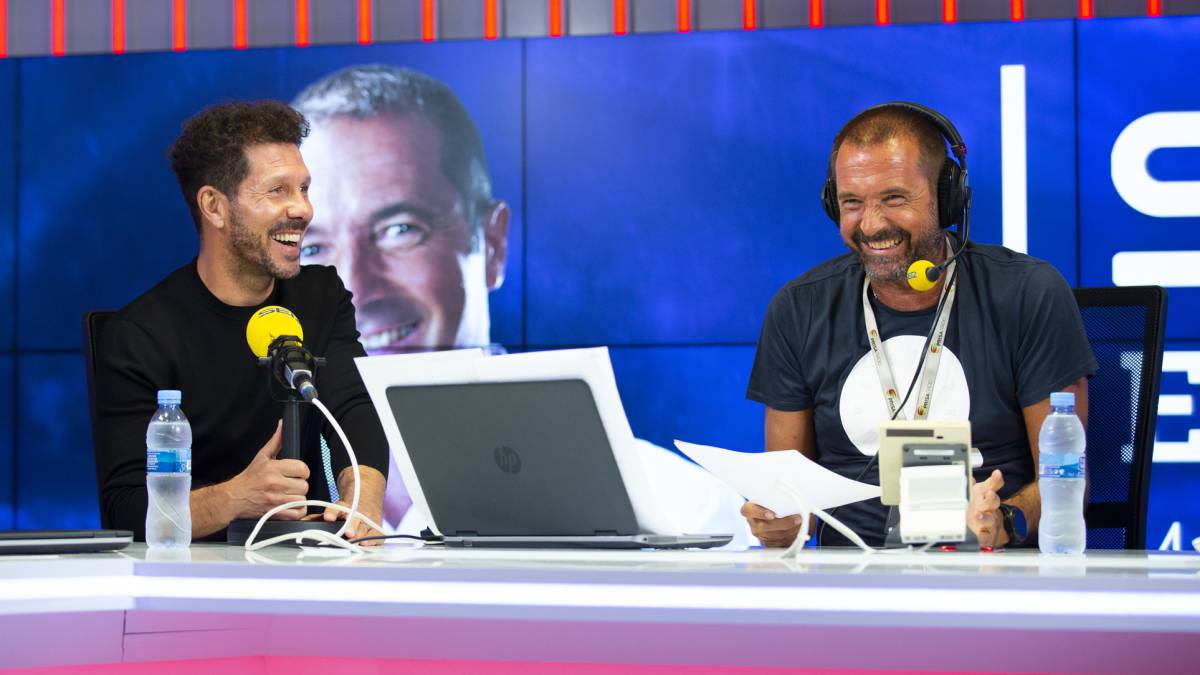 Diego Pablo Simeone was the protagonist this Thursday of El Larguero de la Cadena SER. The Argentine coach analyzed with Manu Carreño the news of Atlético de Madrid. He talked about his style, about the adaptation of João Félix, about the restructuring of the team, about the criticisms ...
Where does El Cholo come from: "There was a player from the 70's named Simeone and they called him Cholo, he was a right-back side of Boca. And by 85 or so, a youth coach of mine, Don Victorio Spinetto, yelled at me 'Cholo' and for a lifetime ".
Training and players touched: "Today we work recovery and tomorrow we will do some football to keep the boys who did not leave with the national team. And on Monday we will start preparing the matches. Vitolo hopefully the week will be incorporated and Costa has been a classic virus of this time, of the time ".
A virus like Courtois: "I know the virus of mine" .
Parón: "The boys face it very well. There are stages in the type weeks in which there is no time to execute individual work. They trained well, this week is good for them to get in shape."
Fatherhood: "Fantastic, exciting. It's another stage. You look at everything from a different place. I was very young when I had boys and now the baby is different."
Paternity serene: "I do not think that paternity takes my passion or the format I have for the game. I am a father and I give myself to my family. When I have to train I do not remember that I am a father, not at all."
Do you have the feeling that athletic people are worried? "People consume what they read. Everything is so fast and verbiage that there is no time to explain the situations. We are very well. We have eight or nine signings, boys with a huge future and a present in which we have to help them. They have very quickly incorporated players like Lodi, Trippier, Felipe, João Félix ... Then there are others that are costing us to enter as Hermoso, Herrera, Marcos Llorente ... Facing out, everything that has to do with Atlético is concern. "We are a new team. It is true that the numbers are not the ones that have accompanied Morata or Costa's career. When they are back in their most important state, the team will take a more important step than they are doing. well, the team maintains that structure. The plus of quality must be given by Morata, Costa, Vitolo, João Costa, Lemar ... ".
Comparison between Griezmann and João Félix: "The problem is that it compares Griezmann, who was almost a Golden Ball, with a Golden Ball boy. One day I sat next to him and said: 'The movie is like this: if I put all the games on you and you get injured, it's my fault because I don't know how to manage you, if I don't put you to rest, it's my fault too, I have to tell you those things, it's open to listen and understand and that's good. if I didn't understand. I said, "They're going to criticize what I do with you, get away from that. You're very important to us." I have to tell a 19-year-old boy who is humble and open to hear that he understands that he can't play every minute. What I want is the best for João Félix ".
Boring match in Valladolid: "Boring for one is not for another. Valladolid did a great tactical job. They were better in the first half and we in the second. We were able to score two goals. I don't know what is boring. Matches with a lot of possession and few shots are boring. What happens is that you think that with 0-0 something is missing ".
Defensive coach: "It doesn't bother me. In football, nobody is right. My quest has been to have a competitive team and always be closer to winning than losing. And we have succeeded. Those who criticize me from the tactical point of view. happy. I know what the team needs. As I know the club, I know where to go ".
More comfortable with gladiators than with class players: "In Students I played 4-4-2 with offensive characteristics. And also in River. At Atlético we built a team based on what we had, a competitive team, sometimes offensive and times with more strength What makes the difference is the forcefulness Look at Barcelona-Seville They always want to approach Madrid, Barcelona or Bayern and we are not in that process We cannot lie to people If people believe that João Félix is Griezmann and Lodi Felipe Luis, 27, we are wrong ".
The most talented squad: "What is talent? I want players who know how to play as a team. Good there are many, of these, few. We have started with one of 120 million, but it is not Hazard, who is thirty years old. There are to go little by little. What we can show this, at least with Simeone. The day I think I am not the right one, he will look for another option, which can go well or badly. "
A renewal too abrupt: "Every situation is different. What has hurt us the most is Lucas, because it was ours, from the quarry, like Saul or Koke. Thomas is extraordinary because we have been working with him for five years. Lucas was coming that way ".
Thomas: "When I put it last year, they asked Rodrigo. Thomas is more upright. And when they put him in, they killed me. When I am regular, he has immense conditions."
Godín and Griezmann: "The two were important. It is more difficult to replace Griezmann. Everyone sees João Félix as second striker, but I think he has to have people ahead of him, so he can play watching and not in very small spaces I hope that in two or three years I will play where Griezmann started doing well with 26 years ".
Griezmann: "He is happy and where he wanted to be. He will be doing well. He is good people, humble, he will know how to enter the group. With Messi? It is a problem of Valverde, I have mine. Play well and it will come in very safe."
Concerned about the lack of a goal: "There is a structure that is supporting that lack of goal. We have a better game than other years, better transitions. We need to be up as in Russia or in other games."
The village team: "Barbarian Zidane explained it. It's a boring issue. They always look for something to distort. It's something social, skinny."
João Félix, too many times headline: "There are two positions. There are players that you have to settle on the team. Now, playing 60 minutes does not change me. There will always be a criticism. We also give Lodi the option to play. Because he and Joao Felix are close to what the team needs, I'm missing Herrera, Hermoso and Llorente, Arias is better than last year, Vitolo took a step forward, because he has difficulties if he plays many games in a row, Correa is a revulsive. But at Atlético you have to prepare your mind and that's why you have to face João Félix with reality ".
Motivation: "The biggest challenge we have is that people are restless, waiting. And there we have to work."
New motto: "Our illusion is to win Valencia, and then the Germans, and then Athletic, and so we can have some chance in May. Now, if we bring a 19-year-old boy for a 28-year-old boy who was almost Balloon Ball I pray and we carry all the responsibility… It is difficult to play here, as in Madrid, where Jovic does not play, or in Barcelona, where Rakitic does not play ":
Wrong on 7-3: "It was a fantastic game of Atlético and bad Madrid. The team has to leave. The tranquility will not give us play well but win."
Changes since he arrived: "Those were younger, they have the opportunity to explode. Atletico is a counter-hitting team and team play. That's the story. And when we wanted to get out of there it didn't go well."
More complicated year: "Renewing we knew this was going to happen and we assumed it. The criticism will be harder and harder because we have been for eight years and there are people who feel uncomfortable. I feel that the club is a virgin, that continues to grow, that is enhanced What is needed is tranquility and that they don't want to confuse us. That they don't want to confuse us. Listen to me! Don't confuse us! We like pizza and we have to eat pizza ".
Discomfort in some: "I have several, but I smile. But I have the ego of wanting to overcome myself. My goal is for the team to compete. Win or lose I don't care, but compete, always. We have grown in the positional game. There are better feet. We need to give a little more brightness and clarity to the final meters ".
Virtudes de Valverde and Zidane: "They transmit tranquility. Zidane won everything and not only luck is needed. Madrid has a more complete squad, with great midfielders. And Rakitic, who won everything, does not play."
Diego Costa: "If he and Morata grow up, we have real possibilities. Who has players like that? But they have to be as we all want to."
Morata and the mess with Salva Sevilla: "It can happen, it happened to all of us. I told him what I think of his hierarchy and that those things cannot be allowed."
Tridente: "I have no problems if they are well, with João Félix on the right. He is similar to Kaká. He needs space. If they confine him he pays less."
Griezmann: "Your daughter is a friend of mine and our women get along. We don't talk about football."
Double standard of the VAR: "The VAR is very good. Give it to me always. Before there was no penalty. Or the player threw himself. Victimism never liked me."
Llorente y Hermoso: "I asked you both and we will need the whole season" .
Gil Marín said losing the two Champions was good for them: "I can't tell you what the owner said, but he knows what I think" .
The fan who discusses him: "It's demanding. They insulted me, Luis Aragonés, Kiko. Everything has cost us a lot, but for ten years the team is growing. And let's not get out of there. We have to know what we are, do not tell us things that we are not today. Another thing, in the walk, is that we can get it. We are from the safe kitchen ".
The Premier, superior: "They have invested a lot and are strong and the Champions League is scoring them. Barça has not been to semis for a while and we have been fourth."
Blindar to Thomas: "That is what the club knows. If it had come from the City, it would be the h ... Now they are discovering it. Now it will have to be maintained."
Far from the titles: "I do not look far from anything and that is achieved on a daily basis" .
The style: "We have always hung the label of defensive. The subject is boring. I am bothered by the experts who discredit who defends well. From Setién they said that it was offensive, that I was waiting for you in your field to win the backlash" .
Falcao: "It was a year and a half and it was decisive. I already had it in River. An important striker."
Coach whom he admires: "Klopp. He has been in Liverpool for four years. He has lost and won with the same style. He is very close to the players, smiling ..." .
Another Champions Final: "I see myself playing against Valencia and people pushing" .
Which soccer player would stay with those who left: "I can't answer it" ..
Rodrigo: "We are doing well like that."
Photos from as.com