Sergi Palencia: "The requirement in Saint-Étienne is to win in each match"
The former Barcelona attends Diario AS a few hours after the Rhone derby between Saint-Étienne and Lyon.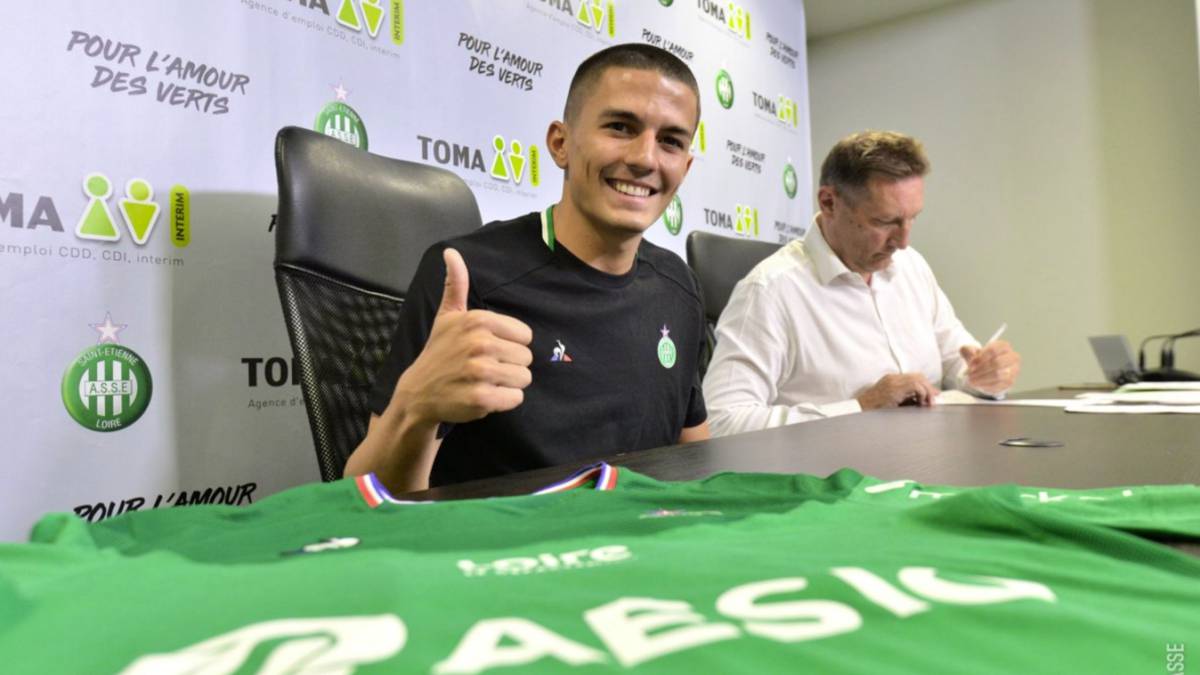 Sergi Palencia (1996, Badalona) arrived in Ligue 1 a little over a year ago. The passage of Second B to the elite of world football was no problem for the right back. In just days, he debuted in the Garonne derby against Toulouse and his performance had such an impact that he became one of the most regular players of the first round in France. It earned him to be part of the U21 Spain that would later be proclaimed champion in Italy and San Marino, but the injuries prevented him from being in the tournament.
The great performance shown by the Barcelona squad earned him a well-deserved signing by Saint-Étienne, the team with the most championships in France. Now he is injured, but there is no one who bothers him more to miss the Sunday derby against Lyon than him.
1. Sergi, first, how are your first months in Saint-Étienne? Has the transition from Bordeaux to the club with the most leagues in France been noticed?
Yes, it has been noticed. Here, in Saint-Étienne, you are practically obliged to win and to me, as a player that I am ambitious and I consider myself that I want to win always, it suits us. In Bordeaux, the fans were less passionate. It was demanding, but not as passionate as here.
Here, fans have been waiting for you two hours to get out of the shower to just take a picture with you. In addition, with the Europa League, the demand increases and the truth is that I cannot be happier to be here.
2. He reached Ligue 1 as a rookie and in just one year he became a man. How much weight did your performance in Bordeaux last season have to pass in such a short time from a promise to a reality?
I came to Bordeaux from a subsidiary, it is true that I played in Second, but there were doubts about how I will perform in a League of greater demand. If it is true that I took advantage of the moment because Sabaly was injured and there were no more sides. Bedouet, who was the interim, put me to play and the thing could not get better. You learn, you grow, as in Barcelona, that you learn things, but different. And Saint-Étienne is already interested in me in a medium-term project. And the truth is that I am very happy that such a club noticed me.
. Is Saint-Ètienne the best French football fan? I imagine that when you enter the lawn of the Guichard you get the creeps ...
Yes. But more than taking the field as a pressure in the negative direction, it must be taken as a positive pressure. Whenever things don't go out, we all want to go to our stadium because we feel welcome there. You will see tomorrow against Lyon, that will be a pressure cooker. I had never had the luck in Barça B (Mini-Estadi) or with Bordeaux, to have that atmosphere even though we gave no reason to cheer. The good thing about Guichard is that regardless of the result, the animation is the same. The field will make us win many games.
4. He commented in his first press conference as a Saint-Étienne player who came to the team to learn from a veteran like Debuchy. It is true that Debuchy has been indisputable in the right wing, but in Marseille it was seen that you can be compatible. Did it make you very angry to get injured from that encounter when you were being one of the best in the game?
Yes, this is like last year with Sabaly, who saw that we could play both. There is no fierce competition here that one of the two does not want the other to do well in order to play the weekend. In fact, in the game against Nîmes I jumped off the couch like the one because the costumes are like that. He as a partner is impressive, and in the end it is not by chance the careers of each in football. He has had 55 internationalities with France, has played in Arsenal ... It is no accident. Even veterans have to look at it. I am here to learn in all aspects and he is a person who helps you.
5. How do you live the derby in the city? It is the most important game of the season for both teams. Precisely, a victory against the eternal rival would alleviate all the evils that are being experienced in the initial stretch of the season.
It is true that last weekend everything looked more dramatic for both teams, and now, with European commitments, it seems we got a little better. Here I think the game is much more alive, because although there is also "Le classique" between PSG and Olympique de Marseille, in the end the proximity between Lyon and Saint-Étienne, makes it a social derby, like the Marseille-Bordeaux. Here we live differently, and I think it will be a great match and we have to win anyway to give the moral blow we need to lift this and I am convinced that we will face.
6. What happened to Saint-Étienne this season? Because he has only lost Cabella with respect to the team that finished 4th in the last Ligue 1. The low of Gasset has been noticed a lot and in the short term it is difficult to forget a coach who obtained impressive numbers.
We have to keep the last two games. It is clear that in Nîmes we did not give the desired image (although he won 0-1), better to do what we did and win than not to tie despite having brutal sensations. We have to grow after these two games, on Thursday we lock up a Wolfsburg that was the least thrashed team in the Bundesliga. It's complicated, they are dynamic, I think we have strengthened quite well but it usually happens. When you come to make a very good year, in which you have played many games, everything comes together and the thing crumbles a bit. But we've channeled the pace and I'm sure we'll see a better version now.
7. For those who do not know Ligue 1, Sergi, what makes it a special championship even though in Spain it is not valued enough? The number of young people who go out year after year of the championship, perhaps? How do you see it?
Yes, it is clear. Every transfer market we see. It is clear that here there is a brutal talent, and not only technical, now football is physical and you have to be prepared, and French football is a perfect combination of both. In each team there are several 18 or 19 year old players that in five years we will meet them all.
8. On Sunday a coach arrives in Saint-Étienne who pioneered one of the most successful stages in the history of Barcelona. What memories do you have of Sylvinho? Because by game style, he was a player who gave everything on the field like you.
Yes, in fact, they told me it looked like Sylvinho because I had hair like a whirlpool. I remind him of great goals and I've always liked him a lot. I looked at him, but now I stop looking at him because he's a rival on Sunday. I think he is a good coach, but the lack of experience of catching a huge club like Lyon makes you complicate things. I hope you don't do well on Sunday but I wish you great things in the future (laughs) .
9. Are you more comfortable playing in France for your style of play than in Spain? In France, the sides are paramount in the defensive aspect since it is the league in which more duels are generated on the outside.
Yes, I consider myself a player with things to improve. I arrived in France with the defensive label, but I have been trying more things over time. In the end, being in Barcelona throughout his life gives you offensive concepts. I'm growing in that aspect a lot.
For me, a side has to defend first, then choose when you have to climb, but then know when you have to go. If you have to climb 50 times in a match, go ahead, but better to choose. Last year it suited me to release myself in attack, we will continue working on that.
10. Finally Sergi, do you see Ligue 1 currently closer to the big leagues or do you still have to take a step forward in terms of team structures? Because when the French go to Europe lately they are not reaping great results.
I think so, before you did not come for example the Metz to compete. I believe that the level is rising and investors are coming. The one from Bordeaux, the one from Nice, the Stade Rennais ... More and more teams are joining the European zone, although now there are only four. It is very difficult to retain the stars but the level is rising
Photos from as.com