Real Madrid is set in Haland
The Norwegian striker (19 years old) plays in the Red Bull Salzburg. He has scored 18 goals in 11 games. The strategy is followed as with Rodrygo, Vinicius, Kubo ...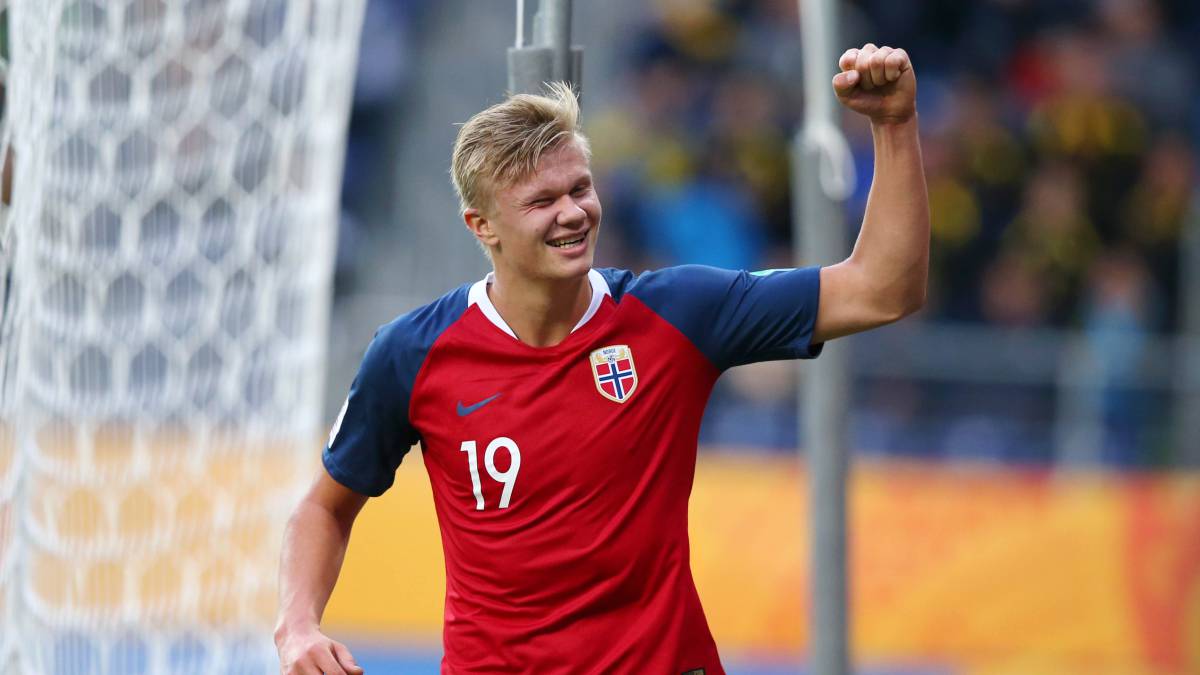 EI Real Madrid remains firm in its policy of having attentive ears and open eyes to try to sign the pearls of greater projection. He now has on the radar Erling Haland, 19-year-old Norwegian forward of the Austrian Red Bull Salzburg, with an impressive floor plan (measuring 1.94 meters) and a splendid moment: he has scored 18 goals in 11 official matches this season. Among them, a hat-trick to Genk in his debut in the Champions League (and only played 70 minutes!) And another goal in Liverpool to Anfield.
The club's strategy has not changed a bit even if it has already been done with a good bouquet of young foreign talents in the squad (Valverde, Vinicius, Rodrygo ...) or have them doing the military in other destinations waiting for their Return home (Odegaard, Kubo and Lunin, for example) .
Haland fits like a glove on that plan. Its price is not crazy yet (Red Bull Salzburg paid € 5M for it in 2018 and the specialized website Transfermakt estimates its current value at € 12M) and talent is not discussed. In Norway, experts and contacts do not decide on which superdelantero is more similar. Some believe that Van Basten, others opt for another more modern reference, Ibrahimovic. He has aroused hope in the Nordic country because, among other things, his irruption reminds us of Odegaard (only one year older than him) at the time. Haland's growth has been literally spectacular. In the last four years he has hit the stretch and his height shot in more than twenty centimeters, up to the current 1.94 meters that could still increase a little more. At the moment, he has copied the diet of Cristiano Ronaldo.
A very early scorer
This is a left-handed tank casually born in Leeds (England) because his father, Alf-Inge, made a career in the Premier. The son begins to generate noise outside Austria. Especially for that role in this Champions League, where those three goals against Genk made him break the precocity record in getting a hat-trick that Shevchenko had, beating him for two years (the Ukrainian achieved it with 21 years). Europe is doing very well. In his goal to Liverpool, fifteen days later, he had only been on the pitch for four minutes.
Haland is leading his career in the family but advised by a heavyweight representation, the Italian Mino Raiola, the agent of Pogba. The Scandinavian pearl gave Juventus a refusal before leaving for Salzburg and next summer, if Solksjaer is still on the Old Trafford bench, it will be a primary goal of United who was already interested in him. The Norwegian coach knows him better than anyone because he was the one who gave the alternative to Haland in the Molde, being a soccer player of just 16 years. "It's so good that we're going to have to have it hidden ...", joked by then the coach of the Red Devils. Of course, he had patience with the boy because the battering ram received a yellow one after 65 seconds of his debut ...
Madrid secures its future
Madrid has the name of Haland even though it already has Jovic, who will turn 22 on December 23. Benzema will turn 32 in December and the entity's talent acquisition policy is not looking at the position they occupy, only if they meet those youth criteria and that their price is affordable before they break the egg and its cost is triggered at Compete for your services against other important clubs. That is why it has not mattered to acquire Vinicius and Rodrygo even if they act in similar situations, a case similar to that of Odegaard and Kubo. Haland are the goals of the future
Photos from as.com