"In Real Madrid I had a lot of criticism, too negative"
Martin Odegaard (Drammen, 1998) feels at ease. The Norwegian yielded by Madrid at the Royal Society reviews how he is doing in a talk with AS and his country's TV2 channel.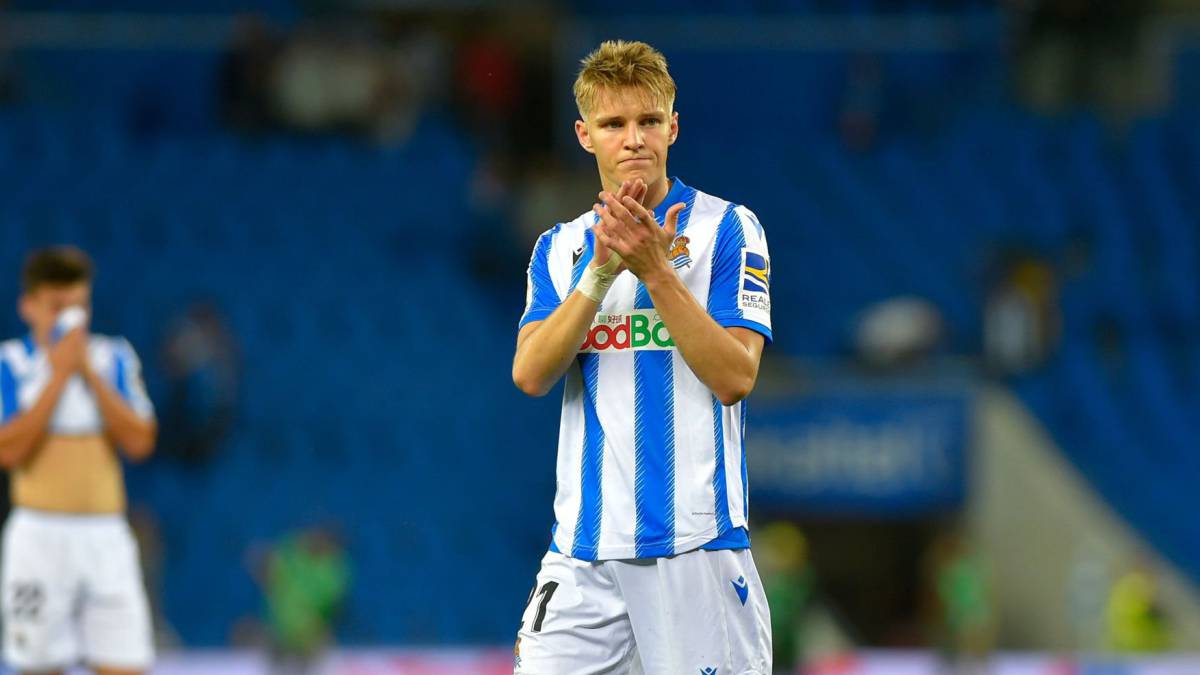 Do you have trouble sleeping after games or do you have many laps after playing them?
I fall asleep around three in the morning, it's hard to sleep with all the adrenaline in my body. I think a lot about situations, I look at some moments, I have many photographs in my head. It takes me a while to get out of it all.
What do you do to relax?
I like to watch series. I've had my grandparents and my brother around here, we usually play cards. Sometimes I read or watch a movie, or just relax in bed.
Your goal pass to Portu against Alavés generated many comments ...
It was very fast, it is difficult to describe, in a matter of seconds you see the space, the movement, and perform the action. You have to see things that fast, it helped me that Portu's career was very good.
Redondo, Baptista, Luis García, Hierro, Xavi Prieto ... Everyone praised that action.
It was a special pass and a special goal; a great moment. Maybe it's my best assistance. Of course you realize and it makes me happy, of course.
It's in great moment. Do you look capable of anything?
There is something I notice in some games, when things are going well you feel you can do it all. And yes, I feel that I am in good time. Sometimes with the ball you don't have a good feeling, you don't turn well because you feel a little insecure. And then there are games where you have the ball and you know that when you turn around you will be alone and the play will come.
Sports diaries already cover pages
I don't mind appearing on a cover page or in a newspaper. I just do my job, what I like to do. I enjoy playing football and this type of thing is linked to football, which receives a lot of attention, especially in Spain. But for me it's not important, I don't care if I'm there or not.
Do you prefer not to listen to praises?
It's okay to hear them, I'm used to it since when I started playing, in Norway, with 15 years. I received a lot of attention, too much, and in Madrid I had a lot of negative reviews, maybe too negative. It was all white or black. And at the moment it is the same. We have played few games, we have not done anything yet. We started very well, but so much attention is a little crazy. I concentrate on the next day, on the next training, the next game. In further improvement
He has seen an important physical evolution with respect to the boy who arrived in Madrid.
I work with someone I met there and he keeps track of me. We draw up a plan to see what to eat, how to train, all these kinds of things. And, of course, in the club we work together. The combination of my personal training with that of the club is fantastic.
And does Madrid know everything?
Of course, although the person I work with is not in Madrid. Now he's working on his own, but it's at the club where I met him.
His rise was very rapid. Didn't you feel dizzy?
Everything went very quickly. When I was 14 I played with the U-16, then with the U-19 and a year later with the Absolute. And half a year later I signed for Real Madrid. Yes, it was a crazy period. Now I look back and see myself playing with only 15 years ... It's crazy, isn't it? But at that time I felt good.
When did you see that football was your thing?
There wasn't a moment. Football has been my life since I was a child, every day I played: I came back from school (I finished my basic education in Holland last year), I did my homework and then I went to the field and played the rest of the day. Even when I played in Primera in Norway, in Stromsgodset, I just wanted to train. I am fortunate to be able to do what I love.
It gives the feeling that he understands the game, that he has always seen it clear ...
I was lucky because my father was also a footballer and I went to his games, to his training. He knew a lot about football, I prepared very well soon. He knew the importance of looking around when you play, because everyone else looks at the ball. Keep sending me messages after the matches, so I know what you think and that is still important to me.
Solari, his coach in Castilla, says he spent many hours improving him.
We had a very good relationship. He always told me that I had to take care of my responsibilities, it helped me a lot. It was my best moment in Castilla, I started to score more goals. We had a good connection. I am glad to feel that he is happy that things are going well for me, now I am doing what he asked of me.
Was that stage, that of Castile, complicated?
Yes. He trained with the first team and played with the subsidiary. I was a little stuck in the middle and sometimes it was difficult to know what my role in the team was. It was great to train with the first team, I wanted to do it and I think it was important for my development. But it's never easy when you're not 100% part of the team. It was complicated, but it also helped me a lot to improve, to strengthen myself mentally.
He has been through several clubs. Do you want to settle down now?
Exactly. It is important to feel the responsibility and that you are an integral part of a group. I did that in Holland, at Heerenveen and then at Vitesse, where I feel it was a great season. The coach gave me a lot of confidence and responsibility. That is one of the most important things for a player. When you are here for a year and there, you want stability. That's why I want to be here for two years
Elected the Royal Society. Why did he do it?
There were many interested teams, but after talking with the club and the coach it was easy, I felt very good. I had the impression that it was the perfect place, in terms of football, people, everything around the club. So on the one hand it was simple, but there were other interested clubs. It is never easy to choose when you have good options, but I think it has been a good choice.
Photos from as.com