Puig: "Lorenzo knows that not even these are the results"
He says that there was no need to say anything to the Mallorcan after reaching 66 seconds of Márquez in Australia and hopes "a step forward from Zarco in Malaysia".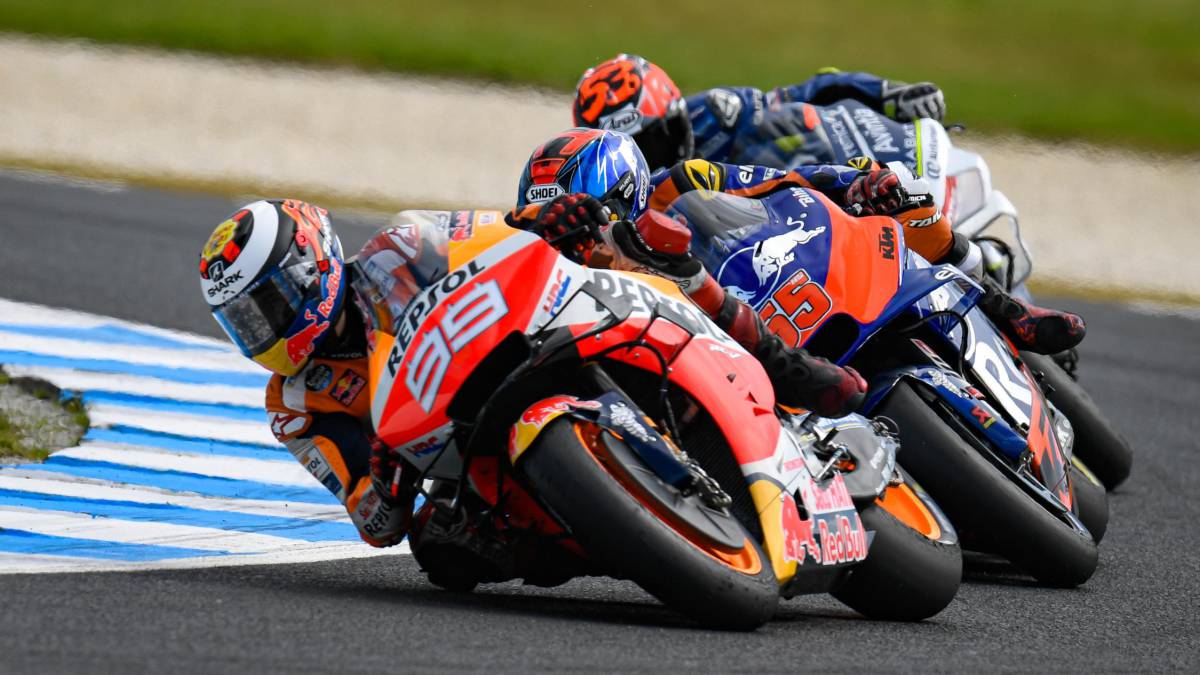 Alberto Puig enjoys every performance of Marc Márquez to the fullest and does not despair, at least of doors out, with the last fiascos of Jorge Lorenzo, who has four consecutive races without scoring. The Phillip Island was very loud, because he finished last 66 seconds from his boxing partner. The main team of Repsol Honda says that it was not necessary to say much to his pilot after such a role, because "Lorenzo knows that, not even a joke, these are his results" .
This is how Puig values Lorenzo's career in Australia: "It cost him a lot, more than ever, in a complicated circuit. Without trust it is very difficult to go fast on Phillip Island, because they are very fast curves. The difference was very big and we knew very badly about him. I can not say more. He already knows what there is. He is a champion and has been winning. He already knows what there is and we don't have to go tell him anything. He sees it. It is clear and knows that not even these are the results ".
The situation of the pentacampeón is compared, in addition, in these last three races with Zarco, which debuts the handlebars of a Honda as a substitute for Nakagami. In Australia the Frenchman crossed the finish line before the Spanish (13th and 16th) and for Puig "Zarco did very well. Dropping an uncle with a new motorcycle on Phillip Island, with the weekend so difficult it was over time, with rain, wind and I don't know what. He had to try not to fall, and he didn't fall. He had not been on a motorcycle for a while and I took his weekend for good. In Malaysia, it will take a step forward, clearly, because in Australia it was active, it was getting faster and the bike liked and understood it. I hope I am not mistaken, but I think it will take a step forward in Malaysia. "
As for Márquez's eleventh victory of the year, the Honda box chief says: "We are used to Marc winning, but we must never take away any merit. Viñales had everything very controlled in Australia and we knew it was going to be very difficult to beat him, but at the same time we were very clear that Maarc was not going to give in because. We knew that, if he could stand it at the beginning, he would go with him until the end and he would try it, because it is Marc Márquez. Once again, in a situation that was difficult thinking about victory, he succeeded, which has all our recognition. That victory made us very excited, because it was very difficult. There are times when it is seen coming, but this time it was not like that, he thought about it a lot and got it, which made us very happy and we congratulate him ".
And he has words of praise for the performance of Maverick in his duel against Marc in Phillip Island, settled with a fall for Yamaha as he tried to win a final opportunity to overtake that of Honda, three curves of the end: "Viñales did not deserve to end on the ground in Australia. He made a great race, being very strong all weekend and you have to congratulate him for what he did. What happens is that its fall reflects the greatness and misery of sport and racing. You are there, but it doesn't always come out. Viñales did not want to give his arm to twist. He wanted to try and fell. Those things happen in the races. It has happened to everyone. "
Photos from as.com