Monchi: "If I had to sign De Jong again, I would do it"
The sports director of Sevilla defends the Dutch after his failures in Barcelona, and also Lopetegui: "It's something more than I thought."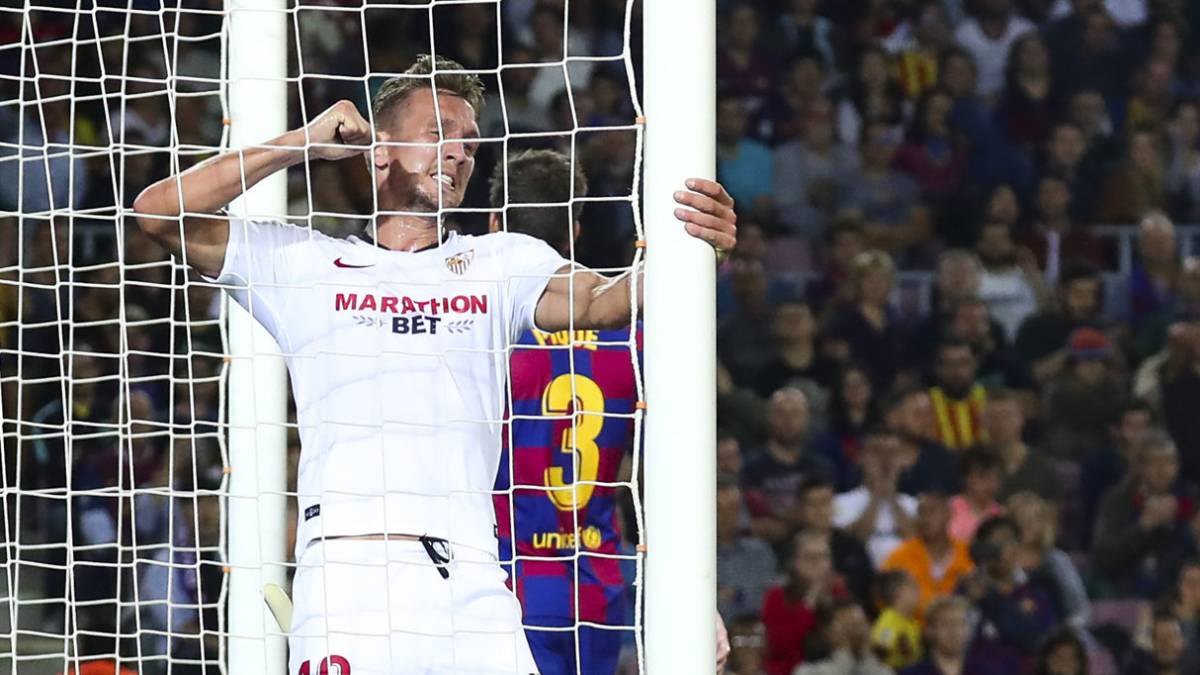 Ramón Rodríguez, sports director of Sevilla, did not want to avoid his public commitments despite the 4-0 of Barcelona and appeared in the Radio Sevilla gathering to assess all the news of his team starting with the win received at the Camp Nou and the failures before the rival door of the Dutch striker Luuk de Jong: "The analysis has to be deeper than it puts on social networks. No one is 100 percent right about this but I am the maximum responsible for the sports plot of the club "The game is not lost by De Jong, but Sevilla as a team. Luuk's individual failures attract attention but when one loses 4-0 there are more errors."
"Sevilla played a magnificent game, very close to what we have done in other displacements, take the ball off the opponent as high as possible. When you score four goals it costs to sleep, but you have to hold on to the positive. In this second stop there are more positive than negative signs, which there are also, in the future of the team, "he added.
"Tell Lopetegui to put Lopetegui? I have never done it and it cannot be my job. I am a sports director very close to the players and the coach. It is my way of understanding it. I have to be a support, a support Telling him "play this one" goes against what I think. Another thing is to be asked. When Lopetegui has doubts I will be there to give him the greatest support and try to solve it, I have done it with all the technicians. Let Rony Lopes, Bryan play I don't care about Dabbur, the important thing is the collective result. I wish Dabbur played every Sunday and scored 15 goals forever, "Monchi continued.
Remove De Jong. "It's a very coach decision. Luuk is a cold uncle, he is able to take on this moment. It is not a matter that makes me particularly sleepy. I have a lot of confidence in De Jong, sooner rather than later the goal will come. A the best thing in a social gathering like this one 15 years ago we would say that Kanouté is a player without a goal, and is the best striker in the history of Sevilla, Luis Suarez has been without scoring in Champions outside the Camp Nou almost two years. an excuse and if De Jong does not score goals it will be a failure of the sports director, who has brought him in. If he had to sign De Jong again, he would sign it, after meeting him. I am positive that the strikers are going to do goals, and I do an analysis to the contrary: the team makes goals without the participation of the strikers, so when they do they will raise the level further. "
Dabbur's participation stake. "Absolutely nothing is happening with Dabbur, he is a magnificent professional and he also lets himself be loved. The coach in his conception of play today, with a 4-3-3, believes that there are other teammates who are better. I do not perceive that Munas is above the teammates is obvious. The tips live a lot of confidence and I am convinced that Dabbur will appear at some point in the championship. I can give an example of many players who have needed adaptation and then gave their performance , others not. We can think that Lopetegui is right or wrong, but do you really think that a coach who lives 24 hours thinking about football, would not put Dabbur if he saw that he is above De Jong? He does what believe better for the team. I'm always by your side and I know it. "
Cards that work. "None of them surprise me. Sometimes the ability to adapt, which is the philosopher's stone of any planning, does. In some cases it has been faster, but if I do not raise anything to definitive for the negative, I do not do it for the positive either. Diego Carlos, Reguilón, Ocampos, Jordán, Fernando ... they have to continue with that level. The final notes are the important ones ".
Failures hitherto failed. "If I have to be with someone upset that they do not play it must be with myself. I leave from the base that the coach puts what he thinks best for the team. If in the end they do not work the only culprit is me. In what I have matured most these years it is in not looking for excuses, but in giving things normality, neither for the good nor for the bad we raise anything to definitive. When I sat down with Lopetegui yesterday on the bus we entered into a constructive dialogue, thus the great teams are built ".
"Making 13 signings is something very aggressive. I also thought of something more aggressive than what could possibly be done. Sarabia and Ben Yedder had to be sold as an obligation, for accounting terms, even if we have good economic health. He faced fortitude and I do not use it as an excuse, because I have invested a lot. I had something different in my head, with nuances that have not been done. There are almost 20 million euros of players who belong to Sevilla who do not play here. , I have not sold what I thought. But what I have done, I like it. If I had to trust Lopetegui again, I would do it, because it has proven to me to be something even more than I thought ".
Debts. "That there are doubts about the coach and the planning is normal. I respect him. Today, the sports director of Seville can only defend his people publicly and internally give them support and encouragement. I have been to Camp Nou as a player many times and sports director and the feeling I had before the 25 minutes of dominance of Seville I have had very few times. I think the team has an identity. I would worry that the coach was hitting. He said we would be ourselves at the Camp Nou and he did it. The individual nuance changes the future of the party. We have to live with people doubting, we cannot try to change the World ".
Lopeztegui does not convince part of the sevillism. "The only way to change the conception of some sevillistas about Lopetegui is with results. If in the end you get them, I don't think there is another subjective nuance that tilts the balance. Empathy is achieved by raising money and achieving goals. The sevillist is not You can sell mediocrity.If people complained playing the Cup final, the Champions Quarters and with the seventh place ... we have to aspire to the maximum because that hallmark has made us grow.Getting money and being fourth is more feasible if you put it as an objective that if you do not do it, we are sixth, in UEFA we have won both matches and there is a feeling of great negativity, who does not assume that, who gets off, I think the coach has assumed it and I have confidence of being able to respond to that demand ".
Doubts about Vaclik. "The goal is one of the most specific positions and those that are most in debate. Vaclik seemed to me and I think he is a great goalkeeper. But as with the strikers, there are streaks. Because likewise everything that comes to us is goal. But trust in him and in Bono he is great, the only thing I can think of is that he changed that streak a bit, Diego Lopez had six months in Sevilla that every time he was thrown was a goal, and then he went to Real Madrid. Sometimes you need a match that you say 'I have won it.' Vaclik is charming, thoughtful, does not avoid self-criticism and I have told him that this will change. "
Objectives. "The best thing there is when you set a goal is to be able to adapt later. For example, the Celtic of last year. When you see celebrating the salvation of Aspas and the fans is that you have achieved something good. Or, vice versa, when Athletic does not reach Europe. We have to aspire to the fullest, ambition is one of the engines of the growth of Seville. We have won 9 titles and we have played 18 finals being ambitious, although that has sometimes played against. I will not change that message ".
Derbi against Betis. "There are general elections that day, which is also very important. It is a date that is there and I look sideways, no more. I neither elude nor obsess me. It is impossible to know how we are going to get both teams to that game. No I'm able to draw the stage. If Lopetegui is going to be in the derby? And I, I hope ".
Photos from as.com