Marc: "You have to be willing to fall 20 times a year"
Conversation with the champion in Thailand on the eve that he can be again, hours before getting back into a Honda with which he had a huge scare in the FP1.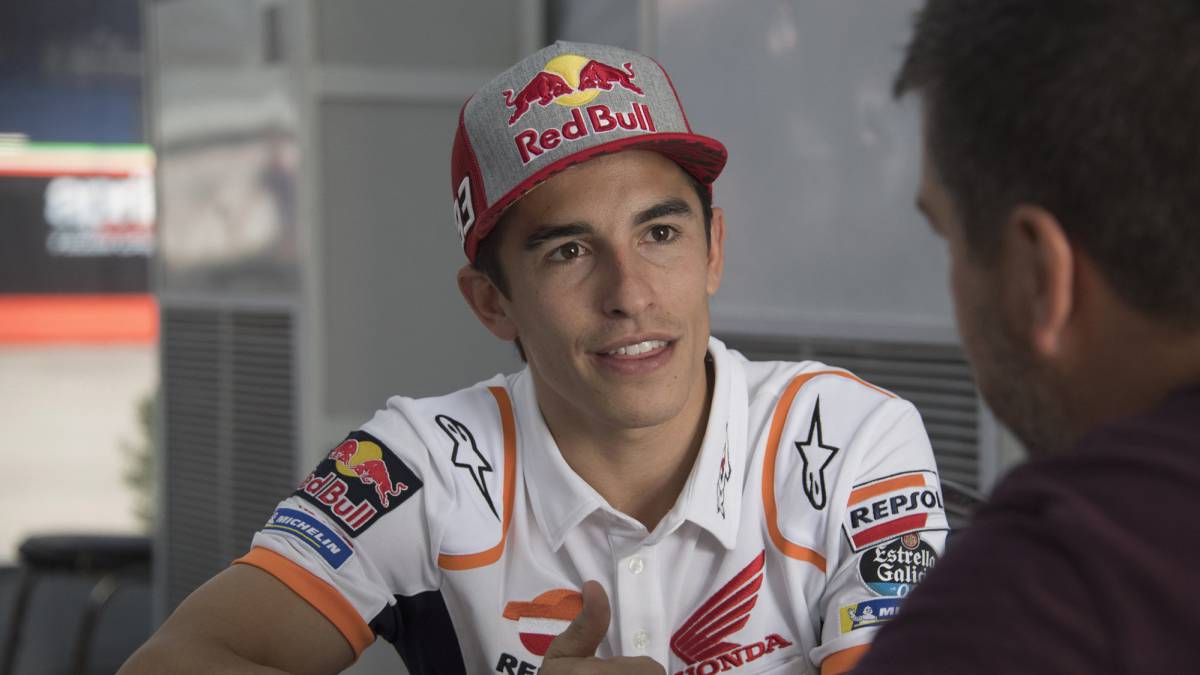 Interview with Marc Márquez for As in the Thai GP, chosen on purpose some time ago as a possible scenario for the coronation of his eighth world title. That detail does not escape the champion, although he was about to go to limbo this meeting if his fall in FP1 had resulted in injury, something that was feared at times. We talked before he got on a Honda with which he assumes he has to fall an average of 20 times per season to help him be the best.
-Very good.
-Is it your turn to interview me here?
-Yes, I ordered it for Thailand.
-Since when was it scheduled?
-Several months. In June if I remember correctly
-Ah, that's why you told me at Silverstone what results I had to do to get to Thailand with a title ball. (Laughs) You wanted me to match this interview. (More laughter) .
-Well, I'm not going to say no ...
-I tried to do something like that in 2014, to get a chance at a title in Aragon, and it went wrong, because I fell in Misano and then I fell again in Aragon. It is always better to have it five races before the end of the season than four, and three, and two ... But you also live it differently, because you do not live so intensely.
-Would you like it to be more exciting?
-No, but winning a championship in Valencia, in the last race, is not the same as winning it in any other circuit. The first boom is different. Then the following days are the same, but that first boom has more adrenaline.
-It is easy to imagine then what were the titles that most moved you ...
-The first of MotoGP was the most, for being the most unexpected. In 2010 (the 125cc), I felt almost no adrenaline, because I did not value what a championship was. I didn't know how to value it, because it was the first. He had won, so what? On the other hand, the one of 2013 I did know, because in 2011 I learned that you win here, but also that you can hurt yourself a lot. It was when I had an eye injury. Then I won the Moto2 in 2012, but in 2013 the first MotoGP came and was the most unexpected and the most adrenaline. The 2017, also closed in Valencia, with the mythical saved. It seemed an easy race and in the end it got complicated.
-There was more talk of the incredible save in the first corner than the title. Do you remember it?
- (laughs). Yeah right. It's like in 2010, there was more talk about Estoril's career in which I came last to the penultimate race than in which I was champion.
-Do you have any shock prepared for this occasion? (It was in reference to the race, which in training did occur with the fall of Friday, and fat) .
- (laughs). I have nothing prepared like that!
-But would you like to see some unexpected event that would give you more epic?
-No, no, no. Let's see if it is believed that I provoke it. I always try to make the race as placid as possible, and hopefully a weekend like the one in Aragon comes out here, which is the dream, but that happens once a year and here we have to manage it differently.
-At what point in the championship do you realize that this title is not going to escape?
-When I really have a comfortable advantage, it is after the German race (+58 on Dovizioso). There I went on vacation knowing that if I managed it well, I could get it, but you have to manage it. With more than 50 points you already have two jokers and you have to give yourself very, very badly to lose it, but this is motorcycling and there are more and more races in a row. You can hurt yourself in one and miss two stroke at once. Here is the risk factor
-Of the eight victories you have, which was the most important?
-Jerez, because it meant the return to the leadership after Austin's serious mistake and winning as he intended to do it there, leading from the beginning and escaping. That was an important moment for morals, to forget Austin and lead again.
-And the round one?
-Argentina, because I took twelve seconds. There he had more margin than in Aragon.
-Winning thus makes people think that MotoGP loses emotion. What do you say
-Of course it comes to me that I take away emotion, as well as that I win for the motorcycle or that the motorcycle is made for me. The motorcycle direction is marked by the rider who is the leader of the World Cup, but the important thing we have in Honda is that the comment is the same of the riders who carry the same motorcycle. And about boredom, let them see the duels that I have lost too. If it were left over, I wouldn't lose a duel, because you keep things and squeeze in the end. But if you lose duels and have falls that means that you are not left over.
-It is clear that you are not bored.
-Of course not. If it is true that in races like in Argentina or Aragon you enjoy less than with races like in Austria, Silverstone or Misano. Even if you lose it, the race passes you faster. When time goes by quickly, you are enjoying the race. In Aragon, for example, my career became eternal. It was there and it was a matter of passing the laps, without failing and maintaining concentration.
-Every year usually improves. What has improved this year?
-With experience, to control the tempo of a weekend, namely when to give more intensity and less, and the level of risk to be taken at all times. There is no need to risk in all workouts or in all laps.
-Would you sacrifice the title you are about to win for your brother's Moto2?
-Yes.
-Do you really tell me?
-Yes, yes
-But if he is already world champion once.
-But of Moto3, not of Moto2, and I already am of MotoGP.
-Are you talking to me with my heart in my hand?
-Yes, yes. I give it to him if necessary.
-With all the advantage it has in the general?
-I already have it and my brother does not, so I sign it right now.
-And so will the day Alex is in MotoGP?
-That will have to be won too, but I would know much less badly than losing the title against another, because it would remain in family and among us. I am glad the same or more when my brother wins a race than when I win it. From outside you live differently.
-One of Rossi. He is three years ahead of him at 26. Does it tell you something?
-These are indicator numbers that we are doing well.
-Next year you will have the possibility to match your nine titles in total and the seven in the queen class. Not long ago it was unthinkable that there was someone capable of something like that ...
-My goal every year will always be to fight for a title and, the year that is not achieved, is a failure, because it has been done badly, but I am also realistic and I know that each driver has his time. I know that Valentino had his, then Lorenzo's, Stoner's, and then we arrived. Later, surely someone will arrive and beat us. Who can assure that the time of Quartararo will not arrive in a few years, or the next one? You have to adapt to survive those times and that is one of the best things that Valentino has done.
-He has appointed Quartararo. Is he the most complicated opponent of the future?
-I see him as the fastest, but to be a rival you have to manage many things. That means knowing how to run with pressure. It is not the same to go fast in free ones or in a qualification than to make a race lap because you have to do it. This year, of course, is the fastest today.
-What is the ideal box mate? Lorenzo did not veto him and now his bad year can cost the team to win the triple crown.
-I have realized this year that having a more or less strong partner does not influence my level. In 2015, yes, because I didn't understand the category so much and had less experience. It was more difficult for me to locate the problems, but now my partner does not change my level. When Honda has told me about that, because he has always had the respect to ask me about one or the other, I have never banned anyone. There are two Hondas more identical to mine and if a pilot believes that with Honda he can win, come and say that he doesn't care about money but win and he can do it because he has the Honda, if he can really do it ...
-Why is there so much 'Márquezdependencia' in Honda? The others do not approach their results or by far with the same motorcycle.
-It is clear that I have been here for many years, knowing this motorcycle. To know its limits you have to be able to accept that, if you have to fall 25 times in a season, you have to do it. And if you have to break, you have to break, because it is so. It is a motorcycle that is critical, but when you understand it you can make the most of it and you can go a little further.
-Everyone is not willing to do that.
-You have to be willing to fall an average of 20 times per year, which is what I have been in the last three years.
-And why doesn't it break with so much fall?
-You have to know how to risk where you can. In Australia, and I touch wood, you risk the right thing. There, if you can't, you can't, because you know that a fall in Australia is getting hurt. You go to Le Mans and risk more, because they are slower curves. This year I fell there twice. And in Aragon you risk the descent of the Corkscrew, but not in the fast curve entering the finish line. There, watch out, you're going faster. You have to know how to risk. Of course, I never want to fall and the falls where you hurt yourself are the ones you do not expect.
-Did you know or intuit what was going to happen this year with Lorenzo in the Honda?
-Honestly speaking, I sensed that Jorge would cost a little, because I know Honda well, but I was not expecting this situation at all. I expected a podium to fall or fight for some victory. It is also true that, when it seemed that he was taking the roll a little, it has been damaged, like when he fell in Montmeló. And when you fall on a motorcycle and you don't know why it was, you lose confidence, then you fall and you lose more. You go into a loop and, with these bikes, the slower you go, the harder they are to ride. When you go slow, if you want to copy the teammate's electronics it doesn't match your own and you can't compare yourself.
-When do you intend to start moving token for the next contract? Many fans and journalists are going to ask for a change of factory one day to become the biggest if he also wins with another motorcycle.
- (Smiles). My speech does not change and my priority is Honda. They are the first ones that I will listen to and the first ones that I will value. If Honda is happy with everything I ask, I have no intention of listening to another brand. When do you start talking about this? Who tells you that you are not talking anymore? (Laughter) .
-It gives me that a Formula 1 style contract has been won, at the level of 30 million per year, because it is not below Hamilton or Vettel, for example, and they are figures that are not considered here. Do you agree?
-We try to manage it in the best way. I always prioritize sports. You can catch a lot in economic terms, but you can reduce the project capacity. It will depend. Everyone wants to win one more euro, of course, but my priority is sports and then comes the other. You have to go all accompanied to be happy and enjoy what you like.
-Do you feel sufficiently recognized media for the value you have what you are doing in this sport?
-Medically speaking, I am lucky to be recognized, but it is clear that everyone who is here would like the championship to have even more impact. Surely Dorna is working to have more impact, but we all have a clear path to have more impact.
-Would there be any congratulations that made you look forward to the new title? The other day you told me that you were embarrassed to personally congratulate Nadal and that you only did it through social networks ...
- (Smiles). Delusion? There are many. They can be Nadal or Messi ... Piqué congratulates me almost after each race. My priority is to focus on trying to get it and all congratulations will be welcome. And Nadal, if you like, may not be ashamed to congratulate me as he found me with him. (Laughter) .
Photos from as.com