How to protect an F1 from the arrival of Typhoon Hagibis
Suzuka does not open its doors this Saturday and the classification is postponed to Sunday before the race. The teams reinforce garages and motorhomes in the face of rain and wind gusts.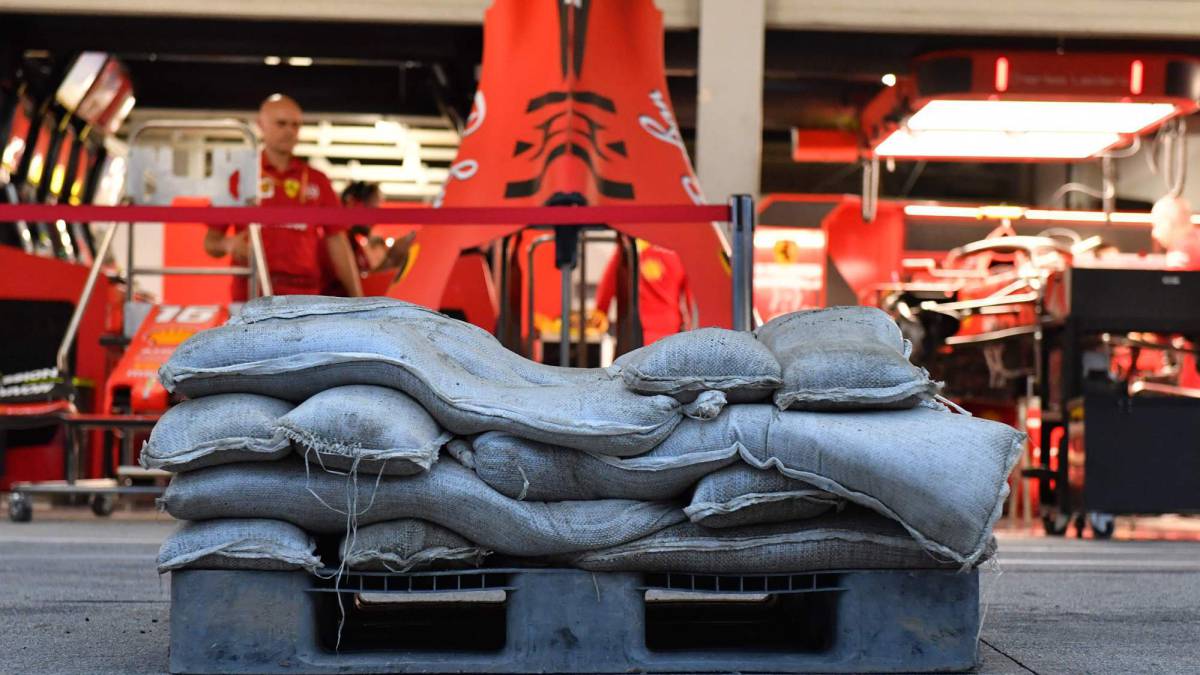 Suzuka does not open its doors this Saturday, all track activities were canceled before the arrival of Typhoon Hagibis that has the Kanto and Tokai regions in Japan on alert. The storm was listed at the beginning of the week as 'supertiphon', or equivalent to hurricane force five, and wind gusts exceeding 150 kilometers per hour, waves of up to nine meters on the coast and "record numbers of rain" are expected , according to the Japanese Meteorological Agency (JMA) .
In the local press he is compared, by force, with a typhoon that caused 1,200 deaths in 1958, and is expected to hit especially the capital, Tokyo, between Saturday and Sunday, although somewhat less to the Bay of Ise, in the which are the cities of Nagoya or Suzuka. "It is one of the biggest in recent decades," Japanese journalists present at the grand prize comment, although its side effects will be directly related to the course of the storm.
In the purely sports, the classification was suspended and will be held on Sunday at 10:00 local time (3:00 AM in Spain), when the race is at 14: 10h (7:00 AM in Spain). If the wind or the rain did not allow the fight for the pole, the grid will be configured according to the time table of the Free 2, with Bottas, Hamilton and Verstappen in front and Carlos Sainz seventh. In the 'paddock' the typhoon information was received first with caution, then with expectation and, later, in a state of tense calm. Throughout Friday there were high temperatures and humidity, close to the embarrassment, and nothing would have foreshadowed that a storm of this magnitude was approaching.
However, at night the garages seemed in the process of dismantling, as if it were a Sunday, with hundreds of operators, mechanical bulls, containers and boxes to secure all the materials that could suffer damage with the passage of the typhoon. Mercedes, for example, explained the modus operandi: "The wall will be disassembled and stored in pallets. The front and rear panels of the garage will be disassembled. The doors will be closed on both sides and most of the equipment will be stored in height for avoid damage if there is a flood. We will move the furniture, screens or speakers from the hospitality to the offices behind (fixed construction and anticipate possible cuts in the light supply ".
The pilots, meanwhile, face a hotel day between two grand prix. More FIFA, "Leclerc said between laughs at the press conference last day, something that Verstappen, Sainz or Norris seconded. He is not the first typhoon or hurricane to hit F1, for example in Austin 2015 he also concentrated all Sunday for the fault of a complicated meteorology In Japan, for example, something similar happened in 2004 and 2010. In fact, in 2014 and under the consequences of typhoon Phanphone, the accident that cost Jules Bianchi was killed, and Hagibis has also forced cancellations or suspensions at the Rugby World Cup that hosts the country of the rising sun this month
Photos from as.com