Gran Canaria avoids the miracle of Jordan Davis in Manresa
From 0 to 28 points in the second half, but the base failed the final shot and Gran Canaria added its first victory in the Endesa League this season.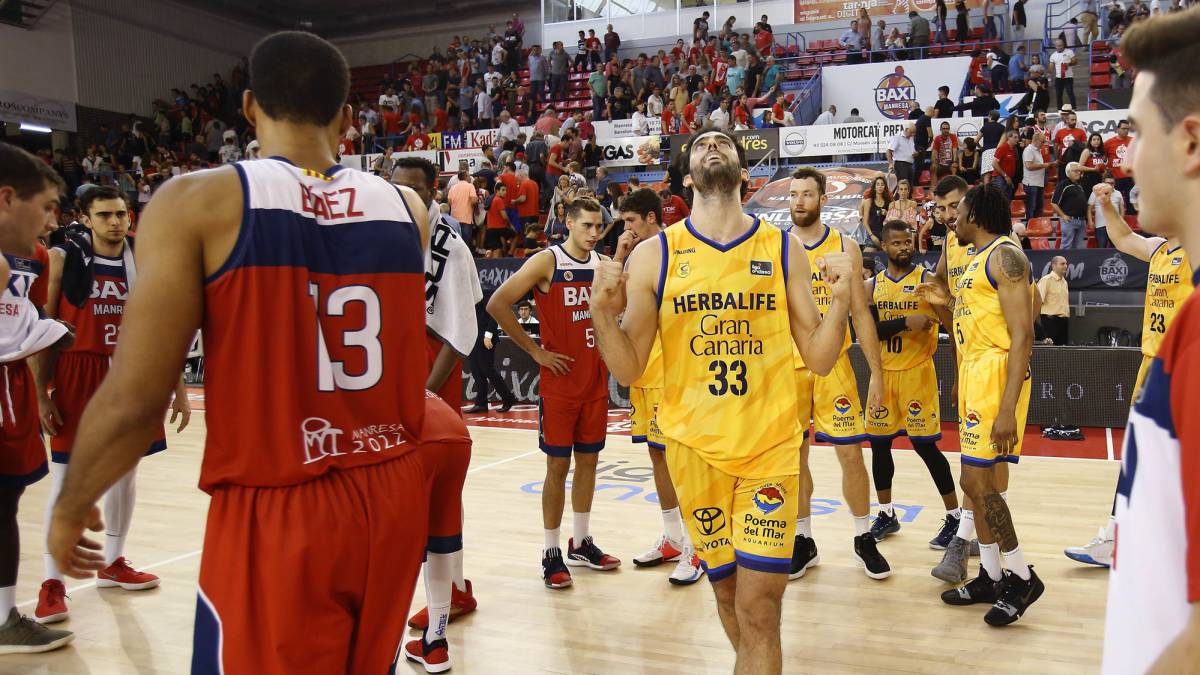 Herbalife Gran Canaria won the first victory of the season (74-75) thanks to the greater success he showed against a Baxi Manresa who missed his starting base, Frankie Ferrari.
The Fotis Katsikaris dominated throughout the game, although in the third quarter, Davis turned his team around. The game was decided in the last seconds with a basket of Paulí, from behind, and a triple failed by Davis.
Gran Canaria dominated the entire first half and came forward thanks to the triples of Beirán, Shurna and a mate from Costello, which caused Pedro Martínez to ask for the first timeout (6-12, min. 4). The Catalans survived thanks to the success of David Kravish who got the first 10 points of Manresa (10-15, min. 7). With a balanced defense in both teams, the greatest success of the Canaries allowed them to continue ahead until the end of the quarter (17-21, min. 10) .
In the second quarter, the Catalans fought in defense but the mistake in the shot (2 of 8 in shots of 2) and the six lost balls continued to punish them. Two free throws transformed by Paulí gave the maximum difference of the game, 10 points, (26-36, min. 19), while a triple by Dani Pérez left the score at half-time at 29-36 (min. 20) .
At the turn of the half part, Pedro Martínez moved his chips leaving Dani Pérez in the direction and allowed Davis to act as an escort. It was key. The American, unpublished so far, scored 18 of the 27 points of his team in this room. The partial was 11-0 and turned the dynamics of Baxi (40-38, min. 23), which managed to get ahead on the scoreboard. Bourosis was the man capable of counteracting Davis, in the last stages of the room, who with two consecutive baskets managed to leave the room on tables (56-56, min. 30) .
In the last quarter, Gran Canaria quickly loaded with fouls, but the three minutes that Manresa spent without scoring helped him overcome. With a minute of play, Cook scored his basket and Paulí also and also with his back to the hoop. Two plays that were worth the first victory of Gran Canaria this season, as Davis's triple final touched hoop (74-75, min. 40) .
Photos from as.com