Delle Donne: a warrior who plays for her sister Lizzie
Already one of the best players ever, Elena Delle Donne has played the Final with three hernias, a 50% nasal fracture and a knee.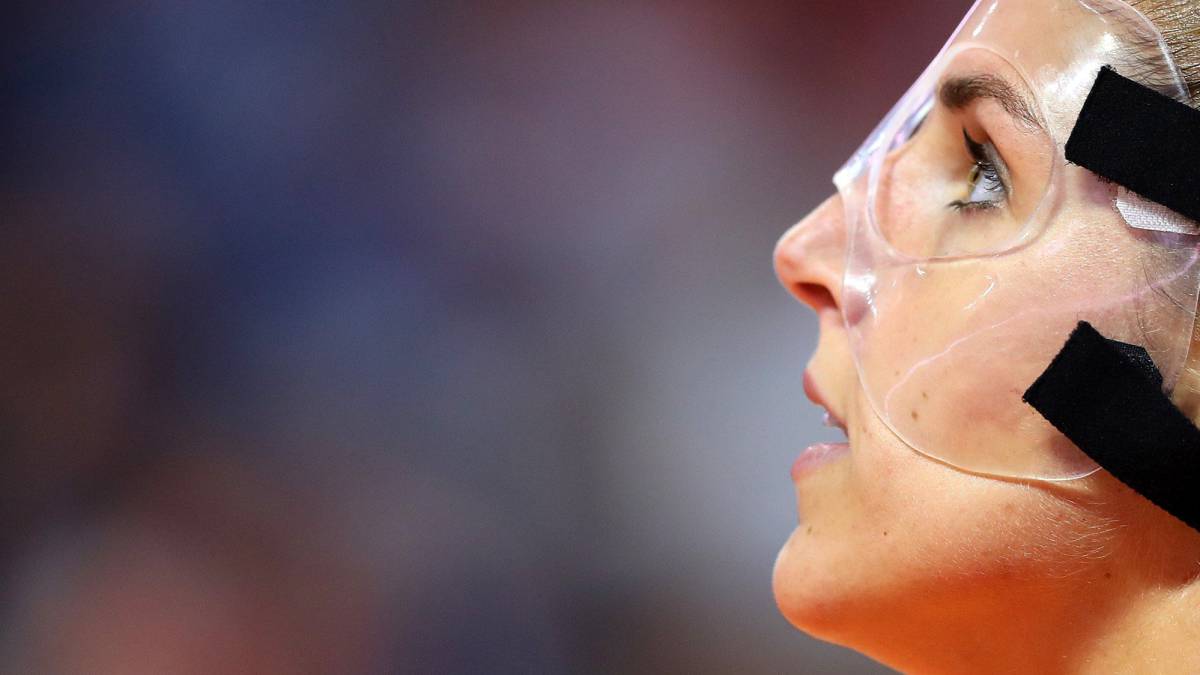 The WNBA has new bosses, the Washington Mystics, who inherit the throne of Seattle Storm, which stepped aside as soon as it fell fulminated, the price of having to play almost relentlessly on both sides of the Atlantic to pay the checks, Breanna Stewart, who broke the Achilles tendon when playing the Euroleague final with the Kursk Dynamo. It came from being world gold with the USA, WNBA champion and MVP of everything: World, regular season and finals. With a tidal record and 25 years, many think that Breanna, whose absence has been a thunderous constant in this 2019 season, is destined to retire as the best player in the history of a women's basketball that lives an exceptional moment, like the masculine (the unicorns) with a type of new and different players to any of those that preceded them. With a mixture of physics, coordination and technique that literally changes the game. It is Breanna Stewart, Elena Delle Donne, a forward of 30 years and 1.96 who has just played one of the best seasons ever, which earned her an unquestionable MVP, and has been proclaimed champion with the Mystics in a Finals in which the prize for the best was (with justice) for the Belgian Emma Meesseman but in which she has been raised as an unforgettable champion and an exceptional leader. A Warrior.
In the fifth and final game he played 37 minutes and added 21 points and 9 rebounds without any loss. Although in the second he stayed in 3 minutes and 0 points, with some back problems that seemed to change the Final and open the loophole by which they could sneak (almost did) the ultra resistant Sun of Connecticut, Delle Donne He managed to average 26.4 minutes in the series and produce 13.4 points and 6.2 rebounds. He did it with a mask for a nasal fracture, problems in a knee that was 50% in the best days ... and those back problems that ended up being three herniated discs. A colossal fighter in front of a WNBA classic who finally knows what it is to proclaim himself a champion.
These good times for the Mystics (only one Conference final in their first fifteen years of life) began, with a little bit of perspective, with the arrival (2013) as coach and general manager of Mike Thibault, the coach with the most victories in the WNBA history. And the definitive impulse was given by the summer of 2017, when they landed through free agency Kristi Tolliver and in a transfer Elena Delle Donne, who had played four seasons at Chicago Sky, a team that gave him number 2 of the 2013 draft and with which he had won the first of his two MVPs, in 2015. The second came this season, a course in which the Mysticis revolutionized the WNBA and she became the first player with a 50-40-90 (at least 50 % in total field shots, 40% in triples, 90% in free throws). This statistical distinction has only been achieved in the NBA by Steve Nash, Kevin Durant, Stephen Curry, Larry Bird, Mark Price, Reggie Miller, Dirk Nowitzki and Malcolm Brogdon.
Delle Donne (six times all star, Olympic and world champion with the USA), took 41 of the first 43 votes for (the prize will give her $ 15,000) an unquestionable MVP: she finished as the second best scorer (19.5), fifth rebounder (8.3) and eleventh in plugs (1,2). He also distributed 2.2 assists per game for the best attack in the history of the WNBA (112.9 offensive rating), some Mystics impossible to stop that signed a balance of 26-8 with a devastating attack (89.3 points per game) and a +12 difference in average points that left the second best figure far behind, the +3.4 of Las Vegas Aces, a team they defeated in a tremendous semifinals of the playoffs. The Mystics were the team with the most triples per game (9.3), the best from the personnel line (87.5%) and the leader in assists (21.9) .
Always as close to home as possible
This Mystics ring began to be forged, it is now evident, when Delle Donne asked to leave Chicago to play in Washington, near his native Wilmington. The most important city in the state of Delaware and to which it is inevitably joined since its high school years, a player who is already one of the best ever, what she pointed out would be when in 2008 it was the most persecuted promise since Candace Parker, it was reached to commit to the University of Connecticut (its rival city in this End of 2019) ... and left two days later to return, as it does again and again, to Wilmington. The reason, his family: his sister Elizabeth, Lizzie, was born blind, deaf, autistic and with cerebral palsy. Elena developed a way of communicating with her through gestures and symbols hand over hand. Without that physical contact you literally have no way of being close to her. And he left, angry at a basketball that had made him have to make the decision to leave first and return abruptly, then
Back at Dellaware he started playing volleyball and didn't even talk about basketball. Until one day, suddenly, he asked a friend of his who played at the local university, Meghan McLean, if he wanted to go throw some shots with her. He had started his way back in, yes, his home: University of Delaware, where he averaged in his four years more than 26 points and almost 9 rebounds. From there to the WNBA, Team USA and already two MVPs and a champion ring. Also won with three hernias, one knee that way and a broken nose. Won, in short, with a giant heart, that of the great champions, and in Washington. Close to Wilmngton and his sister Lizzie. Close to home, as always.
Photos from as.com