Crivillé: "There was a before and after with the title of 500"
"I have to be very proud to have achieved it, because it opened the doors to many things, but in particular to the category queen, then inaccessible," he says.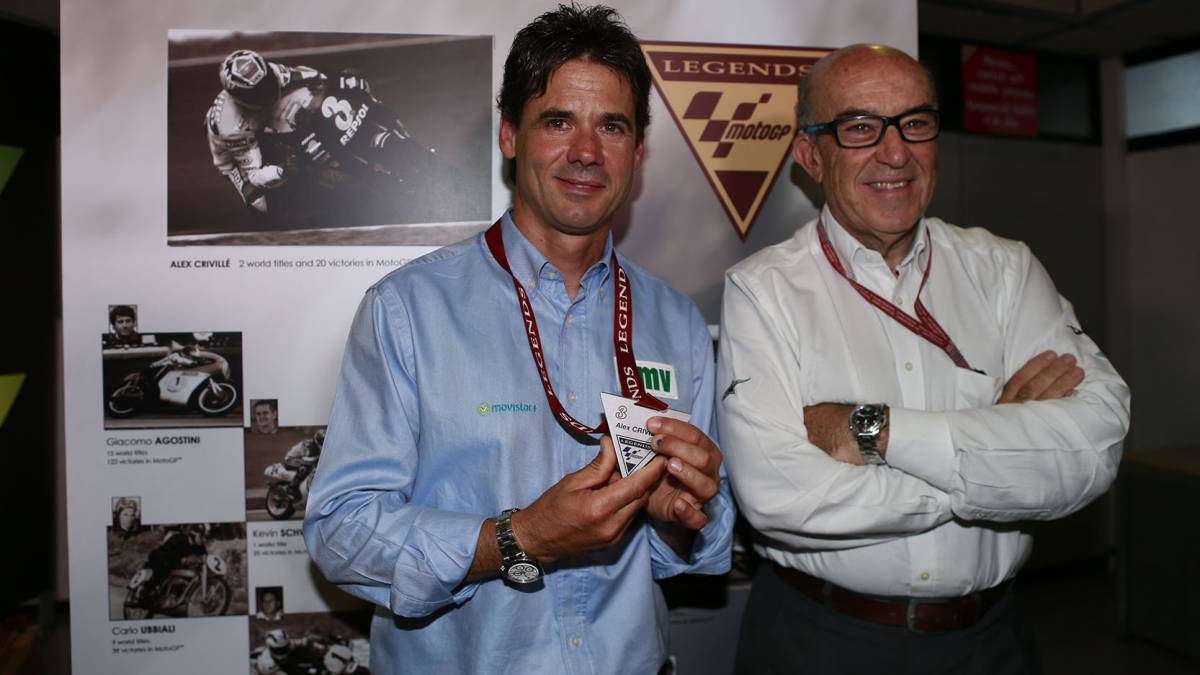 On October 24, 1999, Álex Crivillé reached one of the eight-eight remaining to conquer Spanish sport: the 500cc world title. 20 years have passed since that feat ended at the GP of Rio, in the Jacarepaguá circuit, and coincides with the two-time champion, because he also won a 125cc title in 1989, at the Phillip Island circuit, where he comments on the races for DAZN . Talking with Seva's noi is always nice and, to do so to remember that milestone, even more.
-One never tires of remembering your 500cc title in 1999, the first in the queen class ...
-I remember it a lot. It's been a long time, but unforgettable memories come and it is best that people remember him with love. I think there is a before and after on motorcycles in our country, since that title marked a lot. I think I have to be very proud of having achieved it, since it opened the doors to many things, but in particular to the category Queen, which at the time seemed inaccessible, complicated and then we saw that working could be achieved.
- Did you imagine then that twenty years later they were going to get nine of the last ten titles of the Queen class for Spain as it has happened?
-Neither me nor anyone. It was unthinkable the domain we are having in the queen category, unthinkable, since at that time it was very difficult, it was a terrain and a category of the Yankees and Australians. I was there, but Lorenzo or Marquez had not appeared today ...
-What was the most difficult thing to get to that top?
-The most difficult thing was perseverance. It was clear that he was in a more thoughtful environment for Mick Doohan, but it was also clear that he was tightening the nuts and that he had as many options as he did, since the times in the preseason of both were equal. The hard part was perseverance, not throwing in the towel and fighting until the end.
-Is this type of date to be celebrated?
-I am very proud and happy. The truth is that you have to be proud and value it as everyone is valuing it, especially the hobby. I feel very loved by all.
-Are you aware that you broke down that barrier and that you have the respect of the current drivers?
-Yes, I feel the respect of all, but obviously of the love of those times and of our days. Those of today did not know that Crivillé and Doohan were there, but perhaps they have made a reset to know all that and that is already something that fills you a lot.
-Do you think that over time your deed has grown in dimension because of what it represented then and now?
-I think so, when we won the image we left was brutal and over time it seemed that it was blurring a little and was staying there, but then again we appeared. It is a 500cc title and we were the first. We were all there, to win a title so it was to win much more than it could initially represent.
- And your relationship with Doohan is as tricky now as then?
- Yes it was tricky, yes. Now it's a good relationship, it's friendly. We were having dinner at an event in Madrid last year, which was unthinkable a few seasons ago after what we lived, especially in Australia, in Eastern Creek (threw him in the last lap), or in Jerez when there was the invasion of the public's track . They were very tense, very tense moments, and although there was no wall between our boxes it is as if it were. Then, when he was injured, he came to give me the support, to help me, but now the time has passed, that he has erased all the bad and we have good memories left.
-Do you think he did something wrong then, would he change something?
-Oysters. I think I have to be very proud because I did things well, we got a world championship of 500, a runner-up. I think I can't complain. I retired young and maybe I would have lengthened my withdrawal a little more, but because of physical problems I could not, but you have to be aware that we did a lot and you have to be proud of what we achieved.
Photos from as.com