Ansu Fati, the most anticipated return
The low by penalty of Dembélé against Valladolid opens the doors to play with the first team. Valverde knows that he needs to vent after adding more than four weeks without playing.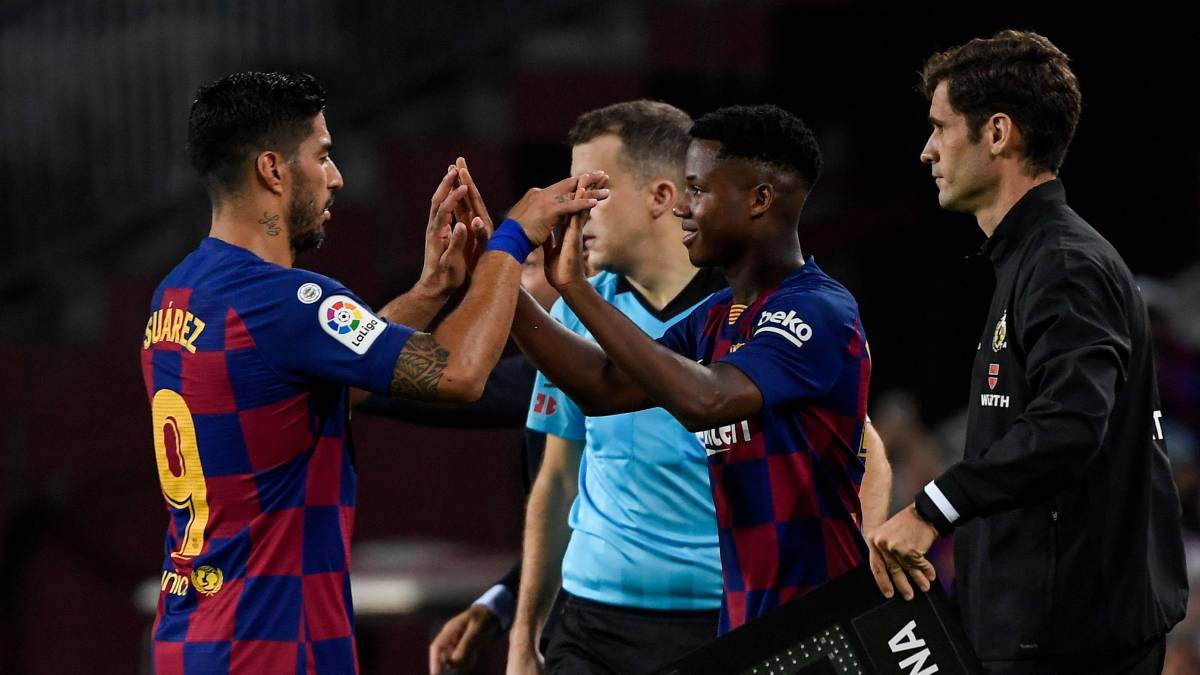 Ansu Fati has not played a game with Barcelona for a month. The last time he appeared was against Villarreal at Camp Nou on September 24 (2-1), where he left in the second half to play 12 minutes. Since that day, the young grassroots star has disappeared from the Valverde lineups. Only last October 15, in its premiere with the U21, did it have a sporadic 15-minute appearance in Montenegro (0-2), where it was very close to debut with a goal included. Curiously, he was called up for the injury of his partner Carles Pérez.
The trigger for his absence during this time has been an inconvenient discomfort in the patellar tendon, a product of his youth, since at 16 he is in full growth phase. When he returned to the team, he found an absolute 'overbooking' in the lead, especially after the return of Ousmane Dembélé, who had been off the pitch almost a month due to a hamstring break, in addition to the total recovery by Luis Suárez and Leo Messi.
Now, once again, the loss of the French striker, who is serving his second penalty game in LaLiga after being expelled by Mateu Lahoz for telling him "you are very bad" in the match against Sevilla at Camp Nou (4-0), opens the doors to your participation
In principle, Fati will have to wait on the bench, since Valverde will bet against Valladolid for the trident formed by Leo Messi, Luis Suárez and Antoine Griezmann -the technician needs to add minutes together to be winning in automatisms-, but it seems Obviously, the young striker will have minutes in the second half, especially thinking about the load of games that the team has to face until the next break: Levante, Slavia and Celta in ten days.
Ansu Fati, who is being the great revelation of the season, is guaranteed today a hole in the first team. In fact, he has already played 174 minutes in LaLiga and 59 in the Champions League, getting records as important as being the second most early Barcelona player to debut in the championship and the earliest Blaugrana to score in LaLiga, as well as the earliest to debut in the Champions.
Who also awaits his opportunity is Carles Pérez, who stayed in Barcelona in the last match of the Champions League. The striker of the subsidiary has also made a place in the first team, to the point that this season has remained with the greats. It has already been 403 minutes in LaLiga, but its blur is the Champions League where this course has not yet been released.
Photos from as.com