An unstoppable Antetokounmpo can with a great Doncic (27)
Greek exhibition (34 + 11 in 23 minutes) and excellent Luka Doncic, which was hardly accompanied by a very gray Kristaps Porzingis at its premiere in Dallas.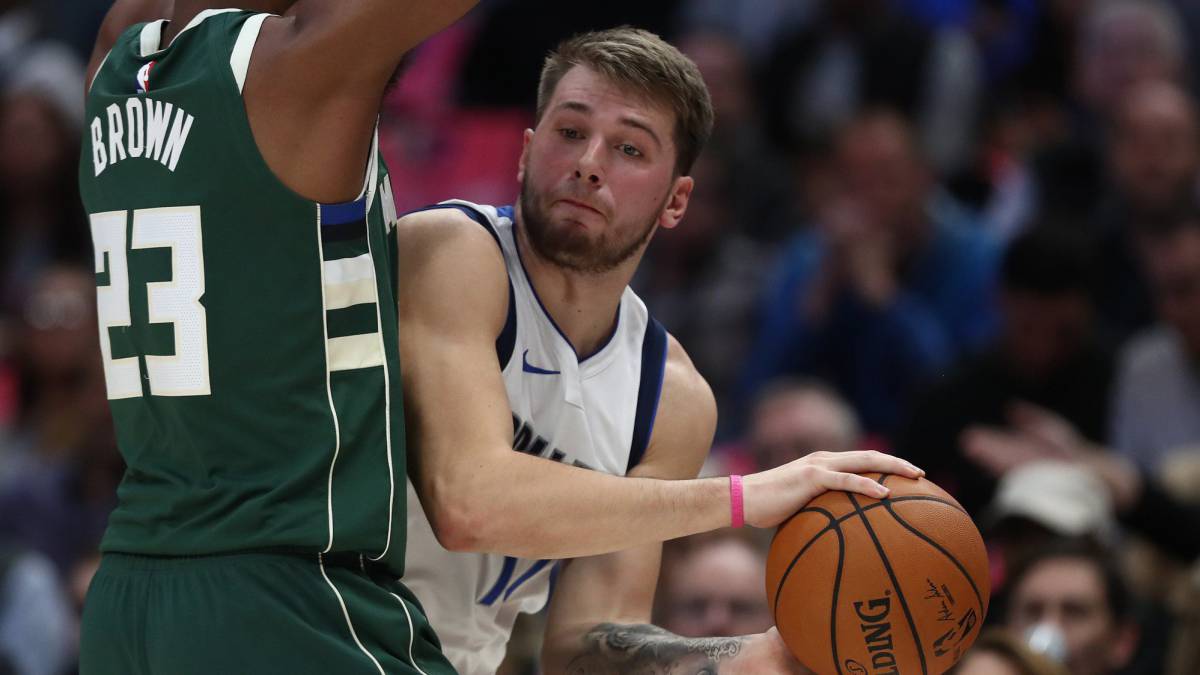 If someone wanted to see what Giannis Antetokounmpo meant by what he felt like "prisoner" in FIBA basketball during the World Cup, he could do it first hand in Dallas, where the current MVP (and a chasco with Greece this past summer) was bitter (111-118) the 2018-19 Mavericks home premiere. That is, the first without Dirk Nowtizki since 1998 and the first with Luka Doncic and Kristaps Porzingis as a couple of stars. Giannis only played 23 minutes and at that time literally swept the Mavs: 34 points, 11 rebounds, 4 assists and a 13/20 in shots with a 3/4 in triples that points to what would be the final revolution of a sidereal player : if you ever start to be at least reliable from the line of three, it will be definitely unstoppable.
On the back of Giannis, the Bucks always sent, escaped in the third quarter (82-99) and endured in the final minutes, already without him. The initial quintet (which will not have the injured Bledsoe for some weeks) was weak, with a 2/12 in triples of the four that were not Antetokounmpo and a 1/6 of two others that also did not shine precisely in the World Cup, Brook Lopez and Khris Middleton However, the Bucks sported a bench depth that the Mavericks certainly don't have. A classic like Ilyasova (18 points, 5 triples) was well accompanied by two who can give a good boost to the rotation of the Budenholzer team: Donte DiVincenzo (14 points in 21 minutes), number 17 of the 2018 draft to which an injury On one foot it spoiled the rookie season, and Dragan Bender, number 4 in 2016 and a major disappointment in the Suns that is now trying to win a place in the NBA that seemed almost lost with only 21 years. The Croatian scored 17 points in 19 minutes and taught a game reading and a passing ability that, at a minimum and in what is being a promising preseason (13.3 points on average), you can think that there is a second opportunity for him
Bucks are 3-0 and Mavericks are 0-3. It is preseason and it certainly does not matter. But in Dallas it was a small jug of cold water the first game at home of Porzingis, which after a good premiere against the Pistons (18 points in 19 minutes) stayed at 11 points in 24, with 2/9 in triples (4 / 16 in two games) and 5 rebounds in a gray performance, in which he missed totally freed shots, did not score his second basket in play until the third quarter and had hardly any impact when he faced the second rival unit. The rest, very little for a player with obviously much rust to shake.
Better was, much better, Luka Doncic: 23 minutes, 27 points, 7 rebounds, 2 assists, 4 losses, 6/13 in shots, 5/8 in triples and 10/11 in free throws. Very efficient in the catch and shoot, one of his great improvement fields after his stellar rookie course, the Slovenian held (with a stretch of 11 straight points) with Boban Marjanovic (16 + 8) to the Mavs in the match in a first half of which they left alive (55-61) despite 27 points of an Antetokounmpo playing pleasure at the command of much higher Bucks. In those of Carlisle, who are without Dwight Powell for a muscle injury (the theoretical center pivot), they liked Justin Jackson (who wants to win a place in the quintet) and, as always when on the track, Jalen Brunson. The number 33 of the 2018 draft played a brilliant first year in the NBA and is on its way to prove in this second that it was no accident. This time he scored 12 points and distributed 4 assists in 12 minutes much more positive than the 19 of Delon Wright, the guard signed in the free agency who is having trouble fitting into his new team (2/9 in shots in three games, 0 points against the Bucks) .
Photos from as.com