United States, on the street!
Partidazo of France with a huge Gobert (21 + 16) and Ntilikina defensive exhibition on Kemba. The Gauls will play the final against Argentina.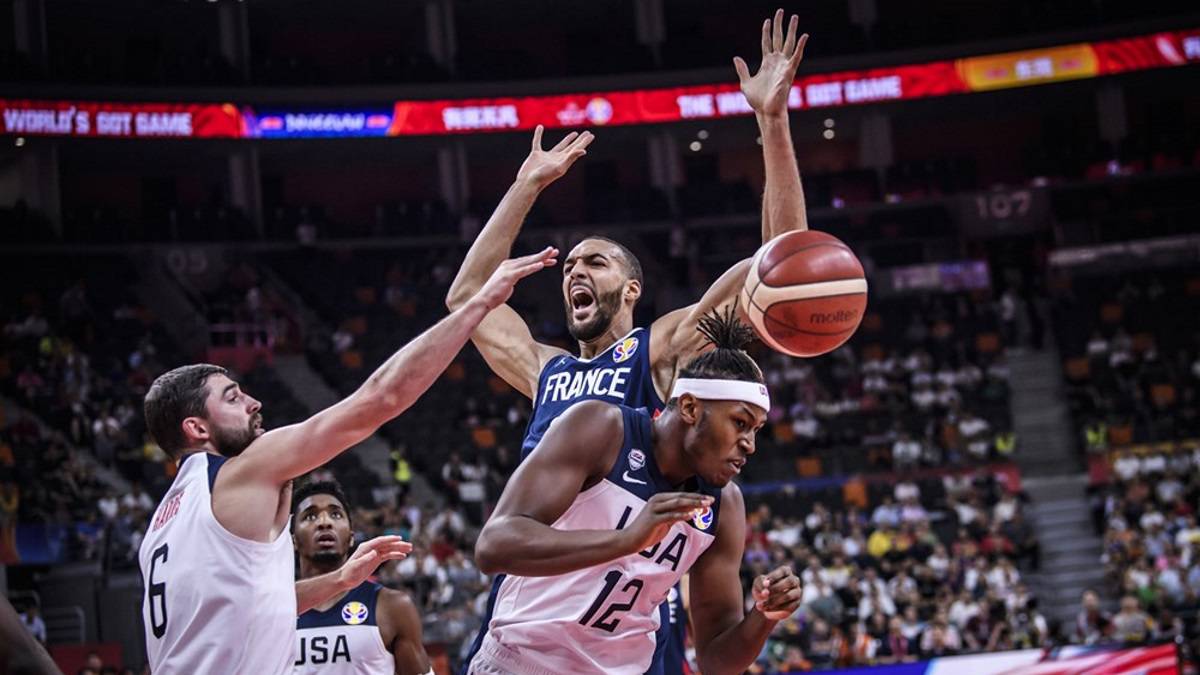 It was in Japan, in 2006 and in the semifinals of the World Cup, when the United States last lost a match in a World Cup. 2 That was a catharsis for USA Basketball and for American basketball in general. In 2008, the next big tournament they had, everyone signed up. A constellation of stars that, with more or less number of members depending on whether it was World or Games, have been devastating everything they have found ahead. 2 Spain included, which never came to devastate, but which has deprived three times of the Olympic glory. 13 years later the stars have disregarded the summer commitment and the result has been the same as in Indianapolis 2002, one of the great failures in the history of the United States: elimination in quarters. A bomb for the tournament that, let's not fool ourselves, nobody really came to believe. 444444
But this time the worst possible rival was crossed. Not the best team in the tournament, but the one that had the best pieces to counter US weapons. And when the last minutes arrived and they looked below, there was LeBron, not Durant, nor Curry, nor Harden, nor Wade, nor Kobe, nor Carmelo ... The ball ended up in the hands of Mitchell or Kemba and, with everything How good they are, they need a lot to look into the eyes of all those legends that have marked the most recent successes of Team USA. Ntilikina's defense, taller than the American base, turned his party into an anecdote. 2 The Frenchman, the true leader in his team's attack, stopped. But the great problem of the United States in the first part, of which he went to the locker room losing 39-45, was in defense. The best weapon of this team during the entire tournament did not work. They did not cause losses or close the rebound in their area, which caused the French to have more opportunities. Specifically they were 12-21 in rejections in favor of the European team only at rest, with 6 of them in attack. Obviously there was a differential factor that made the USA, the top rebounder of the championship, be totally overcome.
4
Rudy Gobert was a wall so high, so long and so present that there was no way to fight the balls under the ring. In a few minutes he had already taken two personals from Myles Turner, the strong man of the Americans in the area. With the Indiana pivot out of the game, Gobert did what he wanted. Not only bounce (16, 7 of them in attack), also score and even direct from the post the attacks. A huge player game. And I don't mean the size. 444444

At the end of the break, the US recipe was clear. You had to defend to attack. They began to press more than ever in the perimeter, but France was still well planted, with very clear things, a perfect ball movement and a Fournier (22 points at the end of the game) that did not stop scoring. And France was testing every so often a zone defense that despaired some American players that the triples did not enter.

When the thing was blacker (43-53) it began, or rather continued, the exhibition of Donovan Mitchell. 222222 The Jazz was already clearly being the best option of his own, but in the third quarter it exploded. Triples, mates, trays, shots in suspension (29 points for the escort) ... until placing yours in front. It coincided with the first minutes of French bewilderment, which began to lose its way to the game (4 losses only in this room) .

But what looked like the perfect American storm, which so often rivals the parties from being unable to keep up, neither in defense nor in scoring, had hit the last of his shoe. A physical team like them, but with a much greater chemistry gained over the years. And with the pieces of sufficient quality to look from you to you to these United States that were not with their first team, nor with their second. The third, very good, but no longer left over. France moved the ball with sense again, Gobert to dominate and Ntilikina, who is not among the first four options in attack of his selection, to put two monumental baskets from the perimeter , one of the two treading, but 5 determining points for A player who has been systematically crushed in the NBA by the press and the public. 222222

No one doubts that next year in Tokyo, the USA will carry everything he can and that no one will be erased. They probably would not have won this World Cup. But whatIt is clear with this defeat is that outside the aristocracy of the NBA (formed by about twenty players more or less) the difference with the great selections of the rest of the planet disappears. France is still in the fight to win a world title that is bringing more surprises than expected. Argentina awaits you Friday in Beijing. The two executioners of the two big favorites. A semifinal of two teams with capital letters that have shown that this sport is still a matter of five and not just one.

4

Photos from as.com