This is the market of free Spanish trainers
With Marcelino's dismissal, more than a dozen elite technicians are without equipment. Some of them: Machín, Setién, Abelardo, Karanka ...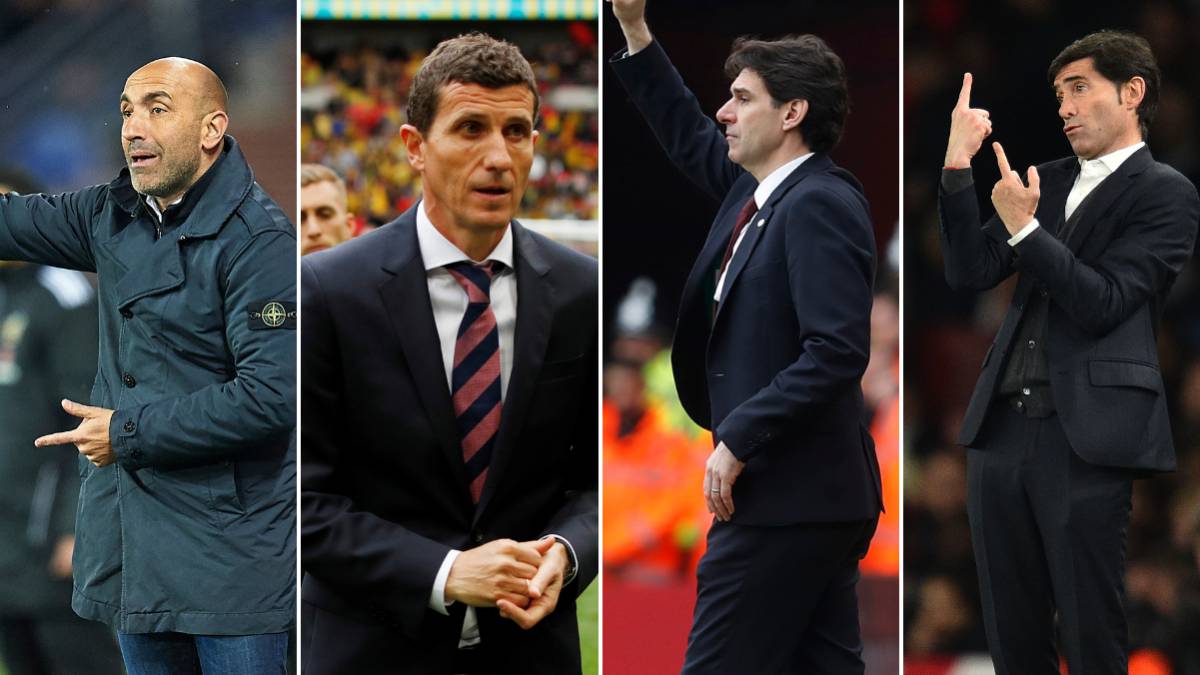 Spain is the birthplace of coaches. Therefore, inevitably, not everyone can find a bench in national football and have to emigrate to tackle new projects. Others prefer to wait for a great opportunity or wait for the dismissals that come both in First and Second Division. Of course, in times of difficulty, the directives have a long list of options. These are some of them:
Marcelino García Toral
In a discussion more than discussed, Marcelino has been dismissed as coach of Valencia. The coach, whose dismissal has been the earliest in Spanish football since Victor Muñoz in the 2002/03 season (only one day lasted with Villarreal), is in the market and, due to his career at Mestalla, it would not be missing some big knock on his door sooner rather than later. He is endorsed by the classification for the Champions League and the Copa del Rey title. He has become the 4-4-2 in an identity sign and has made players like Rodrigo and Guedes grow, until they become figures at European level.
Pablo Machín
Machín became one of the revelation coaches of Spanish football after achieving the Ascent with Girona in the 2016/17 season and take the team to the tenth position of the table in the first year in the elite. All this earned him to sign with Sevilla, an ambitious project with European aspirations, but with a greater demand than he had lived so far. After several months in office, the elimination against the Slavia of Prague in Europa League was his sentence. Since then, six months in unemployment awaiting a new direction. 444444 Javi Gracia
The removal of Javi Gracia has fallen like a surprise in the United Kingdom. The Spanish coach managed to qualify his Watford for the FA Cup final and finished the season in the eleventh position of the Premier League. In other words, it was the "best campaign in club history." Or, at least, that thinks of the coach, who expressed his surprise in a statement. The causes of his goodbye are based, simply and simply, on the only point achieved by the club in the first four days in England. His career has not endorsed him and he is now on the market.
Quique Setién
The style is something not negotiable for Quique Setién. This was demonstrated in his two seasons under Betis, which he endowed with a touch football, with possession of the ball as a sacred norm. However, something was missing from his team. More specifically, the engine of the king sport: the goal. The lack of success in the face of their players was one of the reasons that led the Verdiblanca directive to announce his dismissal as soon as he finished last season. Despite reaching the Copa semifinals, the non-qualification for Europe and the fiasco in European competition cost him . At the moment, he has not found a team that responds to his pretensions. At that time, he signed with Middlesbrough, which he would accompany for four years. In between, he achieved promotion to the Premier League in 2015/16, becoming an idol in the city. In March 2017 he was dismissed and, a few months later, signed with Nottingham Forest. It lasted a year and three days at the controls, until he presented his resignation in January 2019. Without experience in Spain, beyond being second coach of Real Madrid, he waits for an opportunity.
Manolo Jiménez
Since he left Zaragoza in 2012 / 13, Manolo Jiménez's passage through Spain has been testimonial. He barely lasted two months of competition with the Las Palmas Sports Union, which had opted for him to get promotion to the First Division. However, the results did not arrive and the board had no patience. After that, returned to the AEK of Athens, in its third stage. He completed last season, although the team's performance was not as expected. However, in Greece is considered a hero for having achieved the title of the Super League for the first time in 24 years.
Óscar García
At 46, Óscar García has not yet had the possibility of taking a bench of First or Second Division. The only national experience was his journey in Juvenil A in Barcelona. From there he went to Maccabi, with which he won the League title. Then he went to Brighton, returned to Israel, tested at Watford, trained at Saint-Etienne ... His greatest success was at RedBull Salzburg, with which he won two Leagues and two Austrian Cups in a matter of a year and a half. A height curriculum to try in Spain. Will this opportunity come this season?
Abelardo
At a crossroads between representatives and coach, it is still unclear what was the real reason for Abelardo's goodbye to Mendizorroza. Jose Querejeta accused the technician of wanting to charge twice as much as he already did, while the protagonist explained that he needed a break. As he acknowledged at a press conference, he wants to take a few sabbatical months, although, possibly, offers were not lacking. Only he himself knows where the top is that marked and, therefore, when will be his return to the benches.
More names: Ziganda, Juande Ramos, Francisco ...
The huge string of Spanish coaches seems to never come to an end. In addition to those mentioned above, many others are unemployed and opt for a position despite having been leading an elite team for years. Some of them are Juande Ramos, Benito Floro, Cuco Ziganda, Fernando Vázquez, Irureta, Víctor Muñoz, Abel Resino, Francisco ...
Photos from as.com