This is the Famalicão: the leader in Portugal that comes from Second
Famalicão has become the revelation of Portuguese football and leads the ranking by adding ten of the 12 possible points.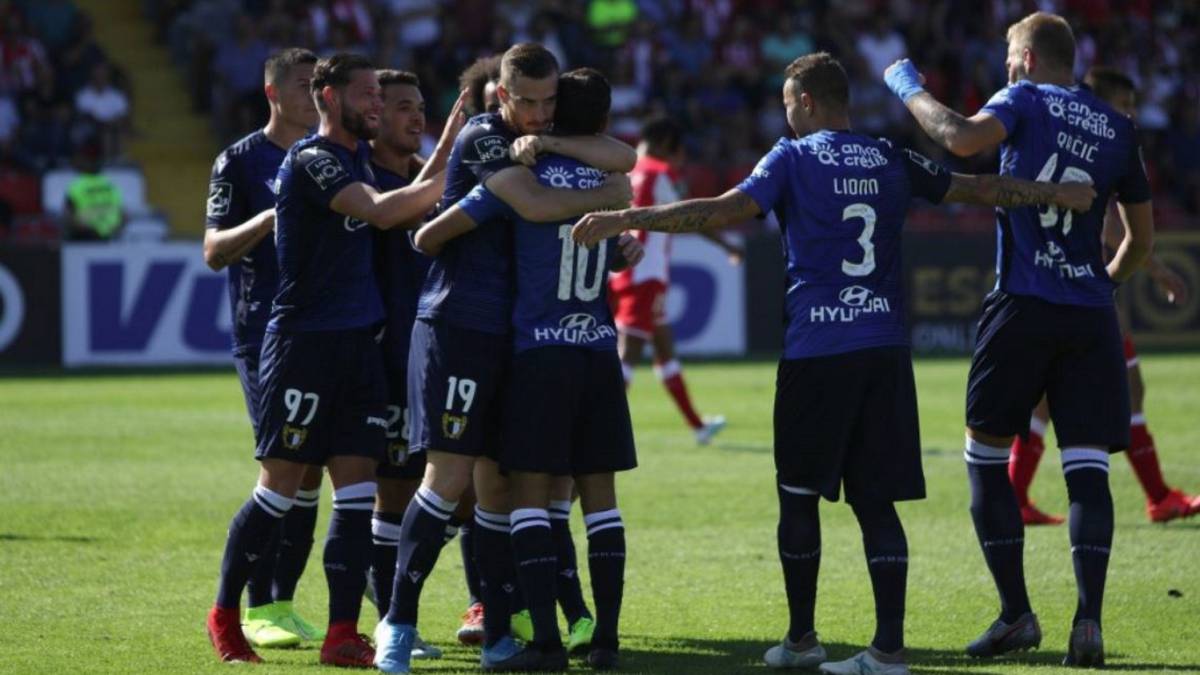 Porto, Benfica and Sporting of Portugal are watching as a new team rises at the top of the league standings after four days. The Famalicão has started the season with three wins and a draw becoming one of the revelations in Europe. This team from northern Portugal has two Spanish players, Centelles and Toni Martínez, and four others who have played in LaLiga, Racic, Schiappacasse, Assunçao and Nehuén Pérez, a coach who faces his first season as first coach and 80% of Players born outside of Portugal 444444 Spanish presence
The Famalicão has two Spaniards in its ranks: Toni Martínez and Álex Centelles. The forward has played the four games as a starter and has scored a goal, while Centelles has not yet participated. To them we must add the presence of four players from Spanish teams. Nehuén Pérez, who added his first goal against Desportivo Aves, Gustavo Assunçao and Schiappacasse arrived from Atlético to have minutes and Uros Racic from Valencia. The Serbian arrives after highlighting with Tenerife and from the first moment he has taken ownership, while Schiappacasse has not had a chance to recover from an injury to the thigh.
4
History and connection with Atlético
Play your matches at Vila Nova de Famalicão in a stadium with a capacity for 5,300 spectators. His captain is goalkeeper Rafael Defendi, 35. It belongs to the Israeli tycoon and philanthropist Idan Ofer, owner of 32% of the shares of Atlético de Madrid and its sports director is Miguel Ribeiro who arrived after leaving the Rio Ave.
Marco Silva to take this summer the bench of Famalicão. The 48-year-old coach was second in the Portuguese coach in Estoril, Sporting de Portugal, Olympiacos, Hull City, Watford and Everton. In his experience as first coach he has four games: three victories (Santa Clara, Rio Ave and Desportivo Aves) and a draw (Vitoria Guimaraes) . A team with 77.8% of foreigners
The staff of Famalicão stands out for having 21 of 27 players born outside Portugal. Only Guga, Pedro and Diego Gonçalves, Roderick Miranda, Fabio Martins and Lameiras were born in Portugal. The remaining players are doce Brasilians (Vaná Alves, Defendi, Souza, Vitor, Hugo Gomes, Patrick William, Riccieli, Lionn, Assunçao, João Neto, Walterson Silva and Anderson Silva), do Spaniards (Centelles and Toni Martínez), a Serbian (Racic), A Argentinian (Nehuén Pérez), A Uruguayan (Schiappacasse), A English (Josh Tymon), A South African (Phete), A Ghanaian121144 U222221144 U222221144 U222221144 U222221144112221144 U22223 Famaliçao has returned this summer to the Portuguese league after their last participation in the 1993/94 season. This will be his seventh participation with a team at zero cost. Lameiras, Toni Martínez, Phete and Gustavo Assunçao arrive free and Centelles, Tymon, Racic, Diogo Gonçalvez, Nehuén Pérez, Vítor, Schiappacasse and Fabio Martins are assigned.
4
Portuguese with more market value for Transfermarkt with 55 million euros. The Famalicão is valued at almost a third, 20.90 million euros. What makes him the seventh team in the Portuguese league, according to Transfermarkt. Far is Benfica with 310, 70 million euros, Porto with 257.70 or Sporting with 183.88. In addition, the team from northern Portugal has the lowest average age in the Portuguese league with 23 years ahead of Gil Vicente, 24.2, or the Desportivo Aves, 24.5.

Photos from as.com