The US collapses and signs the worst World Cup in its history
The Americans also lose with Serbia and will be seventh at best. Bogdanovic (28 points) commanded a shooting from the perimeter (15 triples).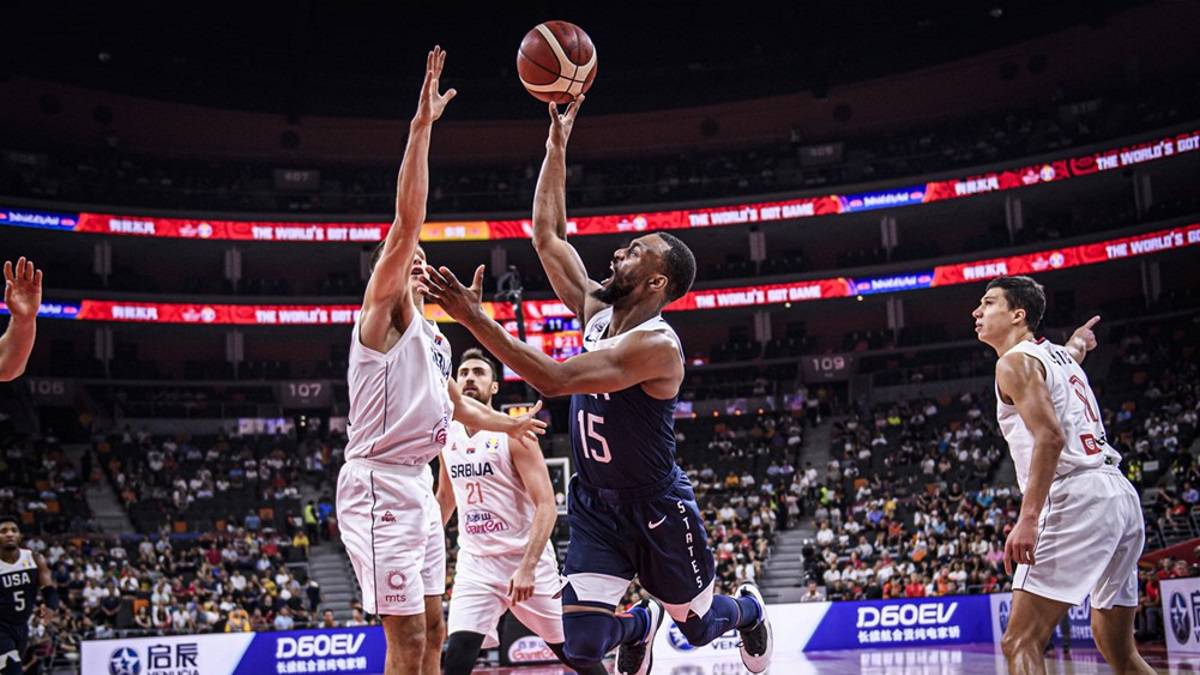 After 58 games in a row with only NBA players without losing, The United States falls twice in a row in this World Cup. On Saturday will fight to finish seventh, which is already the worst classification in the history of this selection in a world championship. A stain difficult to erase for all the members of this group that is already marked forever in the short list of failures of Team USA. What was promised as the early final was fought for fifth place and this time the Serbs proved to be better prepared than their rival. It is not known whether to have one more day of rest or to know better the weaknesses of the rival, but they were always ahead. First scandalously (+25), then on the wire (+2) and finally left over (+10), to end the final 94-89. 444444
The first part was like a set of mirrors. First quarter for Serbia (32-7); second for the United States (12-33) . In the first, the Americans seemed to be still in shock, under the effects of the elimination they had suffered less than 24 hours earlier. They finished the first period with a 3/16 in field shots. Opposite, a more than inspired Serbia, who saw the basket as a pool. 8/9 in shots of three, 4/5 for a Bogdanovic that scorched with 4 triples in the first 4 minutes to the US. 2 And in the second the story was reversed and Serbia showed its worst face. That of a team confident in the bad sense of the word, which looks superior and stops striving. Reason more than key to understand why this team was fighting for fifth place today instead of tomorrow to reach the final. Result: 44-40 at half-time and the odometer of the game again at zero.
4
The United States had continually hustled and threatened to beat Serbia on the scoreboard, but it failed. The Balkans maintained a slight advantage starting to play with Jokic swinging the ball. Derrick White managed to limit Bogdanovic's production to a minimum (he finished with 28 points) but the defense in general, especially that of the perimeter, was very poor. Everyone, not just the Kings escort. They ended up with 48.4% of triples: 3 from Lucic, 2 from Bjelica and Micic. Donovan Mitchell, after his 29 sterile points against France, today showed up halfway (9 + 5 + 4). It was Harrison Barnes (22) who was trying to pull the car, but it was too late. exchange of free throws that did not smile at a company that, at that point, was already an impossible mission. Serbia will fight for fifth place with the winner of Poland-Czech Republic. The United States will do it for the seventh with the loser. Both matches will be in Beijing, in the same scenario in which 11 years ago the American team regained command of world basketball at the 2008 Olympic Games. There began more than a decade of dominance and there it will end. We will see for how long 444444

Photos from as.com