Roglic has under control a Tour fueled by Colombia
Higuita achieved her first victory in a big one, Lopez launched herself into the attack and snatched the white jersey from Pogacar, and Nairo saved the podium for 46 seconds.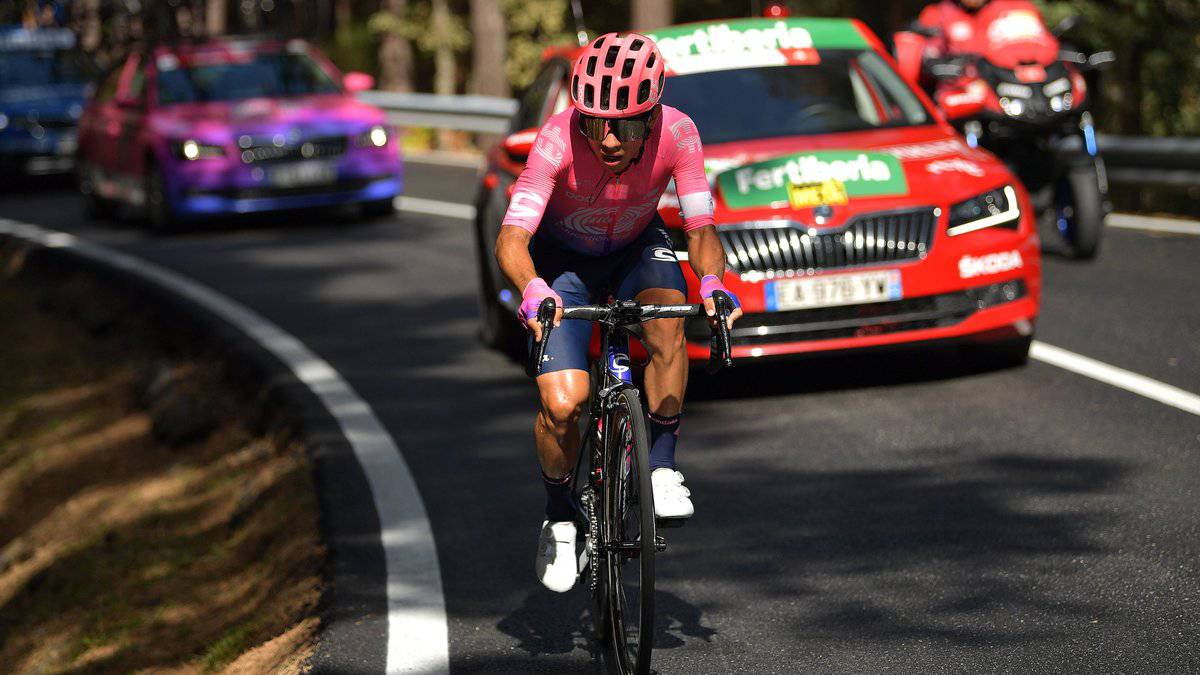 Sergio Andrés Higuita García measures 1.63 and weighs just over 50 kilos. A pen body for a climber who flew through the ports of Guadarrama on Thursday, as mandated by Colombian tradition. Its cheerful, jovial face, with features just out of adolescence, announces to a 22-year-old cyclist, another value of that new batch of the platoon that has turned the old theories on the ideal age to succeed in cycling. Higuita not only goes up, it also goes down. And he is able to do it at speeds of 90 km / h, as his speedometer marked when he descended from Cotos to Becerril de la Sierra to seal his first victory in a big one, in the first big his life .
Higuita attacked in the second pass through La Morcuera, by the hard slope, more than 50 kilometers from the goal. During his gallop he could see a flag of South Africa, which encouraged Louis Meintjes, another of the 13 adventurers who integrated the escape of the day. You also teach them from Slovenia, who pull Primoz Roglic on the way to his victory in the Vuelta and Tadej Pogacar, that other 20-year-old pipiolus who already has two stage wins. But the colors that the most frequent cyclist in Medellín saw were those of his country, Colombia. Preserves. Higuita entered the court in search of a joy for Education First, a team shaken by the falls, after having seen their leader, Rigoberto Urán, "buried by ten other cyclists" in the sixth stage, a terrible accident that He broke several bones and punctured a lung. Rigo, still in bed, celebrated the victory: "Thanks to my partner Higuita, what a good time I have spent in the clinic" .
That is why Higuita loaded on the getaway with several backpacks team hit by misfortunes, and their own future. That is why he focused on each line of that descent from Navacerrada, on those straights more suitable for powerful riders than for light climbers. Behind squeezed another Colombian, Miguel Ángel López, Superman, another tireless hero who does not conform to the current classification. Cycling is a daily challenge. 444444

López launched his first attack at La Morcuera and managed to scratch about twenty seconds. Ahead was waiting for Omar Fraile, another of the group of 13, a tactical piece to relaunch his boss. Roglic also stopped his pawn, Powless, to put out the fire. Superman returned to the fold, but did not give up. In Cotos he tried again, and there fruits already fell. Pogacar, with whom the white jersey is played, and his compatriot Nairo Quintana, who wants to get off the podium.

Superman went up and down with Roglic, Alejandro Valverde and Rafal Majka, without receiving any solidarity relief. The red jersey was expressly requested: "Remember our help on windy day." Roglic didn't want to remember, he looked away. Valverde was also not encouraged, who had the stage shot, but also his partner Nairo Quintana penalizing behind

4

It was a pulse of three Colombians, without anyone's help, only from the breath of those flags to the edge of the road. Little daughter was pedaling on stage . And he conquered it. Lopez struggled to return to the podium. And he stayed 46 seconds after knocking Pogacar out of fourth place. Quintana defended himself by not getting out of the drawer. And now it is third. Meanwhile, with the Tour of Spain lit by Colombia, a Slovenian rubs his hands. Keep up the red jersey. And one day less remains.

4

Photos from as.com