Nadal, from Manacor: "I never play to shut up mouths"
The champion of the US Open (33 years) attended today, still "little touch" to several national media, including AS. The battle with Medvedev, calendar, Tokyo 2020 ...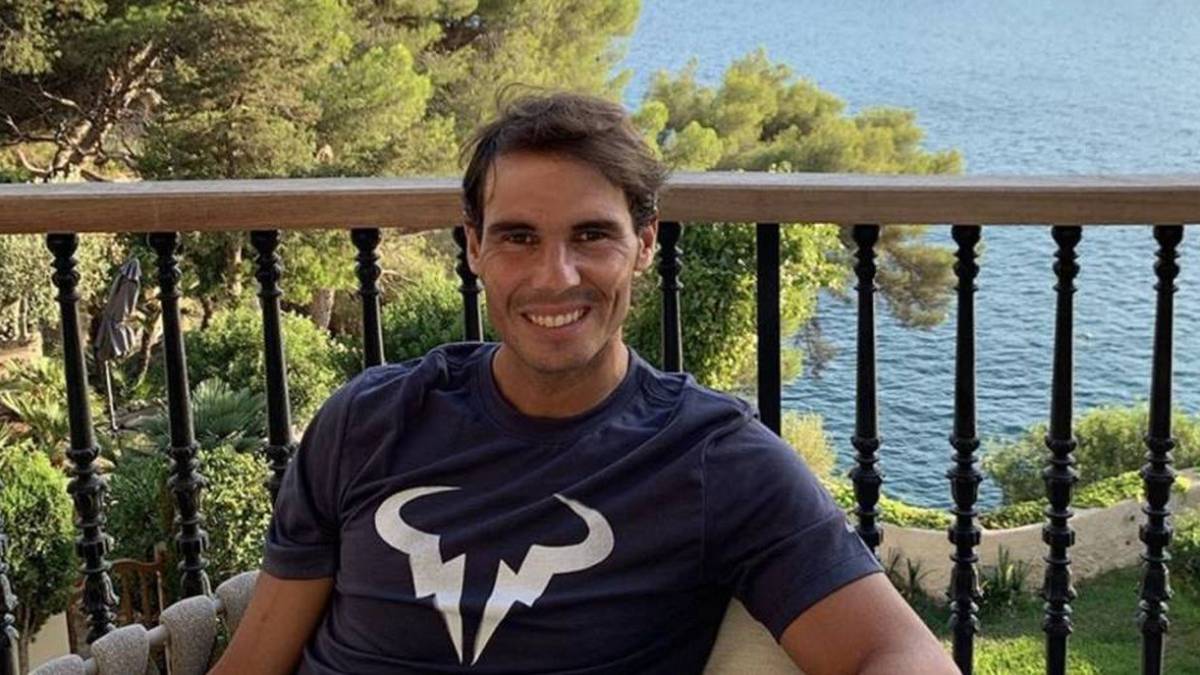 Rafael Nadal (33 years old) enjoys in Manacor the deserved rest of the warrior. An unforgettable 'thriller' that meant his fourth US Open and the 19th Grand Slam, only one of Roger Federer's 20s.
4
"I'm tired, the truth is that I'm not recovered yet, honestly. I'm trying to make the body a little little by little I began to answer, but I'm touching ", confesses from his home in Manacor, where he attended several Spanish media, including AS, by telephone. He reviewed his feelings long and hard.
4 EMOCIONES
"You have to understand the moment. The last three hours of the game were especially hard for me, because I had practically won it and I was seeing how it was very complicated to the point of being in a situation really criticism with chances of losing It was a long time resisting and suffering, both in the physical and in the head and you get a moment of weakness ".
HIS BEST MATCH?
"I have not seen the game, the truth. I have only played it and it is difficult to be able to comment without seeing it, because inside you are competing and nervous, so it is difficult to assess it in its right measure. At the level of emotion it was very special , because it had many ingredients. It is one of those that cannot be forgotten, but I have to see it repeated to be able to make a fair verdict. "
MENTAL RECOVERY
" I recover mentally by resting, because it is not just the last game. You have been one week. with tension, because in the end you are competing in one of the most important tournaments of the year and from when you start until you finish the level of demand and daily pressure is high, and more after a final like this. The physical and mental downturn is important , so you have to go little by little and do the necessary tasks to help your body to recover. 2 With rest and with a little sense of freedom, to be able to do things a p Oquito at your leisure ".
AGE
" I don't feel older, I feel I'm 33 years old and nothing more. I am in a good moment. I am simply aware of the passing of the years and do not lose sight of the reality of the situation. When you get older you have to take more care and choose better. When you are young you play and play, and one way or another things are going well. Now I have to be more selective and smarter when it comes to choosing the things that work best for you ".
CALENDARIO
" I find it difficult to tell my plans right now. I shot off after the final to the plane (he was invited "a partner" to go on his flight) and I didn't have time to talk to the team. They arrived later in Palma and I hope we have a conversation soon. Anyway, to decide the calendar I must wait to see how my body evolves. 222222 The immediate thing is to play the Laver Cup (September 20-22), which is planned. The next thing I don't know. We will set the priority objectives from here at the end of the year and also with a view to the next one. It will be one or the other depending on those objectives. The Masters, of course, is there, and Asia would remain to be decided. The Masters and Paris-Bercy is what I have fixed ".
PHYSICAL PREPARATION
" I have not done a different preparation. I have done things in a similar way to that of recent times, taking the necessary rest periods after demanding tournaments such as Roland Garros, Wimbledon or Australia, and I try to have a little more specific precautions for home, and prop up playing games. These are things that have been changing for a long time and are now done in a much more specific way than what was done before. "
CHANGE OF GUARD
" I see the same as seen from the outside. It has been predicted for years, something that has been happening, but in a slower way than perhaps expected. There are still many players of my generation who are still fighting, others are gone, like Ferrer and Berdych, and some are no longer in the top positions of the ranking, such as Tsonga. But the three most Grand Slams have achieved in recent years remain the first in the world. Cilic has not been well this year, for example. But come Medvedev, Zverev, Khachanov, who has played well this year, Rublev, who is doing well now, Felix Auger-Aliassime, great year, Berrettini, with 23 years, Shapovalov ... all these have to go in. The overwhelming logic of the evolution of this world makes them arrive and there are a few among the top ten. Every year, of course there has to be more ".
CALLAR BOCAS
" I have never played to silence anybody's mouths. My motivation neverit has been what the others can think of me or to show something to those who thought I could not do. 2 It is a context that I try to run away from in my personal life as well. Ambition and motivation must be personal. It must be taken for personal reasons not external. It is a spirit of revenge that conceptually I do not like to have and I escape from it. You cannot compete or get things from resentment. My motivations are positive and not external and negative ".
DOUBTS
" Just as people doubted that I could play for so many years, me too. Now and always. But here I am . It is day to day. For now, I am happy with what I do and as long as my body allows me to train more or less daily, I like to play tennis and meet the objectives of the competition ".
COMPETITIVE
" To be competitive is to fight for the things that motivate me, and that is to aspire to the maximum and try to continue as long as possible with the greatest possible options to compete in the best tournaments in the world for many years. For that we must cut the calendar. This year I have been 11 and I do not know how many I will end ".
INSPIRATION
" It is something that I do not usually consider. I simply try to do the things that seemed right to me and those that my family transmitted to me when I was young. The ability to see many things in this world, some that I like more and others less; So I try to copy the things I like and not copy the ones I don't like from other people. One can be a mirror, but if the inspiration offered by that mirror is negative, you better not take it. 2 If what I can convey is positive, it obviously gives me great personal satisfaction to be able to inspire people who have to get up to go to work or fight complicated moments in life, or they will work in a better mood because they have seen me play ".
NUMBER ONE IN LA RACE
" Of what I feel most satisfied is, without any doubt, of the reaction I had after Barcelona. 2 After Monte Carlo there were difficult moments and in the Godó, before playing the second game I had a reaction and the mental capacity to overcome that moment. Regarding the issue of number one, it is not my main objective, nor has it been at any time. If I am, it will obviously make me very happy, but it is not something I can afford to pursue at this point in my career. I must waste time trying to be as prepared as possible to be able to play the most of the weeks I compete, and if that leads me to be number one, the better; If not, I have to make my way. This year, so far my path has been very good, many tournaments very well competitive and a very high regularity ".
FUTURE OF SPANISH TENNIS
" Spanish tennis has been doing things that are going to be very difficult to repeat. In the end, what has been achieved in our sport in the last 30 years is something that is hardly repeatable by means, economic capacity. As a country, we are competing against others that have an economic capacity that is multiplied by infinity, practically. The four countries that have a Grand Slam already have a higher budget than ours, but apart from that, it is true that the Italian Federation owns a 1,000 Masters, the Canadian one too ... There are countries with a much higher potential than ours. In Spain we have had a failure in that regard and it is that during the years of great boom we have not been able as a Federation to have our own tournament that generates annual income that can serve to promote our sport and help young people of the new generation that are coming We have to see how young people evolve and it is clear that a break has occurred. We have Roberto Alcaraz, Jaume Munar, Pedro Martínez ... and we have to trust them ".
TOKYO GAMES 2020
" In tennis it is not like athletics or swimming, which mark a date throughout the year. Here are other tournaments that are just as important as the Games and it becomes difficult to have specific planning. We are very complicated about the calendar. It is a very special year, in which you will have to be very aware of the calendar and make the right decisions. I will do my best to try to arrive in the best way and with the best preparation ".
Photos from as.com