Moyà: "In the dressing room Nadal had cramps, he couldn't even wear jeans"
The coach went through the El Larguero microphones to comment on the tension with which he lived the final of the US Open, in which Nadal was proclaimed champion.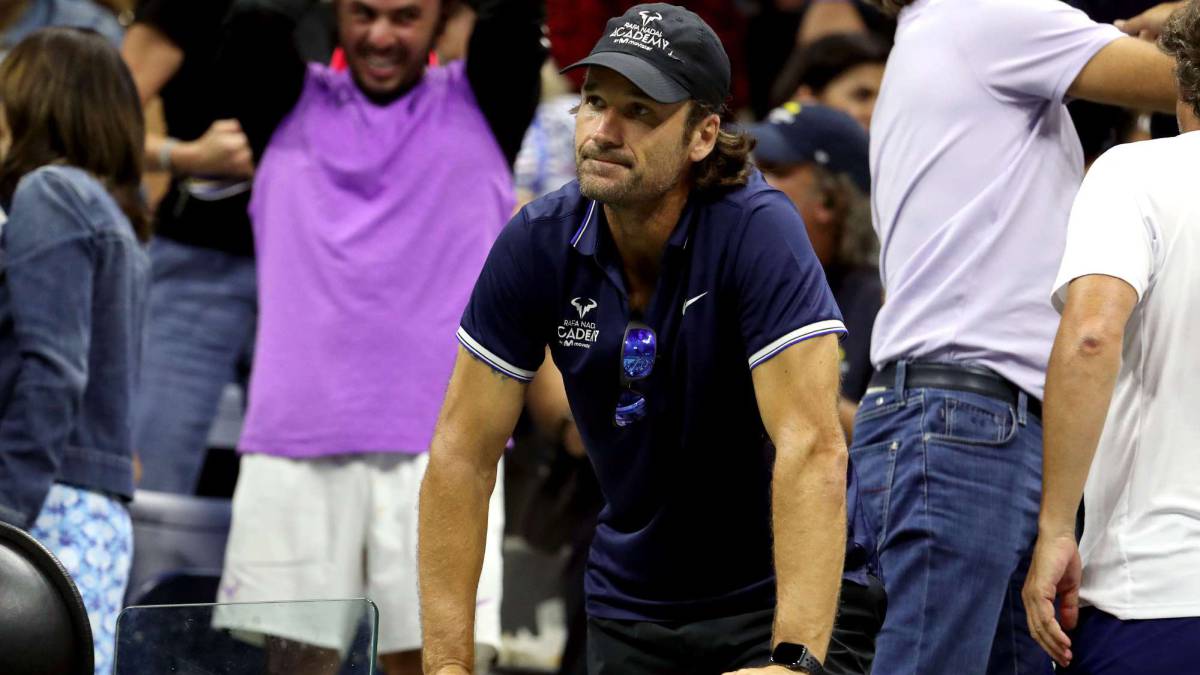 Carlos Moyà went through the microphones of El Larguero de la Cadena SER to be honest after the agonizing final of the US Open, in which Rafa Nadal beat the Russian Daniil Medvedev in five sets. The coach revealed the tension experienced during the match. "We had a lot of nerves, a lot of tension, it was an incredible game, one of the most exciting I have ever seen in my life. 2 In the end we reached the goal safe and sound." That tension was also present even after the game. "When I met Rafa I congratulated him and we hugged each other. It was dusty, he got cramps in the locker room and he couldn't wear jeans, I had to help him put them on after the shower. It was amazing. He got together. the physical issue of the match with the emotional one ".
Moyà also applauded the great Medvedev game, from whom he expected to get more tired to the final. "Medvedev has had an incredible summer. He had three consecutive finals, with the title of the Cincinnati Masters 1,000, the last tournament played before the US Open. 2 Here he has been solving his commitments, he has had altercations with the public. We thought he was going to get a little tired but he has endured incredibly physically and mentally. He gave us a lot of war when it seemed that the game was almost closed in the third set he revived and turned it around. "
At that time delicate for Nadal, Moyá regretted not being able to tell him anything about coaching. "You can't say anything to Rafa about the issue of coaching, you just encourage him. You can't give orders. They were very tense moments since a game you had controlled to match him and turn him around try to hold on. 2 It was an incredible battle, it reminded me of a boxing match when the two are made dust but they go on and on and in the end Rafa had the merit of having more skill at that time. Medvedev had an incredible hardness "
For Moyà it was one of the most vibrant endings you've seen. "It is one of the most tense finals I have seen in my entire career. 222222 I remember exciting matches but tennis emotion and quality came together, two totally different styles, there were many alternatives, it went through all possible states and in the end there were Happy ending for our part Since I am on the bench I remember one against Dimitrov in the semifinals of Australia 2017 but if together what the match entails, the importance, the alternative, the emotion and the quality, for me it has been the most ". However, he does not believe that he reached the height of Nadal's victory against Federer in Wimbledon 2008." The rival is different, it is not Federer, they did not know Medvedev very much, the quality was very high, the emotion. Wimbledon 2008 for what the party meant meant a change in history. Defeating Federer in his field. They are different situations, different stories, many years apart and both with great merit. "4444 444

The coach also did not want to compare Nadal now with that of some years ago. " The Rafa of now and the Rafa of 2008 are two very different players. One with 20 years, the other with 33, one had some characteristics, the other others but both have an incredible mentality. That in the last 13-15 years continue to be one of the two best in the world and trying to be number 1 in the world means that there has been an evolution since your body is changing, your physical has limitations, but your mind is more open, you are wiser on the track, you understand the game better and in that Rafa has adapted perfectly. The rivals of 12 years ago are different from those of now but they know you more.To be up where Rafa is there has had to be a yes or yes evolution and he has always been willing to keep up with this sport, to be up to date, to be competitive in modern tennis and is getting it. " Moyà believes that Nadal is one of the best in history, but not the best, since he still has a career. "It's hard to compare time. More than 100 years of history. It's hard to compare a tennis player now with one of the 50-60s. Rafa's career is not over yet. 222222 Now the Grand Slam are counted to catalog who he is the best in history when 40-50 years ago was not given the same importance to play the Grand Slam. Very few players played all the Grand Slam of the year. It is difficult. It is one of the greatest in history. Where do we put it? First you have to let your career end, hopefully you have many more victories and then we will analyze.

Moyà believes that Nadal has not yet reached his best level of tennis and that he still needs to improve in multiple aspects. "It has not touched ceiling. There have been matches that he has played at his highest level, I want to believe that there is still room for improvement. Always hasspace to get a little better, use your weapons better, subtract better ...

There is always room for improvement and we will work on it in case you want to find more Grand Slam. If you do not update yourself with new things, such as with the network take-off, a tactical resource that you did not do before, is a small sample that you have to keep evolving ".
About the three time warnings that Nadal was beaten , Moyà believes they should improve. "There is debate. If they are beaten it is not on a whim. We have to see if we can improve something on our part. " In addition, he talked about the calendar of the Balearic tennis player for the remainder of the season." He has to play the Laver Cup, other events outside of tennis, we still have to see, this week quietly we see it. The idea is that he also plays in the Davis Cup ".
Photos from as.com