Maverick: "Quartararo is understanding the bike very well"
"It's working well, it did a very good test, so I had a great confidence. We have to continue there, try to be the first Yamaha," he says.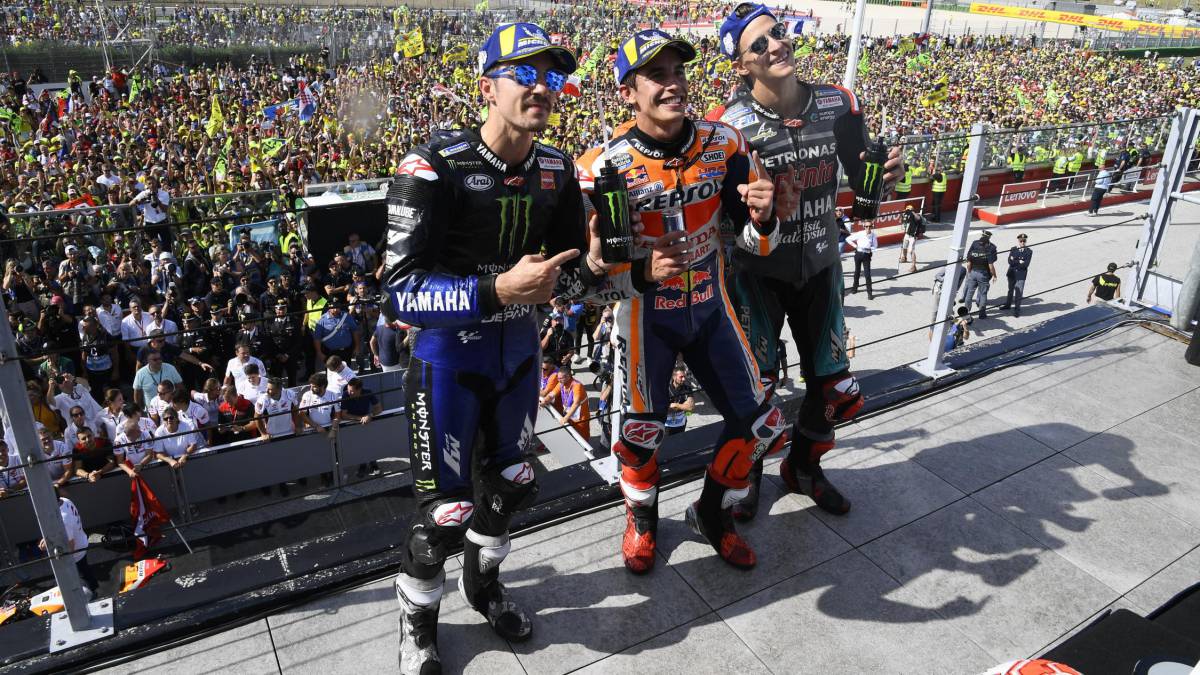 Maverick Viñales repeated in Misano the third position of Silverstone, again close to the head, but without the possibility of putting them wheel to fight for the victory, although this time he came to lead the test at the beginning.
-Yesterday he said that the objective was the podium. Does the third one leave you satisfied after leaving the pole and having led the race?
-Well, it leaves me satisfied because we are taking record, especially in being there in front, in making good starts, good first laps, but today has Missed a little. When Fabio has happened to me, I have really seen differences regarding the grip, so you have to understand why, and improve it in Aragon.
4
-Is that what you have lacked, grab? Because there has been a moment when he looked very strong. 222222
-Yes, it has even been seen that it has happened to me in the straight line accelerating, and usually I always accelerate a little better, by my style. So something was surely not one hundred percent, you have to look at it, correct it, and keep working. As a team, we are taking steps forward of the giant and we have to continue like this. 444444
-Has that been talked about when it comes to piloting with a full tank? Week with a full tank and I felt fantastic. It surely has a little more to do with what we shoot after Moto2. But, well, I will arrive in Aragon more motivated, stronger, knowing that you can fight for victory. We have been full this weekend.
4
-Does the track change so much on Sunday after Moto3 and Moto2 compared to training days? Because it is a tonic that repeats itself, it is difficult for them to replicate in the race what has been taught in the practices. traction and it is already
4
-And why do you think that, with the same motorcycle, Quartararo had more grip? What is clear is that we have improved a lot based on the piloting, now it is up to the team to take another step forward
4
-Such a chase race, cutting 0.1, 0.1, in all the laps, does it despair a little?
-No, I was doing my career, very focused, understanding what we need most to be stronger in the next race.
-But have you ever seen it coming? arrive, but it has closed two or three times in front of me and I have not had the opportunity to press again. I've done a few laps there in 33.8, 33.8, and it said 'bah, if I continue like this I arrive'. But I had another grip down behind and I couldn't keep up that pace. 444444

-Is it like Silverstone?

-Yes, yes. I went well, I made a good first lap, I do not know if it will have been seen, but in the curve 8 I skated a lot from behind entering and that is when Fabio has had the opportunity to pass me. And there maybe he has broken the race a little. 444444

-The second set was his weak point, he always lost a couple of tenths. Why?

-Yes, very little grip, especially in turns 6 and 8, I was spinning the bike a lot, a point throughout the weekend we have always been very strong. It is what I say, now what we have to do is analyze what has happened and continue, because if it is not for that reason today we fought for victory. We must continue working, and I also improve.

-What do you think of the role of Quartararo this year? I had a great confidence. We have to continue there, as I always say, try to be the first Yamaha and end up fighting hard.



Photos from as.com