Lorenzo: "More than lack of courage, it was because of the injuries"
The Balearic gives his point of view on the words of Puig: "It is an opinion of yours, that respect, but there have been more injuries and lack of confidence with the motorcycle."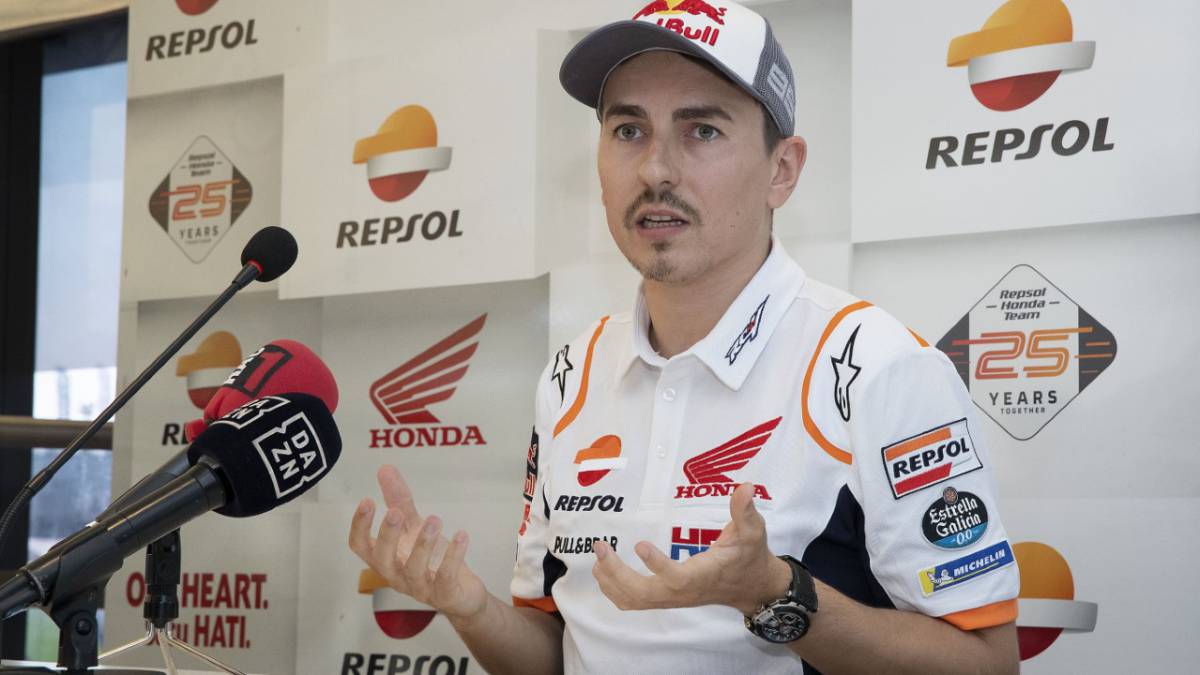 Appearance of Jorge Lorenzo before journalists in Misano much quieter than the first one he had in Silverstone, and that there was again a hot topic on the table. Alberto Puig said recently, among other things, that "Jorge's problem is one of courage and will" . The Mallorcan has not been offended by the message, he has said he respects the opinion of the Repsol Honda main team, his boss, and has made it clear that in his view the reasons for his problems come on the other hand and that he does not intend to leave.
"My opinion is that more than lack of motivation or courage, that is an opinion of Alberto, that I respect , have been more injuries and lack of confidence with the bike, without them I think it would be the usual Jorge Lorenzo of the last fifteen or seventeen years, "said the pentacampeón before asking if it hurt that Puig said something like this publicly , to which he replied: "No, I do not see it as a misplaced statement. 2 He has his opinion, he knows that this bike is difficult for me and he does not give me confidence and he knows my situation ion with falls and injuries. From there, each person has his way of dealing with situations and I am I am a pilot who needs everything in his place and feel safe to be competitive, as history shows. I have been injured and have taken risks that caused me to fall without having everything in place. Not only have I pushed when I had everything in place, I have also taken risks in many circumstances. As I have shown at this stage of Honda, all the falls that I have suffered have been for trying to get results and trying to be fast. "
Regarding the horrific year that has passed since fell in the race of Misano last season, when he was running second, two laps from the end, he believes that the bad run actually started a race later and reflects on the matter: "More than here, I think it all started in the GP of Aragon with that important injury in the big toe that made me stand some races, to return to Thailand, but not quite right. There, due to a technical problem, I fell again with a major injury again, in the ligament of one hand, so at the end of the year I had to take it for granted and over a stupid fall in preseason made me break my scaphoid, which is always a very complicated bone to recover and I already arrived in Qatar touched. I've never been a hundred percent recovered. 2 I am almost perfect of scaphoid, but it has made me ride with sequels and especially the last injury in Holland, when it seemed that I was already beginning to take the trick on the bike a bit and go quite fast. I could not finish the race of Montmeló and then I had those two falls in Assen, when it was perhaps the best moment of that adaptation with the Honda. From there as you have seen everyone has complicated, the injury is perhaps the most important of my career, because it has had me apart for two months and now, with three months still, I am not perfect and that makes everything complicated. We are not robots. 2 We are people with feelings, we are human and when you are in such physical and trustworthy difficulties with the motorcycle it is normal for you to feel a little more insecure, but I believe that everything has come from injuries. I believe that sixty or seventy percent has been the lack of confidence in the motorcycle. Without injuries, he might not have had enough confidence to win races, but in Montmeló he was to make a top five or fight for the podium; I would have got some podiums and I would not be in this situation ".
And what makes it clear is that does not intend to get off the bike at the end of the course even if the results do not change:" It is a feeling of yours or of some people, but I have a two-year contract and at the moment it does not occur to me that I will leave. 2 That is the feeling I have now. Everything in this life can happen, but right now I have that two-year contract and I want to be back to the way I was before the fall of Holland. "

Photos from as.com