Lorenzo's crisis began a year ago right in Misano
He had just won in Austria and a two-lap fall from the end opened a black streak with falls and injuries, plus the failed landing at Honda.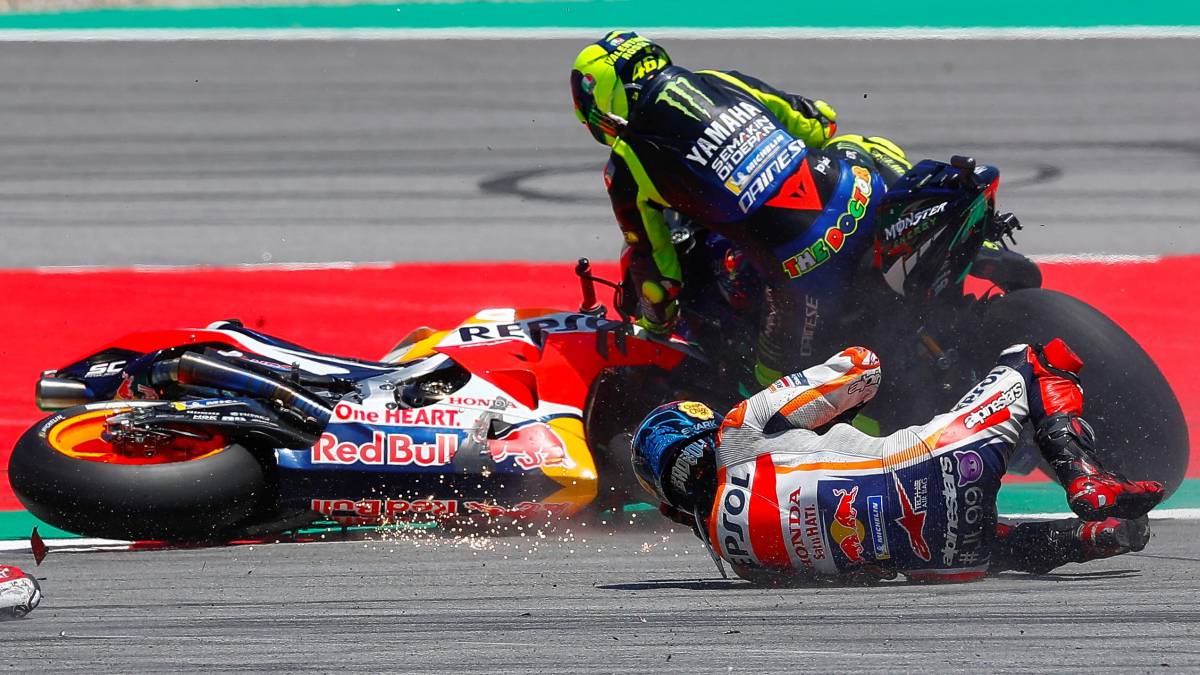 In Misano , a natural year of the crisis that Jorge Lorenzo is going through comes through. 2 It was precisely at the 2018 San Marino GP when the pentacampeon started a personal ordeal, full of falls, injuries and lack of adaptation to his new mount, which still endures, radically changing its state of form.
The Mallorcan arrived at Marco Simoncelli last season as winner of the previous race, that of Austria (England did not dispute) and his good run with the Ducati, prolonged with the achievement of the pole, broke with a fall two laps from the end, when he fought with Márquez for the second place behind Dovizioso.
The Italian appointment gave way to that of Alcañiz, where he went to the ground at the exit of the first corner, to his way of seeing because of Márquez, and with a foot injury that made him arrive between cottons to Thailand. There he was able to get on the Desmosedici with such bad luck that on Friday afternoon a breakdown in his motorcycle threw him into the air and injured his arm. On Saturday morning he announced that he was leaving the GP and that would try in Japan, where in a single lap he felt he could not drive. That made return home to be operated, also skipping the Australian race.
Lorenzo reappeared in Malaysia, but after Friday's day he decided it was better to stop and replaced Pirro. He reappeared definitively in Valencia, but made that race a process pending the premiere at the handlebar of the RC213V. He was eleventh in Ricardo Tormo, thus giving way to a preseason in which it was news for to break the scaphoid of his left arm , doing dirt track, a few days after its presentation with the Repsol Honda team. That ugly injury forced him to miss the important Sepang test. He was able to do that of Qatar, but in the first race he suffered another ugly fall in training, hurting himself in the ribs.
4
From there, absence of important results with the Honda, never ending in the top ten, and with the bad luck of bundling her in Montmeló, after falling and throwing Dovizioso, Maverick and Rossi with him, and hurting herself again ... First he hit a strong stick in the Montmeló test and at the end of June he fell into the free of the Dutch GP, suffering fractures in two vertebrae. 222222 That made him miss the races of Assen, Germany, Czech Republic and Austria. He reappeared in the previous GP, that of Great Britain, with many aches and pains, to finish the fourteenth.
4
Summarizing, in this calendar year, Lorenzo has suffered four injuries, has lost eight races and has been away from the podium. And all that without entering the discomfort that has generated in Honda some of his behaviors, as Alberto Puig has recently seen ("Jorge's problem is courage and will"), for his flirtations with other factories with contract in vigor or the photo he posted on social networks from the Maldives when he was down. The latter was so upset that he was asked from Honda to make her disappear, but they say he couldn't do it because it was a sponsored trip. Now, in Misano, circuit in which he has won four times, once in 250cc and three in MotoGP, he has another opportunity to try to get out of the well in which he is right from Misano.
Photos from as.com