Little cyclists, protagonists on the last day
The Vuelta Junior Cofidis, which teaches values of effort and sacrifice to primary school children, closes its 2019 edition in the capital.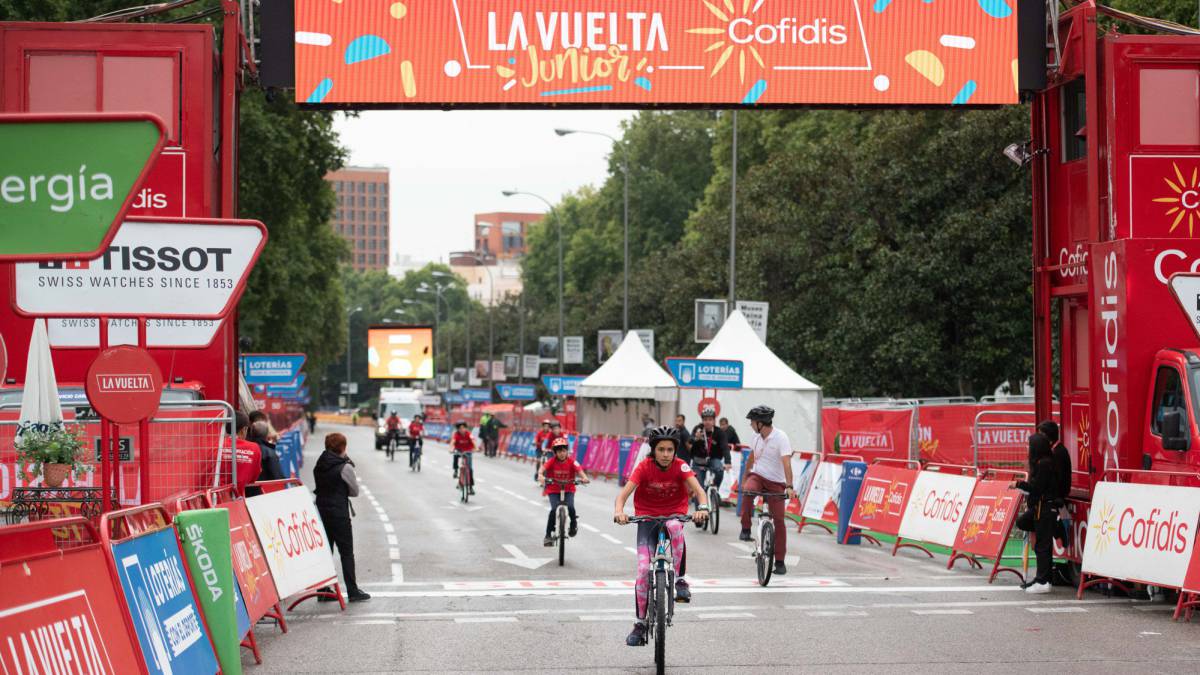 "Do not run until I tell you. Be careful, the asphalt is wet and the bike can skate. " A few minutes before the last stage of the Vuelta Junior Cofidis 2019 begins, one of the monitors of the organization reviews with the participating children, already uploaded on their bicycles and prepared, the rules of the test that are about to begin . The rain, which soaked Madrid in the last hours of Saturday and that threatened to ruin the day, has given a truce, and this stage will occur without precipitation, although with wet asphalt. In those previous minutes, none of the little ones speak. They are nervous, and it is normal. 2 Not every day you pedal through the Castellana, in the same place that professional cyclists will travel hours later. 444444
The ninth edition of the Vuelta Junior Cofidis, in which Unipublic, the organizing company are involved of the Vuelta a España, the Association of Professional Cyclists and the Royal Spanish Cycling Federation, ended this Sunday in Madrid. Approximately one hundred boys and girls between 8 and 11 years old organized in four groups, one by age, have made a circular route between the Plaza de Cibeles and the Cánovas del Castillo.
4
This test, with which the organizers intend to teach values of effort, sacrifice and improvement to the young participants, it has been celebrated since 2010, and every year it is more popular. "This Tour is illusion. La Vuelta is not only for adults, but also for children, "says José Luis de Santos, president of the Association of Professional Cyclists. 222222 This illusion, which motivates more and more children to participate, also implies the organizers, and encourages them to do their best so that the test improves every year.
Over ten stages that have coincided with some parts of the route of the Tour of Spain 2019, and that have traveled provinces such as Asturias, Barcelona and Vizcaya, The little ones have been able to know firsthand what a cycling test is like. 2 The selection of the young participants takes place through the Cofidis cycling classrooms, active in 100 schools in 11 cities, and in which 25,000 children have participated in This 2019, in which a cycling legend like Alberto Contador has participated as an organizer. Javier Guillén, director of the Vuelta a España and a luxury guest on this holiday for the little ones, defines this initiative: "We bring the children bicycle, and from there, we have an excuse to tell them about road safety, food , respect and sports practice. " Only a small percentage of the students in these classrooms can participate in the definitive tests, but they all learn.
The example of Diego Rubio
All organizers agree that the important thing about this test is to participate and learn, but they also confess that they don't It would matter that one of the young people became a cyclist. 2 "It is not the priority objective, but if it happens, welcome," says
Juan Sitges, CEO of Cofidis, the company that finances and gives its name to the Junior Tour. Of all the boys and girls who have participated in this test throughout their nine years of history, there is one that has managed to be professional, as José Luis de Santos recalls: Diego Rubio, a Burgos-BH cyclist and participant in the Vuelta a España of 2017 and 2018. This adds appeal to a test that, according to Javier Guillén, is the most important work of the Vuelta a España in terms of corporate social responsibility. It is the jewel in the crown. 444444
The end is second to none. After the four groups of boys and girls have traveled the kilometer of the stage without any fall of importance, their parents, the monitors and the organizers await them at the finish line. Eight lucky, two for each event, have climbed to the top of the podium, the same one that this afternoon will climb Primoz Roglic, Alejandro Valverde and Tadej Pogacar, and have received a small award that recognizes them as winners. "I was very attracted to this test. I was very excited, but also very nervous, "confesses one of them. 2 After the effort, the little champions get off the podium, and while some go home, others stay waiting for the riders of the Vuelta to arrive, the more expected. However, this Sunday, for an hour, the protagonists have been them, a memory that will always accompany them.

Photos from as.com