"Nobody has guaranteed me that Rodrigo will continue or not"
Marcelino appeared before the media after the victory of his team against Mallorca. In the press conference there was little talk about football and much about the market.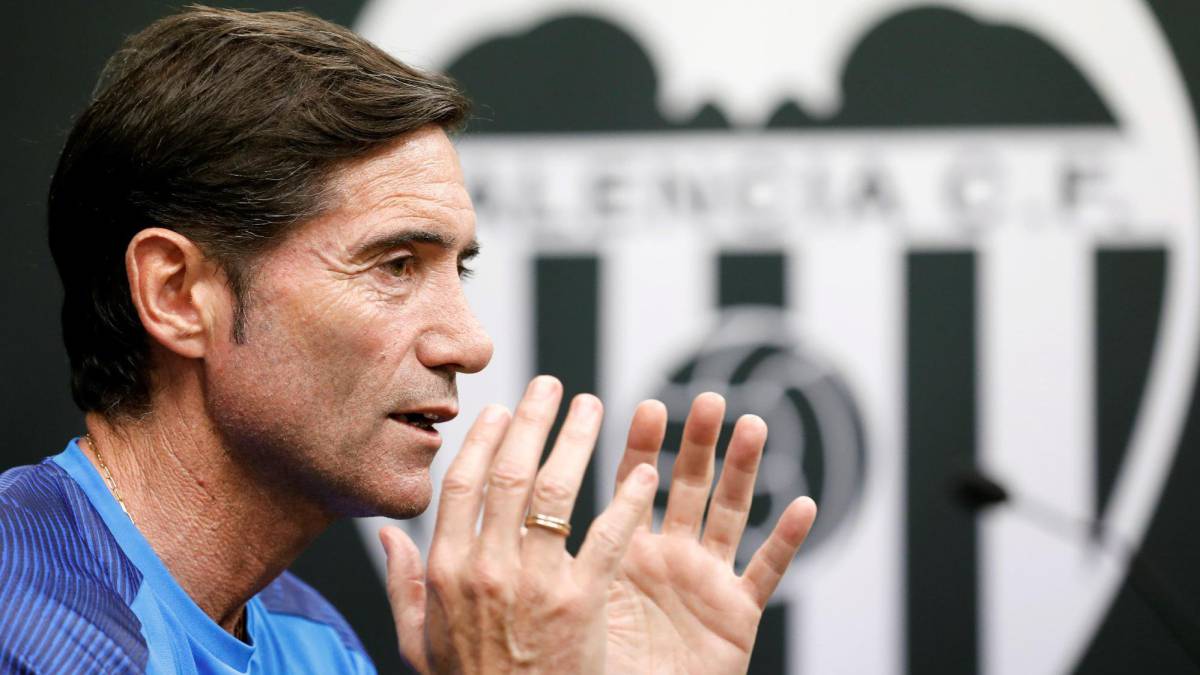 Bad part one . We must ask for more and we ask for more. In the first half hour we were below our level and inaccurate in attack. In defense we were very separated and reacting late and making bad decisions. We recognize it because it is the best way to improve. When we had the ball we didn't generate danger either but after the goal the team plays a good game. The second goal gave us a plus of confidence. 444444
Guedes. We all have to improve at the performance level, he is no exception. 444444
Transfer market . We want the market to end quickly, no matter what I ask. The situation will be what it will be and we will work to make a better Valencia. 444444
Current location . I remember many markets moved but not in a club as big as Valencia that also plays Champions. As long as the rules of the competition continue, we have to get used to these circumstances. 444444
Coquelin. We have three top level players in the center of the field, which are Kondogbia, Parejo and Coquelin. It is possibly the position that we best have covered and we have a lot of potential in it. I try to be fair and try to put those I consider the best, it is very difficult to have these players always. Last year, our worst moments came when one of these players was on leave.
Rodrigo. He had febrile problems yesterday and asked for the change for it, everything from there escapes me. No one has guaranteed me that I will continue but also that I will not continue. It is impossible that everything that is happening does not affect you, 21 days ago this process tomorrow and it is difficult to live it from within. I think that all of us would be affected by this situation. From here, their behavior is exemplary. I lived similar situations with other players and sometimes they asked me not to play because they didn't look prepared, but it is not the case of Rodrigo.
4
Lateral right. Daniel Wass is a player who has given us great performance in all the positions he has played. With Piccini's leave, we only have him to play in that position and before signing him I personally told him that he was going to play there. We need two players per position and we will try to make a side come because if we are not forced to make certain modifications difficult to fit: that Jaume Costa plays on the right, that Gabriel plays on the side, etc.
4
Why does Rafinha not arrive. From the beginning the analysis of the technical area was to bring a versatile soccer player from the midfield who could play in three or four positions. We put two names on the table: Denis Suarez and Rafinha. Denis decided to go to Celta and we had other options, but we didn't want a footballer to complete, but someone who empowered the squad. We had other options but these cost 30-40 million euros. I did not take a whim with Rafinha, it was the options that the market gave us and we had the option to have it ceded. The coach trains and tries to optimize the performance of each of them, I was never told that if Rafinha does not come it is to empower the young. I will try that if Kang-in and Ferrán improve the potential of the squad they will play. If Rafinha had come and these two players had shown a good level, they would have played equally because I try to be fair. No one can say that Rafinha is a whim of mine because it is a lie. 444444
Champions goal without Rodrigo. I do not regret anything I have said, I have always acted with the utmost respect and I have never given a pulse to anyone, I neither want nor can. Yes, I think that the coach in the football teams has a very important part in the signings, I think it is my duty and my obligation to give my opinion to achieve the good of Valencia and not my own. I think our priority is to bring a right back because we are short of troops. If Rodrigo finally stays we will have maintained the level of the staff that is very good, but having four competitions will be a bit short. I still think that if Rodrigo leaves we have to review the objectives because we are leaving a very important player. 444444
Ferran Torres and Kang-In. They are young boys with a great future ahead. If we want to finish rooms we must have a very high level of demand, I hope they help us a lot. Ferrán I think he has played a good game with moments of ups and downs. We believe in the two players.
Photos from as.com