Gareeva, junior chrono champion despite an error at the end
The young Russian cyclist was wrong to make a straight in the last corner but, despite this, she took the gold ahead of Shirin Van Anrooij and Elynor Backstedt.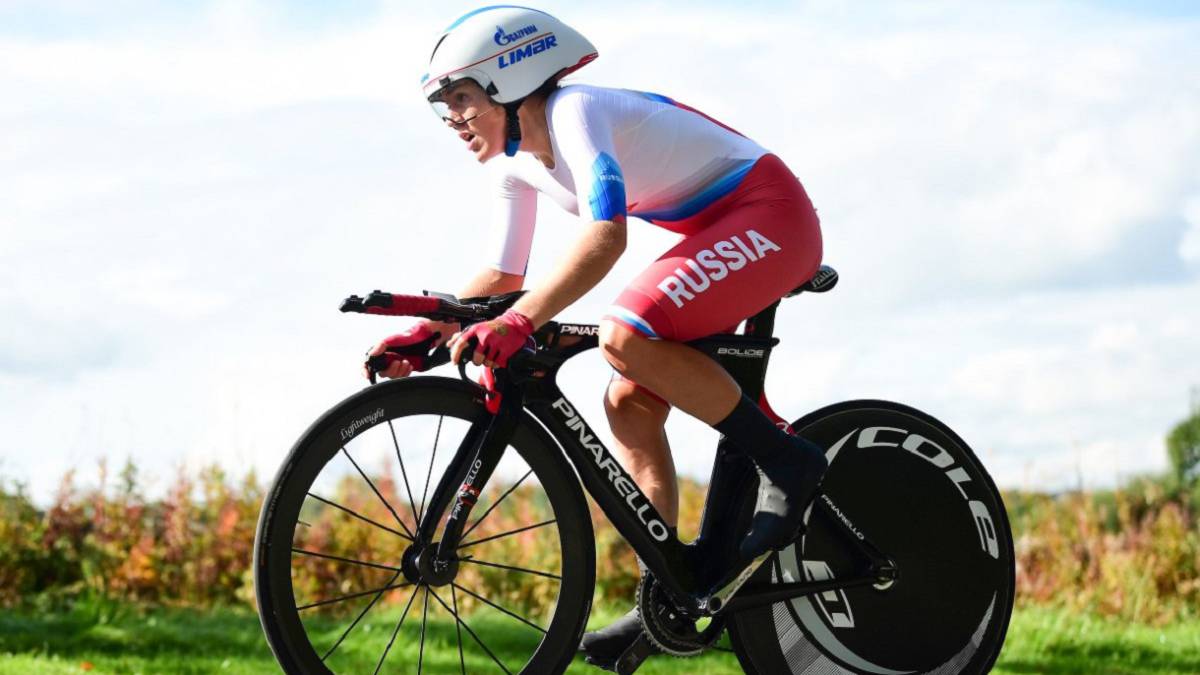 Russian Aigul Gareeva has become the first individual champion of the Road Cycling World Championships in Yorkshire after taking the gold in the junior time trial in the junior category. Gareeva, European champion in route in 2018, won the gold ahead of the Dutch Shirin Van Anrooij, silver, and the British Elyno Backstedt, bronze, despite committing a serious mistake in the last curve before the finish line where he made a straight instead of turning that was about to cost him the rainbow jersey 222222
French Lea Curinier marked the first references with a time of 23:31 until the American Megan Jastrab stopped the chrono with a record of 23: 00.68. The joy did not last long for Jastrab since the Italian philosophy Collinelli stopped the time in 22: 51.61, 9 seconds better than the American The Dutch Leonie Bos had the best record for a good part of the test with 22:37 before Wilma Olausson improved her time with a record of 22: 33.19.
In the final stretch of the test the Dutchwoman Shirin van Anrooij Olausson with a time of 22:19 and shortly after Aigul Gareeva beat his time for three seconds with 22:16 despite making a straight in the last corner before the finish line. Gareeva managed to resist the siege of Camilla Alessio, silver in Innsbruck, and the British Elynor Backstedt, daughter of the excicist Magnus Backstedt, who despite an error in the initial section, knew how to maintain the type during the second part of the chrono to take the bronze with a time of 22: 27.
The Spanish Naia Amondarain and Irati Puigdefabregas finished away from the medals. 2 Amondarain was 36th at 2:13 of Gareeva's time, while Puigdefabregas f It is 46th to 3:11 from the time of the Russian.
4 Classification of the junior female chrono of the Yorkshire World Cup
1. Aigul Gareeva (Russia) 22: 16.23
2. Shirin Van Anrooij (Netherlands) at 3,61
3. Elynor Backstedt ( United Kingdom) at 10.93
4. Camilla Alessio (Italy) at 14.63
5. Wilma Olausson (Sweden) at 16.96
6. Leonie Bos (Netherlands) at 21.27
7. Zoe Ta-Perez (United States) at 25.91
Col
8 (Collin Sofia) Italy) at 35.38
9. Megan Jastrab (United States) at 44.45
10. Ella Wyllie (New Zealand) at 51.30
------------------------- -
36. Naia Amondarain (Spain) at 2: 13
46. Irati Puigdefábregas (Spain) at 3: 11
Photos from as.com