"I come to demand myself because the demand defines Sevilla"
"I always imagine things chingonas," said the Mexican striker regarding his goals this season in Nervión.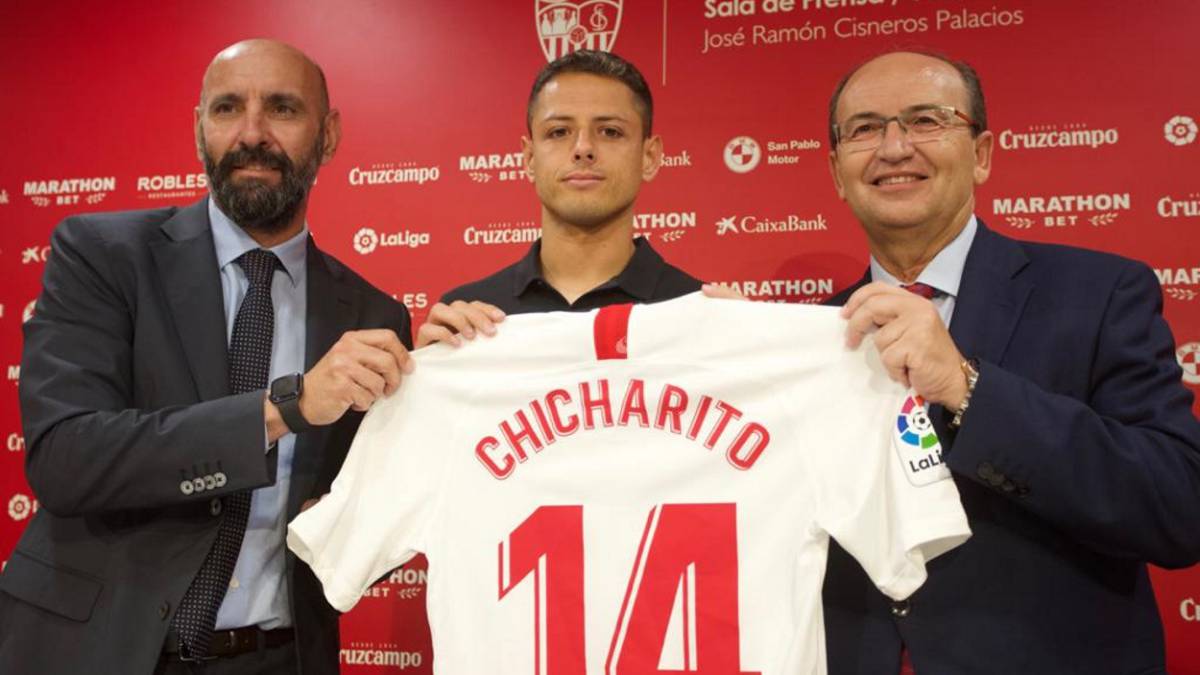 After noon this Monday, Chicharito Hernández was officially introduced as a Sevilla soccer player. The Mexican international arrived in the press room of the Sports City of the club accompanied by both President José Castro and Monchi to say his first words with his new team, with which he signs for the next three seasons. His statements were as follows:
First impressions: "I do not arrive with concern, because I have only seen positive things. It is a blessed opportunity that is given to me. I know the responsibility that comes with wearing this shirt. It is a pity that the break of selections because I want to play in this club already. The ambition was what made me come here and I hope to return the confidence they have placed in me. "
Expectations: "The requirement that is placed on me and in the institution is to achieve the greatest success. I come to demand myself because the word requirement is what represents this club."
Compatriotas: "With Guardado and Lainez I could not speak but with Layún yes. We are very close and he was very happy for me. I visited him one weekend last year and fell in love with this institution. Football here is a religion. and there is a demand that makes each player can get the best of himself here. "
What can you contribute ?: "In words I would like to say that I am going to score 70 goals and that we are going to win everything, but where things are shown are in the green rectangle. I am going to give everything, I will enjoy it very much and return the confidence to the club ".
How does it arrive ?: " I'm fine, fine, one hundred percent. But in the striker's position they count the streaks, you can be very good and not score and backwards. very good physically and football. "
Pressure for the goal: "I love it. I am a person who tries to avoid the comfort zone. I, delighted. We are going to get the best version of each one to put it at the service of the team. The important thing is that Sevilla wins every game and get where we can go. I always imagine things chingonas because nobody takes it away from me. And I want to do it here. "
Game style: "Since I have debuted I have played whatever and wherever. That question is for the coach, I am going to adapt to what is asked of me and with whom I am asked. What I like is to play, demand me and enjoy it ".
Objectives: " Seville has to aspire to the greatest. To the highest. That is the requirement that all sevillism transmits to this institution. In any country it is known of the illusion that this city transmits to the team ".
Photos from as.com