Celades: "It's not a normal situation, but I'm not afraid"
Albert Celades has recognized during his presentation that he has been in Singapore with Peter Lim and that the first call was received from President Anil Murthy.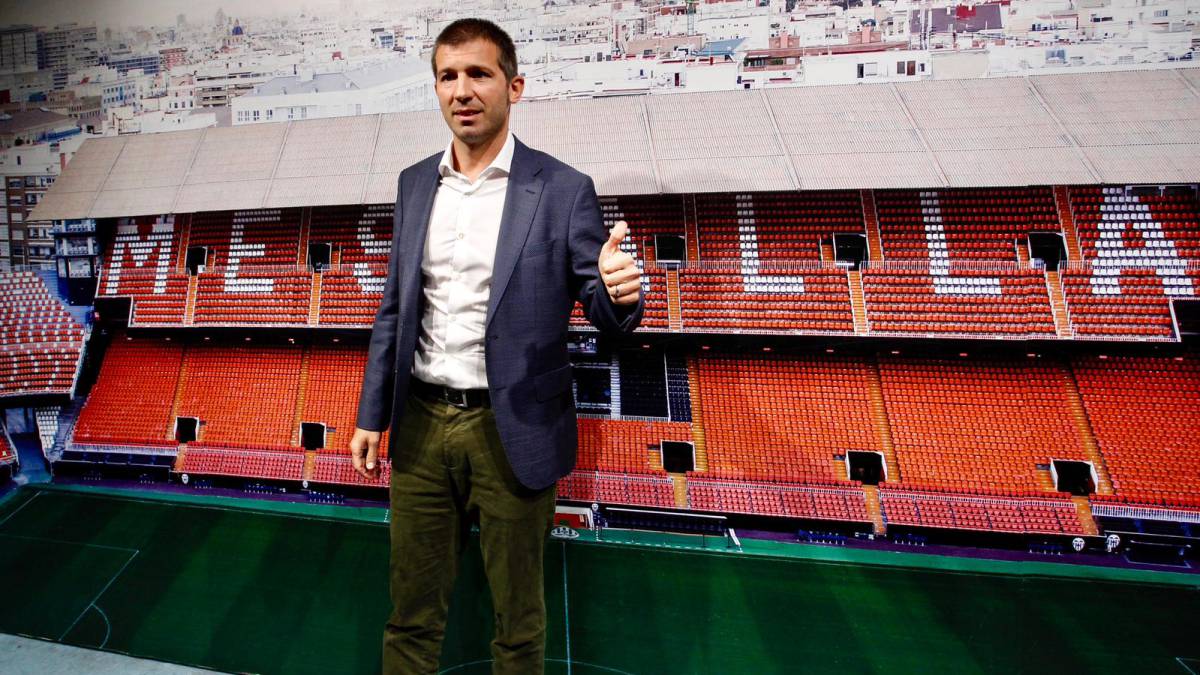 Albert Celades (Barcelona, 1975) presented himself as coach of Valencia while Marcelino said goodbye to his soccer players in Paterna. Celades, which signs until June 2021, arrives in Mestalla with the aim of "promoting young people trained in the Academy". So at least Anil Murthy introduced him. Celades, who acknowledged that he arrives in an unusual situation and who spoke at all times with "respect" for the work done by Marcelino, said he knows that Valencia is "a giant" although he faces the challenge "without fear" .
Anil Murthy, which Celades said was the first to call him and with whom he has been in Singapore in recent days, was in charge of introducing the new coach of Valencia. In Mestalla they appeared in representation of the club Juan Sol and Kim Koh. Neither Mateu Alemany nor Pablo Longoria, who at that time were in Paterna with Marcelino and the staff. Murthy made a speech in which he stressed that the main reason for the arrival of Celadas was in the model of commitment to young people who wants Peter Lim.
4
"Valencia must understand that his philosophy is to promote young people trained in the Academy and give you the opportunity to compete at the highest levels. These kids represent our values, a team that must balance the results and objectives while being economically sustainable. Albert knows many young people we have and other values in Spain and Europe. high level in the Sub'21 and share that philosophy of Valencia ".
Albert Celades press conference
Are you aware that, due to the circumstances in which you take charge of the team, the mission is complicated?
Regardless of the situation, Valencia is always a difficult club. It's a giant. I know where we come from and we are going to try to contribute our work. 444444
How did your signing work? Our opinion is that you have done very good things and we want to encourage those good things that the team does and feed them.
4
Was the call from Valencia expected?
More than waiting, one wants a call like this. We are in a very big club before a very big opportunity. We know the responsibility that we have, an incredible hobby, a wonderful stadium, It is a wonderful challenge for us, beyond the situation that is currently happening.
Has you probed something of the costumes and gives respect to enter a locker room So dump with the previous coach?
I've been in my locker room all my life. Regardless of the situation, which is what it is, they always give you respect. No matter the situation and the level they have. It is a place to know and respect always exists. I know the situation or I can understand the situation that some players will be living. We have been hired to do a job and we will try to do it in the best possible way. 444444
Have you had the opportunity to speak with Peter Lim and if you have transmitted the objective?
Yes I have spoken with them and The goal of a team like this is always to win and that's how we face it. We are newcomers and we have to probe some things. The fact of being here implies a high demand. 444444
Do you think you are more like a puppet trainer or do you think you can think about planning, for example with Rodrigo?
I know he is an amazing player. I have been hired to do a job and I come to do it. The results will save us the results. What a coach tries is to put the players who are going to help him win.
Are you surprised as a coach of the situation? I don't know if you're wondering where you arrive?
It's clear that it is not a normal situation. I am aware. But I don't have all the information. Everything has been very fast and I can't answer that. 444444
Does Ferran and Kang-in Lee have a future or see him present?
We are going to put the players we think are going to help us win. Regardless of your age,
4
Are you afraid of seeing other coaches who have arrived in Valencia with the 'L'?
I'm not afraid. It's a big challenge, but I'm not afraid. The requirement is maximum and I understand the concern of one of you. I have no experience in clubs, but the work I have done previously with players, serves. What I'm looking for are players who help us win. 444444
Have you been told that Mateu Alemany will continue with you?
333333 I have no idea. 444444
Who gets in touch with you?
The President. We know Ochotorena, we work together in the Federation and we want to meet club people. We will get to know the people. 444444
What is Valencia going to propose Celades?
We have to highlight the many good things that the team has and has made it achieve what it has achieved. We do not come to break with what there is and think that everything is wrong. Not much less. We have a lot of respect and a very good opinion of the previous coach. 444444
Are you aware that you will start under pressure?
Here there is always pressure. We all know what this club means. The difficulties they have had in the day to day of the club and we are aware of this situation. We are not afraid and we will face it in the best way. 444444
Have you been to Singapore in the last few days? And do you know what he is going to say to the players?
Yes, I am clear about what I am going to say to the players and I have been to Singapore.
Photos from as.com