A great Mirotic achieves his first title with Barcelona
The Montenegrin, with 'double figures' (25 points and 11 rebounds), chosen MVP from an electrifying final and was decided in the last second.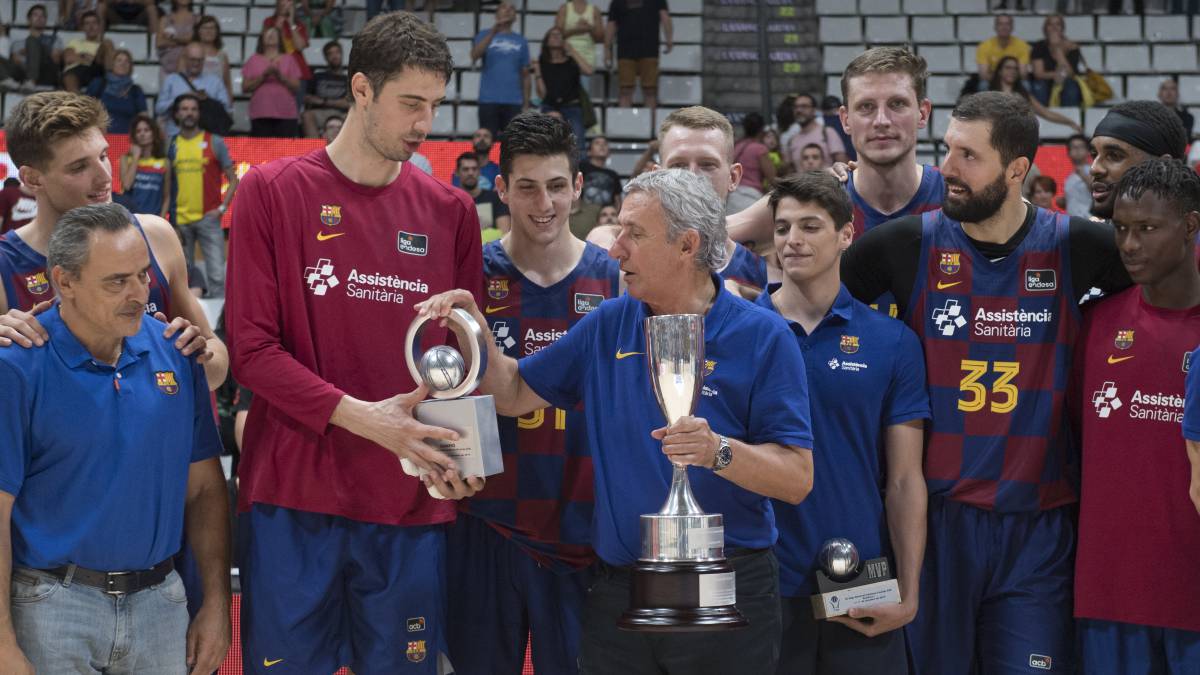 An offensive rebound of Brandon Davies, a second by the end of the match has given Barcelona the victory against Morabanc Andorra (93-92) in an electrifying encounter, played from power to power and without concessions by both banks
Nikola Mirotic has MVP of the final was chosen with a series of 25 points and 11 rebounds in 27 minutes on the track, but other players such as Brandon Davies (16 points) and Kyle Kuric (14) have shone in the azulgrana.
On the part of Morabanc, great game of Moussa Diagné (14 points), David Walker, Jeremy Senglin, Dejan Todorovic and Dejan Musli, although he is only in the final stretch of the clash, all with 12 points
4
Ni Morabanc Andorra, nor Barcelona, with the loss of Cory Higgins after the blow to the face suffered on Monday, they went out on the track to give away nothing to the rival. Despite the high score, the defenses of both teams went to the limit and the Ibon Navarro team opted for the outside shot, achieving a slight initial advantage (2-8, m.3) .
From there, the Catalans , with Nico Mirotic and Brandon Davies intractable in the rival painting he was balancing the contest (11-11, m.5), but the Andorrans continued in their approach and with a triple, the fourth of this period, of Jeremy Senglin were leaving new up (20-24, m.9) and with advantage at the end of the period after another triple by David Jelinek (26-27) .
In the second quarter, Barcelona opened a slight gap in its favor (34-29) and Ibon Navarro asked for time, ordering more solidity in defense, and the personal and free throws by both sides were constant with the two teams in 'bonus' in just five minutes.
4
Andorra system change, being more incisive and forcing faults to the azulgrana, although they also overloaded . Barca returned to send on the scoreboard, with Mirotic very effective (17 points at rest), (53-49, m.19), but a triple of David Walker and three points of Diagné, very fighter, turned the marker to the break (53-55) .
This spurred those of Ibon Navarro after the break and conco Senglin points, together with baskets of Hanna and Walker forced Pesic to ask for time (57-65, m.24) .
His team's reaction was devastating with a 9-0 run (66-65, m.26) and Ibon Navarro stopped the game to request more intensity from his center Dejan Musli. He responded and along with Bandja Sy returned the initiative to Morabanc (71-73, m. 29), but good actions by Roland Smits managed to tie the end of the quarter (75-75) .
With 81-82 (m. 34) Hanga relieved Bolmaro, who turned 19 today in the direction of the Barca game and Diagné entered through Musli. The fouls already weighed in the Andorrans, Tyson Pérez and Frantz Massenat were eliminated and Llovet entered with four fouls. Pesic returned the young Bolmaro as a base by passing Hanga to the escort post. 444444
Dejan Musli returned briefly as a pivot in Andorra and his team went upstairs (83-87, m.37) forcing Pesic to a new time, returning Brandon Davies on track, responding Navarro with the return of Diagné. 444444
Clenvin Hannah kept his team up (84-88, m.39), but a triple of Mirotic cut (87-88), although two diagnostic free throws left the marker at 87-90 to 1:10 for the final. 444444
Pesic asked for time, Kuric scored a triple (90-90). Walker added for Andorra (90-92) to 30 seconds to go. With only 17 seconds of play, Senglin committed unsportsmanlike against Bolmaro, who scored a free kick (91-92) .
Bolmaro missed an entry just five seconds to go, but the ball remained in Barca power. Mirotic missed a triple and the rebound was collected by Davies to place the 93-92 a second for the conclusion. Diagne tried a desperate shot that was blocked by Mirotic. Barcelona added their twenty-second Catalan League and avenged their defeat last year.
4
Photos from as.com