Viviani exhibition, which is proclaimed champion of Europe
The Italian imposed on Yves Lampaert to sprint in a race marked by the strong wind. The bronze went to the German Pascal Ackermann.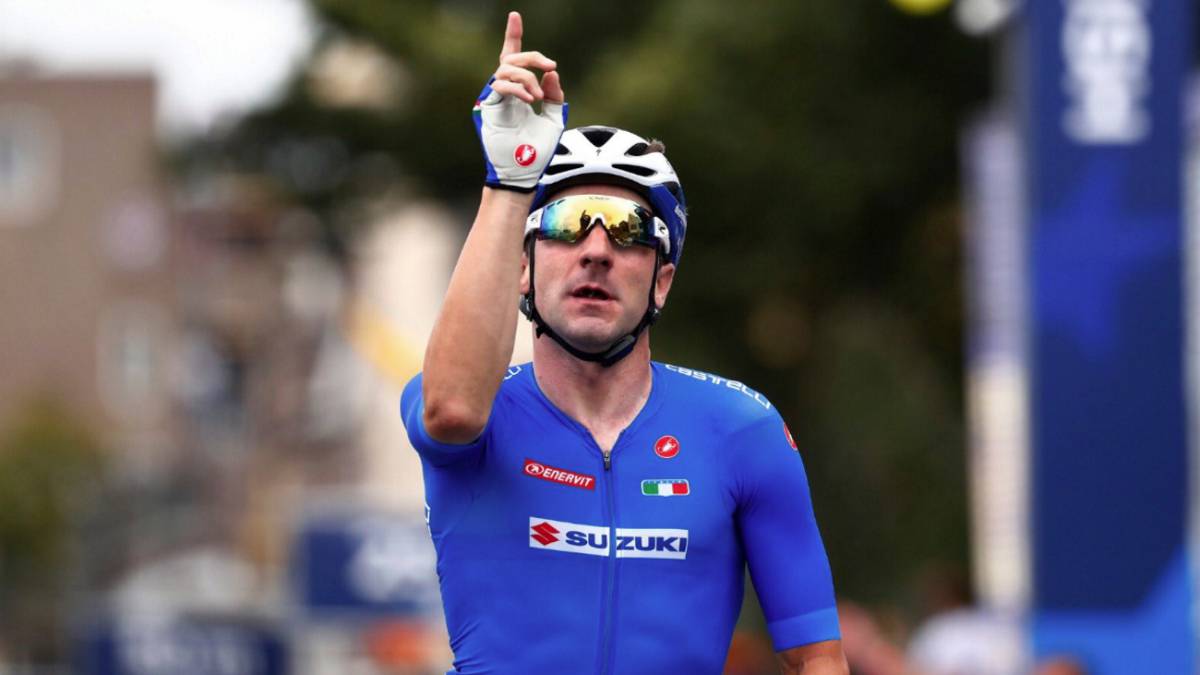 The title of European champion will belong one more year to an Italian. Ellia Viviani was exhibited in Alkmaar. 2 The sprinter was the strongest of all, and managed to reach the finish line with the only company of the Belgian Yves Lampaert, which he beat without too many complications. The bronze went to the German Pascal Ackermann, who three kilometers away was unable to follow Lampaert's attack, which was followed by Viviani.
The day began with the Belgian runners leading an minute of silence in honor of Bjorg Lambrecht, who died Monday in the Tour of Poland. From the beginning of the test, the Italian team controlled the race. In his ranks was Elia Viviani, one of the favorites to victory for his good form, and Matteo Trentin, last champion of Europe.
The route consisted of 172 kilometers. 2 First, 45 kilometers would be traveled and then enter a circuit of 11 kilometers, to which the runners would take eleven laps. In the first round, such had been the hardness imposed by the Italians, there were only about sixty runners in the main group.
In the absence of 50 kilometers by the end of the race, a front group of thirteen riders was formed. 2 Elia Viviani was in the group with three teammates. Who stayed out of the cut was the Dutchman Dylan Groenewegen, runner to which the bets placed as one of the favorites. The Netherlands began to shoot for him, but he was unable to connect. Elia Viviani, the German Pascal Ackermann and the Belgian Yves Lampaert understood each other perfectly, and managed to take valuable seconds of advantage over the main group, commanded by the Dutch, who ended up running out of men who could approach their leader.
The medals would be distributed between the three in front, and everything would be decided on the last lap of the circuit. With the bronze The teammates in the Deceunick Quick Step would play gold in the sprint. Viviani proved to have a much faster top speed than Lampaert's, and he won quite easily. 222222
The Italian succeeds fellow countryman Matteo Trentin as European champion. 222222 In 2017, Viviani was silver in the European Championship. Now, the sprinter has been able to remove the spine he had stuck, winning a test in which no Spanish runner participated.
Classifications
1. Elia Viviani (ITA) - 3:30:52 2. Yves Lampaert (BEL) to 1 "3. Pascal Ackermann (ALE) at 9" 4. Alexander Kristoff (NOR) at 33 "5. Michael Morkov (DIN) mt 6. Sam Bennett (IRL) mt 7. Matteo Trentin (ITA) mt 8. Luka Mezgec ( ESL) mt 9. Arnaud Démare (FRA) mt 10. Rüdiger Selig (ALE) mt
Photos from as.com