Rins and Suzuki are more in love than ever
Some time ago they started working on another renovation from the year 2020 and now yes those of Hamamatsu see the new Schwantz in Álex.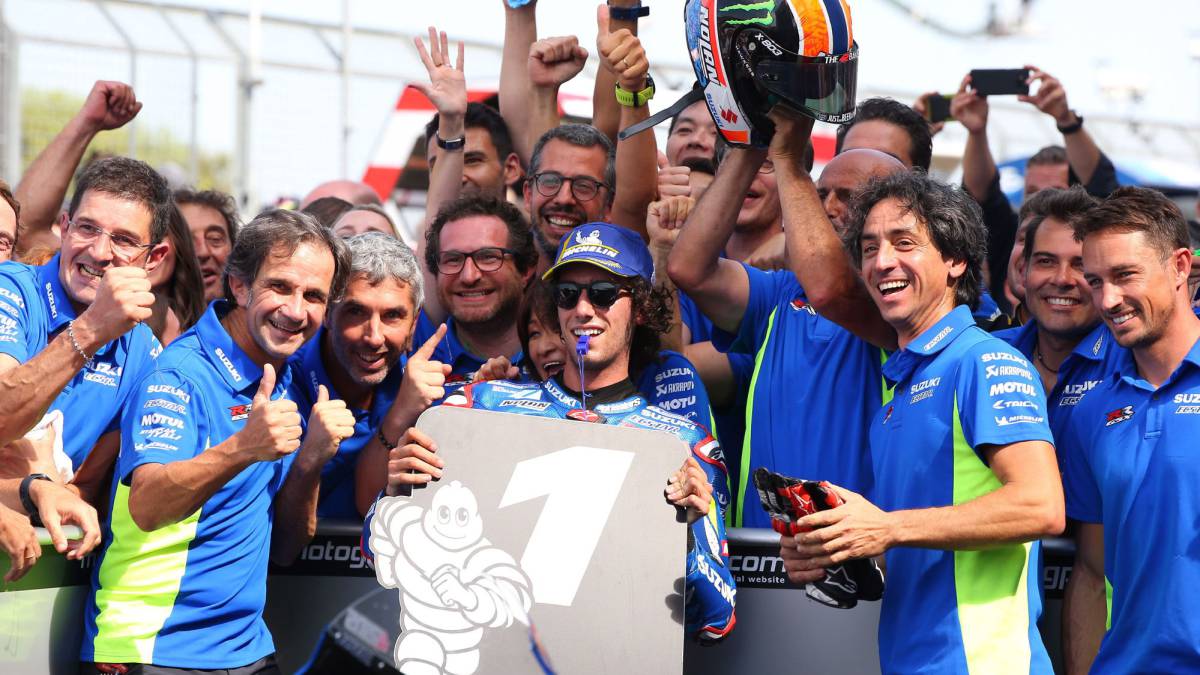 Marquez and Honda's idyllic relationship has its 'alter ego' with that of Rins and Suzuki. 2 And it's so fantastic not only because Alex at Silverstone achieved his second MotoGP victory. There are ways and ways to win, but few as spectacular as the Catalan has done this year, beating Rossi, in Texas, and Márquez in two unforgettable duels. The latter did it for only 13 thousandths, and both make one in Hamamatsu see in 42 to the new Schwantz. Undoubtedly, yesterday was his definitive consecration because, unlike Texas, in England no one could say that he benefited from the fall of Marquez. The champion was his rival until the last breath and beat him full-blown. 444444
What to dream of a new famous 34 in Suzuki, is something that already happened to them in his day with Maverick, but the dream was interrupted because Viñales emigrated to Yamaha, with a unique victory on the back of the GSX-RR, precisely at Silverstone, three years ago. With Rins the story should have more continuity, because both parties are more in love than ever and several months ago they began negotiations to extend the contract that binds them and make the relationship go beyond 2020.
So appealing is to ride the blue motorcycle to Most of the riders of the current MotoGP grid, as present and future, have Rins who have always publicly expressed their gratitude to Suzuki for the bet he made with him when he was on Moto2. In that category he did not win the title , but left his seal with a runner-up in 2015 and a third in 2016, in the Sito Pons team. And also for supporting him when they did not come well given in his rookie year in the queen class, in 2017, because of the damn injuries. 444444
Although the market for 2020 is practically closed, and it is only to see who will be Pol's partner In KTM and perhaps some last minute surprise, there are several who already negotiate for the 2021 and Rins course is one of the great jewels of the market. Of course, their number one priority is to continue in Suzuki, for that eternal love that they profess each other and because they feel that together they can become world champions. What is no longer in doubt is that he is also able to stand up and beat the great dominator of the category in a melee, a Márquez who has the title again very shot despite falling for the second consecutive race in duel of last lap and last corner. Rins was to blame this time, for only 13 thousandths that they knew to glory.
Photos from as.com