"Great pilot or champion? There is one who already has it in the helmet"
The Italian responds by referring to Lorenzo when asked if he is a great driver or a great champion as defined by Rossi.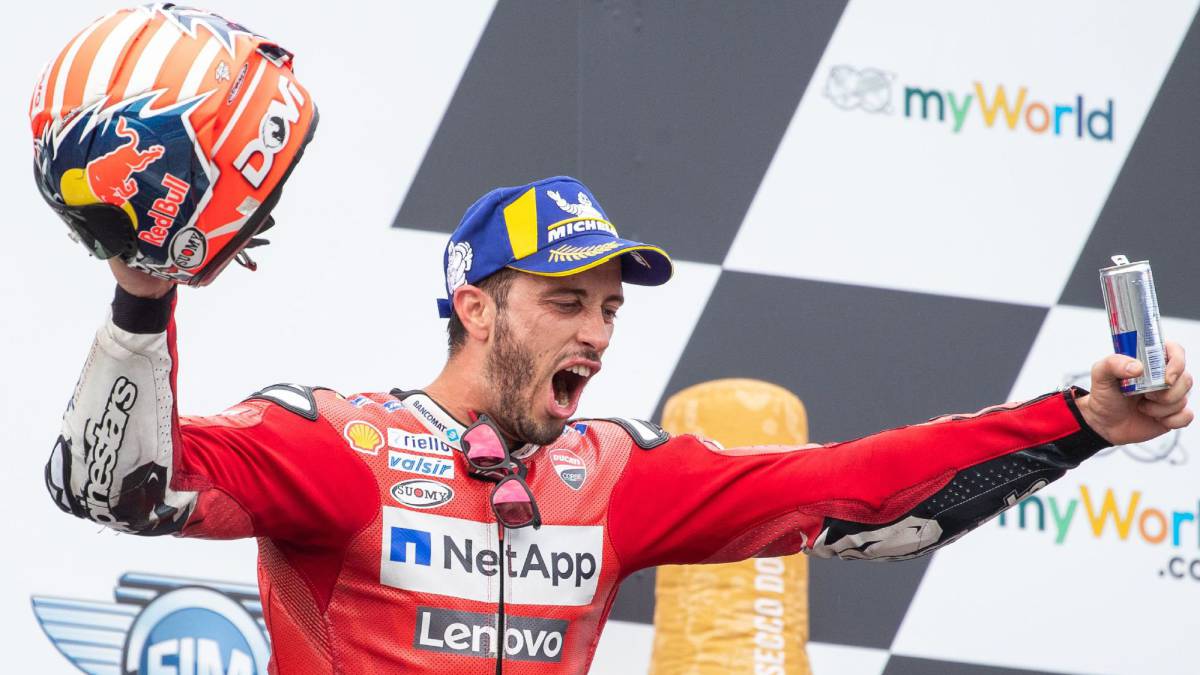 Andrea Dovizioso was very happy with her victory at the Austrian GP, because she did not win from Qatar in March, and for the brilliant way she got it, beating Marc Márquez on the curve. 444444
-Congratulations. What can you say after winning a car like this?
-Today I am especially happy because it was very difficult. It has been very hard from the first corner to the end. We have done a great job during training and we have found a way to stop Marc, using the rubber at the right time. 444444
-What do you mean?
-We had to understand at what point the tires would arrive at the end of race, because conditions have changed a lot around the corner and we also had to understand what their strengths and weaknesses were at the end of the race. When I understood this, I was able to try to pull hard and I was able to make a very strong last lap, in which I knew I had more grip and in the two right curves, in the five and in the eight, I had the possibility of get hooked and that has allowed me to try overtaking in the last corner. I am very satisfied with the general management that we have made of the race, especially in corner seven that complicated my life a lot and it is very nice to win like this. 444444
-In the last corner, as in 2017 here ...
-As you say, when it was happening I have not seen exactly how I have done it. We had a small, involuntary contact, and I expected him to do something safe, but that contact has not allowed him to make any maneuver.
4
-Has it been more of a victory than the Ducati given that the Honda seemed to be at the same level here?
-No, because in the end you don't only win for one thing. The characteristics of both motorcycles are very different and the important thing is to understand how your opponent will drive the motorcycle, especially when it almost always goes on the attack. That makes it very complicated. The work done in training is the one that has made us win, because it has been the one that has allowed us to make a difference. And also the management of the race, so I think that surely the success is fifty percent.
4
-What do you think you are, a great driver or a great champion, as Rossi said just now?
-I do not want to get into these things especially when there is already a pilot who writes it in the helmet (Lorenzo). Honestly, people can think what they want, but I know perfectly well who I am and what things I have to improve. That is what we are working on, since the objective is the World Cup and standing in if you are a champion or a strong driver is just a detail. 444444
-Márquez is so strong because psychologically he feels stronger?
- It is true, the reason why Marquez is making a difference this year is because he is being and feels superior. If today he has failed, it has not been because of his mental strength, other things have failed him, but in all the races that we have come tight he has always given his face and Marc is not one of those pilots who stays behind waiting to see what happens. What we have to do is keep working, because we have to improve. 444444
-Have you felt the hitch with the motorcycle of Márquez?
-No, I have not felt it, but the contact.
-What Will this triumph serve?
-This victory will give us more energy for the rest of the season and to improve the environment, which is what makes the difference. I have been running for twenty years and today's victory, as it has arrived, in the last corner, is a very important experience that we must study, because my head has been calm and open, something that is very difficult when you are in a borderline situation and It seems you have the door closed. Closed, closed, it seemed that there was no door open and if you remain calm and with an open mind the door opens and in this case I have made you open the door. It is an experience and a job that is done at home and you try to move to the track to do it well.
Photos from as.com