Marta García: "I thought there was going to be much less level"
The Alicante, fourth in the Spanish women's and only championship, acknowledges that she was surprised. "I didn't think it was like that," he tells AS.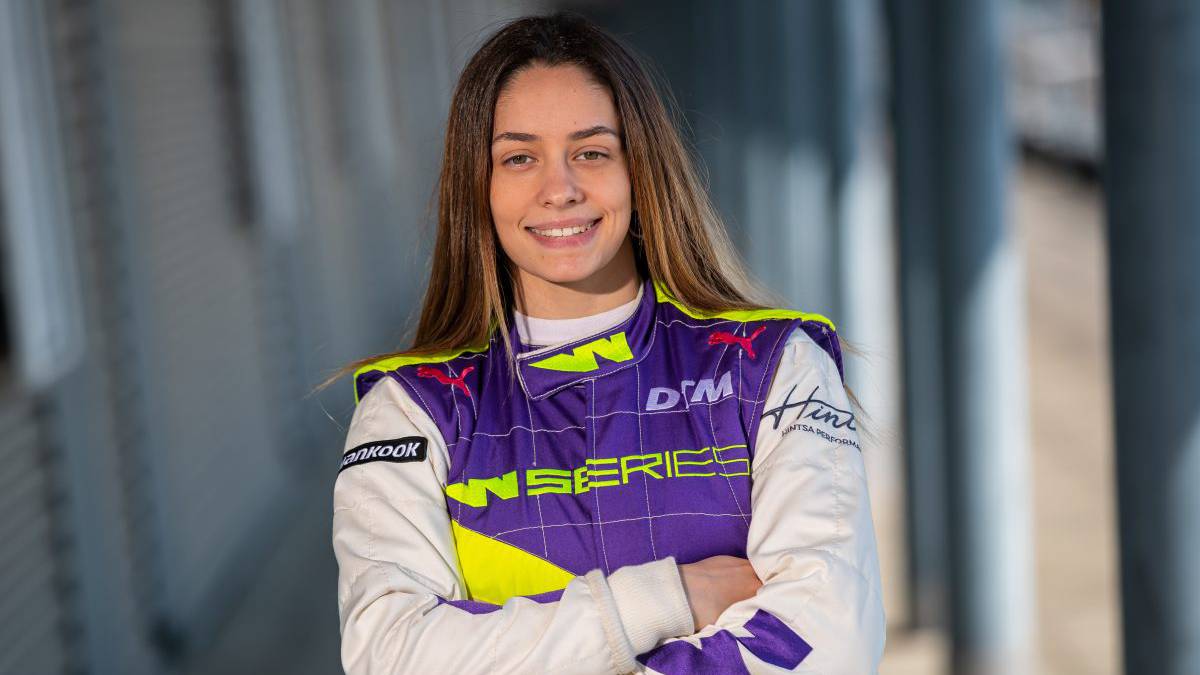 Only five women can say that they have won an W Series, inaugural season race and one of them is Marta García. 222222 After finishing fourth in the women's championship, we talked to the 19-year-old from Alicante. 222222
11111 — A The difficult weekend of Brands Hatch, in the end he missed third place in the last race ...
— I already knew that it was going to cost me for the type of track because it is not the one that suits my driving style, But it was like that. It was not a good classification, I made eleventh, and then in the race can overtake three drivers to finish eighth. I knew I couldn't do much more because I didn't have much pace, but now we know where we have to work for next year. As for the championship, the one that was fourth was Powell and we knew that he would do well there because it is his track. In the end I can not control what is not in my hands ... He won and I did not have a good weekend. She also had bad luck in other races.
4
— But that does not tarnish what has been a good season: she climbed to the podium in Hockenheim, won in Norisring from the pole… Are you happy no?
—Yes sure. I have had good results, although the last two races have been the worst because of the type of track, fast curves, in which I lack a little confidence and technique. It is something that I will try to improve in the simulator and in training, but I make a positive balance of the season.
4
11111 — What grade would you put in your year?
—Well, to be the first year of this championship and the second I do in single-seaters, about ten, I would say that an eight or a nine.
4
— There has been much talk about the W Series, especially when it was created, both from a favorable side and from a more critical one, what is the opinion that have you lived it from within?
— The championship is pretty good. Well organized, with the Hitech team that is the one that brings the cars, with our own 'hospitality' ... Then, there are six races, which have not been many, but I think it is for being the first year. In general, I am quite happy because I didn't think it was like that. 444444
—And do you think you have fulfilled your main objective of putting women on the auto racing scene?
—Yes. In the end, you go out more in the media for being something new and, if you make good results, too. And the same happens in social networks, and that gives you a little more visibility and help for 'sponsors' or something like that.
4
— Do you see this championship in the future? Do you think it will go on?
—Yes, I think so, to see how it goes next year. There are already twelve of us who are inside yes or yes, and there are eight missing pilots. 444444
— So your 2020 will also go through the W Series. 222222
— Yes, yes, I will do them again. Let's see if I can do another championship in parallel and maybe I will also do in January and February the Toyota Racing Series in New Zealand, which are five weekends with three races each. In the end there are 15 races that serve you to gain experience and to be ready for the next season.
4
- Have you personally had fun this season? Is there a level on the grid? "
— Since I entered when we did the first selection test, I thought there was going to be much less level. I didn't think there were so many women and, besides, I didn't know there was going to be so much level. Some pilots are a little above the rest, which are the ones with more experience like Chadwick, Visser or Powell, and then the same level drops a tad, but it is not a low level, it is medium-high I would say. It is competed. 444444
— What is the atmosphere like in the 'paddock' between you? Do they get along?
—Yes. In the end, off the track you get along with everyone, even I get along pretty well with Vicky (Piria), the Italian. And then, obviously, on the track we competed. 444444
— Did you thank Chadwick for his title?
—Yes, of course, I gave him a hug. He has won and deserves it. He has had a good season and see if next year we can fight for the championship. 444444
— After doing another season in the W Series, where do you look? hard. To do this, we would have to take steps such as running some Renault Formula races next year and making the leap to the F3 in 2021. That would be a plan. Then, from there, it would be necessary to go up. 444444

—And do you see it affordable?

— It all depends on what you do next year and the budget you have. In F3 there is now quite a level and I need to be well prepared because you are not goingthere to do the ... dumb so to speak. If I can do next year the W Series and another parallel championship then it would be good.

4

— Do you think F1 is ready to receive a woman on the grid or is something missing?

—I think so, it is the same as men, if a woman is good enough she can reach F1.

— For example, Chadwick is enrolled in Williams as a development pilot, do you find it possible to reach a similar agreement with an F1 team or is it still away?

— Well, I was in 2017 at the Renault Academy and I didn't have a good year because I was the first one I was doing in cars, which is a bit difficult. As I was not among the first three of the championship (the Spanish F4), they threw me out of the academy. It is still good to be in some factory or in some equipment, but time to time.

4

— Thank you very much for attending us and we will be attentive to your next steps. 222222

— Thank you.

4

Photos from as.com