365 days have passed since the last victory of the Balearic in MotoGP. It was in the Austrian GP and since then, his best result has been the eleventh position.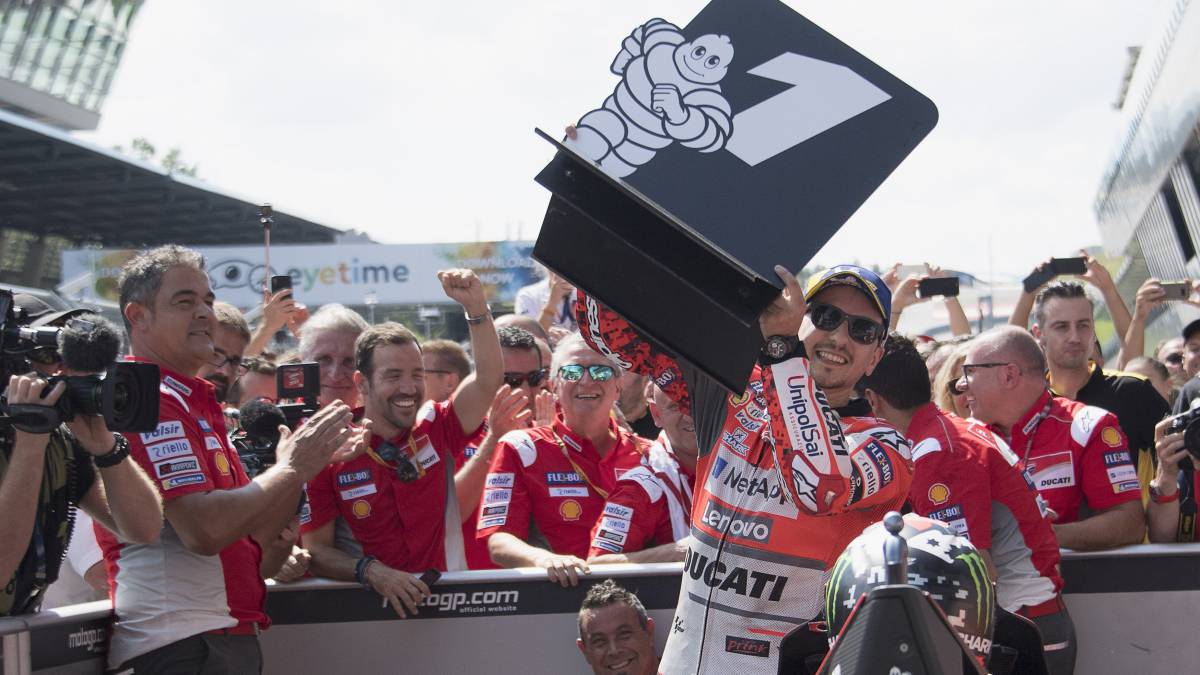 He fulfilled the dream of any Ducati rider, to win alongside the Desmosedici in Mugello, and just three days after that of any rider: to be part of the most successful team in the history of MotoGP. 222222 Jorge Lorenzo joined Honda to exhibit together to the Japanese his champion profile that questioned some areas of Borgo Panigale, to which he showed that he could also dominate with his mount. But it was too late to do so. 2 The Balearic would set off for the home of the rival when the course was over, although he tried to say goodbye showing that he could have picked up the witness Casey Stoner left in 2007.
He returned to win in Montmeló, second consecutive victory of the season , to return to the podium in Brno with a second position that he knew little by little. Lorenzo sought victory in Austria and found it imposing himself on that now unshakable rival, Marc Márquez, and so far the story. Because the Balearic stopped his dry streak, since in Misano and Aragón he kissed the asphalt in full personal battle to continue claiming. The result was an injury that separated him from the circuits to Valencia, where he said goodbye to the house of Bologna with a twelfth position. The triumph turned his back on him and the Honda did not show him the pretty face of the coin, that with which he has not been found again for a year.
4
Honda's long-awaited dream-team with the champion where he left it and with Lorenzo where he did it with Ducati. 2 The dream team returned to dream, with Márquez, while the Balearic opened the year in the thirteenth position to, after seven races, seal the eleventh place as the best result with a saddle that had hitherto been imposed four times. In between Jorge decided to learn to win again, traveled to Japan to get it and began to meet with 'his' Honda in the Catalan GP. But there he also met an unknown rookie version in him since 2008.
first step by goal already rubbed shoulders with the best and then, failed as never before. His strike took ahead his aspirations and those of other three pilots (Dovizioso, Maverick and Rossi) to place him in the eye of a hurricane from which he could not escape. Because in Montmeló the fall was without physical consequences, but la of Assen has left him out of play until Silverstone, where he will reappear next to a small and elevated mount designed for the pilot of his companion, in which the pentacampeón looks for solutions such as that he found for the Ducati. 444444
Because although many point to the other side of the garage, the problem is not Marc Márquez. 2 The ilerdense is only dedicated to doing his job, which is not another win. 222222 And that was already in charge when Lorenzo also aspired and added victories with Ducati. The problem is rather in that mount where the Balearic does not feel at ease, but "if the motorcycle wins with a pilot, there is no reason to change." Jorge's Word. Who has to do it then? The Mallorcan has tried knocking on all the doors that could open but in the end, has returned the touch to Honda. Lorenzo stays. And he does it to win again. 222222
Photos from as.com