Ireland dominates: Bennett wins the sprint and Roche is still red
The sprinter of the Bora opens in the Vuelta with a solvent victory in Alicante, in an arrival that could not dispute Gaviria, off the hook in a port.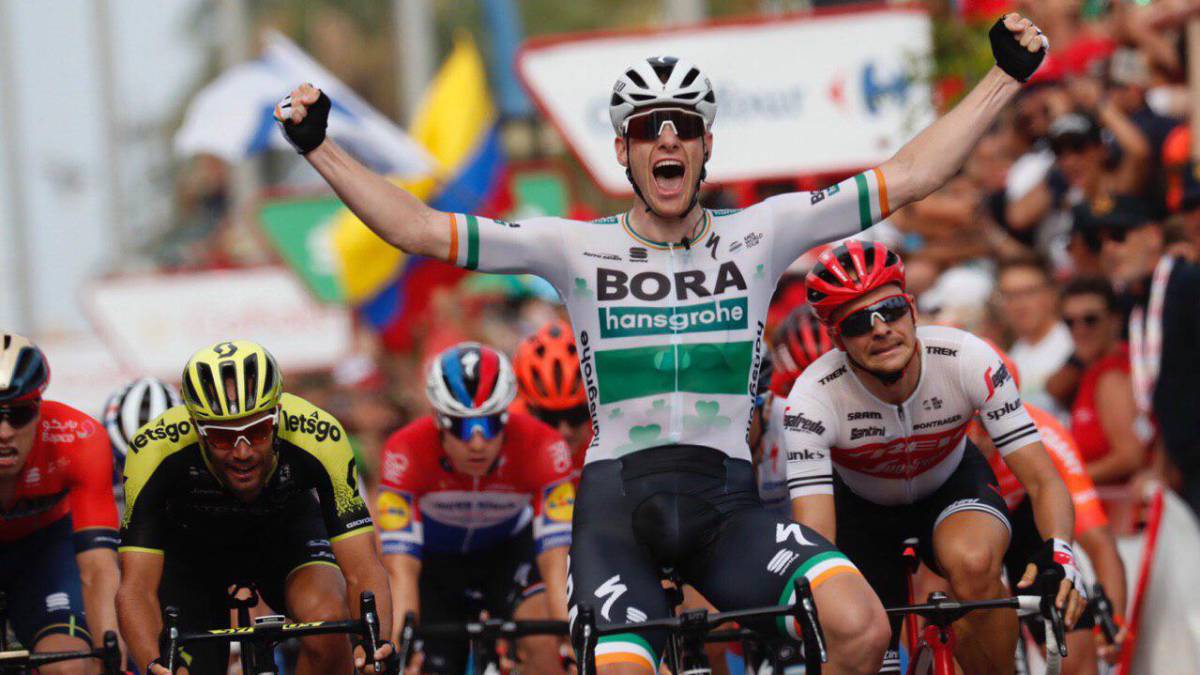 Won the favorite, won a sprinter: the Irishman Sam Bennett (not to be confused with George Bennett, a New Zealand climber). Vuelta is not a treat that attracts sprinters, but there are always opportunities, you just have to take advantage of them. Sam did it. He signed up for the race and will no longer go empty, after successfully mastering the massive arrival of Alicante. Bennett, 28, thus added his 12th victory of the season, and added the Spanish round to his collection of greats, after achieving a triplet in the 2018 Giro. Ireland plants its flag strongly in Spain, with that triumph of Bennett and with Nicolas Roche, for the second day, with the red jersey. Sean Kelly will be proud of them. And dad Stephen Roche. 444444
The stage was animated by three Spanish cyclists, three adventurers grateful with the invitation of the Vuelta and with the marks they exhibit in their jerseys, dos of the Burgos-BH and one of the Euskadi-Murias, always on the run. One was Angel Madrazo, a 31-year-old from Santander, who repeated for the second consecutive day, embedded in that blue polka dot robe that distinguished him as leader of the Mountain, who defended with honor by first passing through the two ports of the route. Another, his partner Diego Rubio, from Navaluenga, 28 years old, a giant of 193 centimeters, a runner who participated in children's age in the Vuelta a Júnior, the race that Cofidis sponsors to promote this sport among minors. And the third, Héctor Sáez, 25, , who knows these roads well because he is a native of Caudete (Albacete), a town near the province of Alicante. The trio fulfilled its role as animator, publicized its colors and, after reaching a maximum advantage of 6:30 minutes, succumbed to the voracious teams of the sprinters.
4
The Deceuninck, with Fabio Jakobsen; the Bora, with Sam Bennett; the UAE, with Fernando Gaviria, and the Mitchelton, with Luka Mezgec, stood as the most interested teams to consummate one of the few possibilities that the sprinters will have in this 74th edition of the Tour. That is why they were alternating some cyclist at the head of the platoon, stopwatch in hand, to not allow the three escapes to dream out loud. A classic script of flat stage that could be repeated on Tuesday, although with the threat of storms ... Or almost flat.
The almost flat was made up of two third-category ports, the Biar and Tibi, which also had their influence on the day, especially the latter: 6.7 kilometers at 4.1%, which was crowned at 40 the goal of Alicante. He did not alter the heads of the general classification, who were attentive, vigilant, but unruly, despite the fact that the Jumbo and the Movistar faced their ramps with stiff ears. The influence affected the resolution of the stage, because Gaviria was off the hook, still in pain from his fall on the first day. Jakobsen also left behind, the champion of the Netherlands, with different fate. The Dutchman was able to link his car to the locomotive. The Colombian tried a long way, but lost the train. 444444
A victory of Gaviria would have extended the run of Colombia for the third consecutive day, after the red jersey of Superman López in the team chrono of Torrevieja and the victory of Nairo Quintana in Calpe. Time trial, attack on the plain and sprint. For a long time, admired beetles not only shine on the mountain. 444444
In the absence of Colombians, the Irish shone in Alicante. 2 In the 80s, Sean Kelly and Lucho Herrera fought for the Vuelta. In fact, the last time an Irishman coincided in the triumph of the stage and in the leadership of a Grande was in the Spanish round of 1988, on the penultimate day, when Kelly sentenced the race in the time trial of Collado Villalba. Then, the Irish and the Colombians were exceptional cases, oddities, pioneers ... Today it is no surprise to anyone to see them above. Cycling is universal
4
Photos from as.com