Castro: "In this Seville everyone is super excited"
The president, after the floral offering and on a very emotional day in Nervión, presumes leadership: "These six points no longer take them away."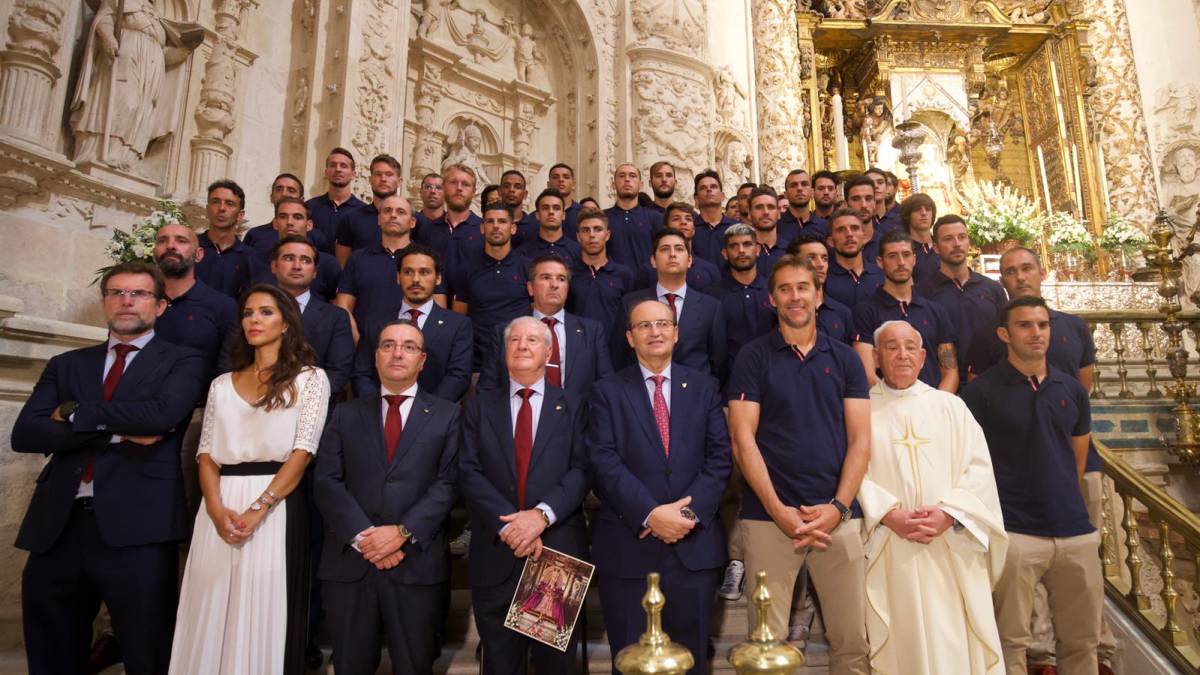 Tomorrow of intense emotions in Seville. The squad celebrated the birthday of his coach Julen Lopetegui and that of the Dutchman Luuk de Jong with the classic colleges hall. Then there was a reminiscent of the figure of Antonio Puerta, whose death is 12 years old on Wednesday, in front of the statue of the player in the Sports City. And then the staff left to the Hispanic Cathedral for the traditional floral offering to the patron saint of the capital, the Virgin of the Kings. 2
"Monchi has made a good painting and passed it to Lopetegui to give him the last last stroke ", Father Indalecio joked before the Mass, in which the footballers Munir and Dabbur were not present, for religious reasons. At the start, President José Castro reviewed the news of the club starting with the leadership: "Better to add six of six than nothing else. We are one of the two teams that has won both games. That is a point of optimism. All the world is super excited, me the first. 2 We have a strong, competitive team, with height and who knows what he plays ".
The president was asked about the contrast between his Sevilla leader and Betis, eternal rival, colista:" For a long time, I have only and exclusively focused on my team We are leaders, we have to be happy because no one is going to take away the six points we have won. 2 We must continue fighting for as many points as possible for the best possible objectives. there is and economic effort has been made for it ".
Castro also spoke of the signing of the striker: " We are an ant club that for many years we have had benefits, and money s e has for when it is necessary to spend it, as now, that there are still paintings for the picture. 2 From the moment of the closing of the market everything can happen. You know that Monchi and his team work with the open market. ¿Mariano? I'm not talking about players from other teams. "At the moment, the president rules out Dabbur's departure even though the club had studied it:" Dabbur is a Sevilla player, we're happy with him, he won't leave. We're not listening to offers for him nor are we going to listen to them ".
In addition, the president talked about the possibility of extending the Sánchez Pizjuán with a third ring:" We will continue so that our stadium is more level and we study how to proceed for a third ring. There are no subscriptions, tickets are missing, therefore space is lacking. It can be done, and we are studying how and when ".
Photos from as.com