Austria, the only lunar and next challenge of Márquez in MotoGP
After celebrating his victory in Brno, his team already thinks about the next challenge, which is to win in Ducati territory one hundred percent, although he faces it "with the same mentality as always".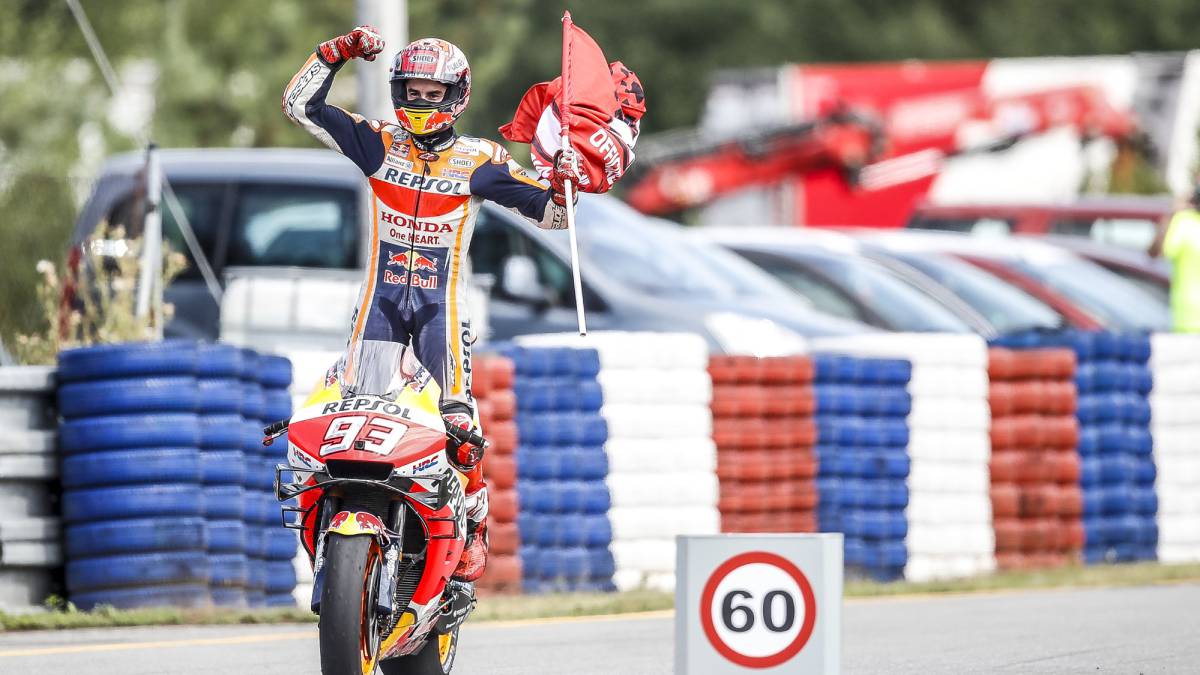 We made reference in the headline of the chronicle of Brno's career that Márquez had won in the Ducati area. Zone and no territory because that level is reached by the next World Cup stop in Austria, where Borgo Panigale's house has celebrated the three victories that have been at stake there with Iannone, Dovizioso and Lorenzo. In fact, the Red Bull Ring is the only circuit on the current calendar in which the champion has never won. This is undoubtedly a new challenge, although from his team they say that they will face it "with the same mentality as always", as Santi Hernández, his chief mechanic assures.
4
Marquez said after his victory in the Czech Republic GP that He was more worried about the mighty Ducati in Brno than what could happen in Spielberg, because Dovizioso had won him last year on the Czech track, where he usually suffers, while in the Austrian he was able to overcome him last year, although Lorenzo beat him.
Of the 19 circuits of the current calendar, Austria's is at the opposite pole of what Germany is for Marquez, where he has won the last ten races he has played there uninterruptedly: 1 in 125cc, 2 in Moto2 and 7 in MotoGP. His podium in this sense is completed by Texas with 6 and Holland, San Marino and Aragon share the third step with 5 wins. In which he has won only once has been Thailand, but because he has not run anything more than once there.
The 68 victories of Marc Márquez in the current MotoGP circuits
Qatar 2 (1 MotoGP and 1 Moto2)
Argentina 3 (MotoGP)
Texas 6 (MotoGP)
Jerez 3 (MotoGP)
France 4 (3 MotoGP and 1 Moto2)
Italy 3 (1 MotoGP, 1 Moto2 and 1 125cc)
3
33 5 (2 MotoGP, 2 Moto2 and 1 125cc)
Germany 10 (7 MotoGP, 2 Moto2 and 1 125cc)
Rep. Czech 4 (3 MotoGP and 1 Moto2)
Austria 0
England 2 (1 MotoGP and 1 125cc)
San Marino 5 (2 MotoGP, 2 Moto2 and 1 125cc)
Aragon 5 (4 MotoGP and 1 333333 44333 44333 44433 MotoGP)
Japan 4 (2 MotoGP, 1 Moto2 and 1 125cc)
Australia 3 (2 MotoGP and 1 125cc)
Malaysia 3 (2 MotoGP and 1 125cc)
Valencia 2 (1 MotoGP and 1 125cc) 4444

Photos from as.com