Approved and suspended from the first defeat of Barcelona
Barça debuts with a failed Valverde experiment and missing Messi. Rakitic and Rafinha, alternates with Busquets, improved the picture.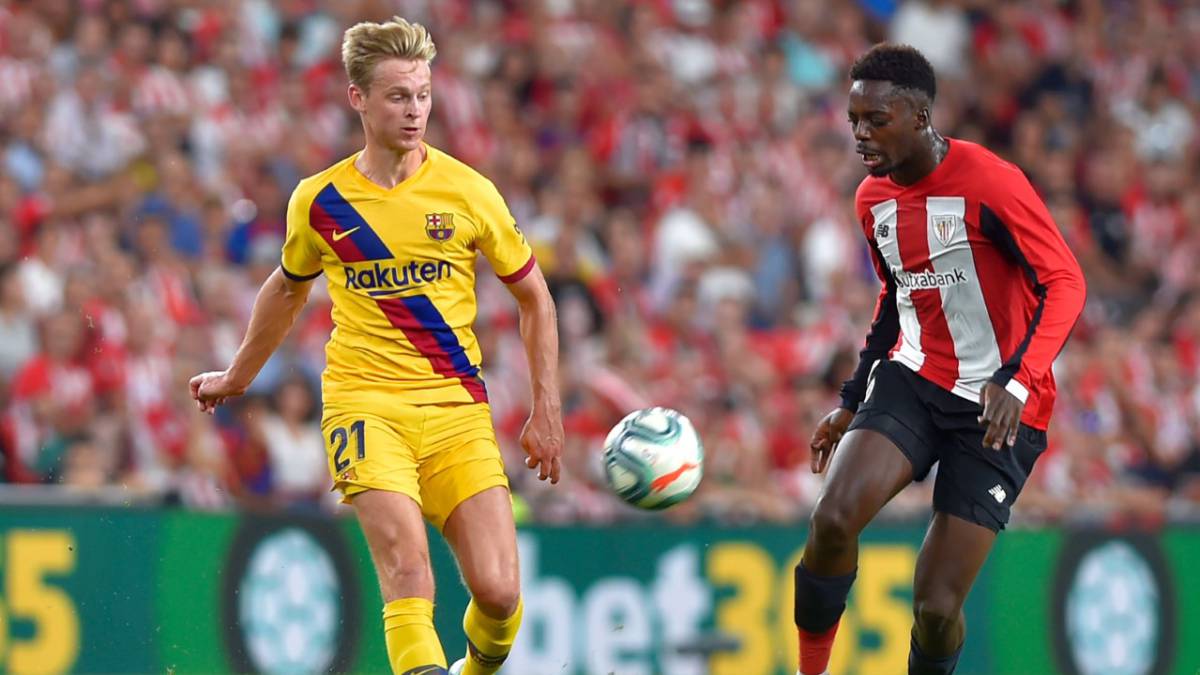 Valverde surprised with his first eleven of the season by leaving Busquets and Rakitic out of eleven once he had already left without summoning Vidal and Arthur. Coutinho stayed in the stands when his transfer to Bayern was closed. The relays suspended:
Ter Stegen. 2 Very sober until Aduriz broke the net with a large scissor. The German made two great stops to Williams in the first quarter of the game. Well placed in the Athletic ball actions and, once again, very reliable in the ball out with the feet. In the 1-0 bit more he could do. 444444
Semedo. Away from that side to which Barça clings to the point of removing it from any negotiation no matter how juicy it may be. With the ball it cost him a lot, he doubled by his band a little and rarely reached the bottom line. He was too eager to defend, obsessed with leaving no spaces behind his back that Williams could exploit. 444444
Especially in the first part, where his midfield did not press in coordination and he was a pagan of the balls behind his back. He saw a yellow card in the second half by elbowing Raul Garcia who had him very conditioned in the last half hour. He turned to attack in the end with the self-love that characterizes him.
Lenglet. Too shy at the start. He evidenced that he still does not have a close relationship with De Jong. The Dutchman asked for it much more than the times they connected, but the central did not dare, as he does with Busquets, to give it in compromised situations. Something slow to move from one band to another. He never dared with the diagonals. In defense, his priority work was serious, forceful in the air game and reliable in the coverage.
Alba. He was the one who missed Messi the most. In the first half it seemed that he was playing for the first time with Griezmann. They did not succeed once to agree to touch, bend, center or go to space. They got too upset, sometimes in a funny way. Then, with Griezmann of nine, the side improved and felt more comfortable with Dembélé. Even so, he did not hurt with those climbs by surprise that every time they are less if Messi is not here to assist.
4
Sergi Roberto. 222222 Transparent for many minutes. In the first half he seemed to have forgotten the interior trade. Little was offered, came into contact with the ball very intermittently and, most worrisome, broke few lines with that electric conduction that sets him apart from the others. He was replaced by Carlos Pérez in the 76th minute. Right now he is not given options to play as a starter, neither on the side nor in the midfield. He came into play less than he liked. Garitano arranged a drawing in which he had few spaces left to maneuver. Something corseted again. He drives, and breaks lines, much less times than he did in Ajax, being more aware of not losing it than of taking risks. Among the three midfielders they occupied very little ground and never won second plays. There began the defeat. 444444

Alena. 2 He did not appear. He was overwhelmed in defense and not very participatory in attack. He barely touched balls and could not almost peek into the rival area. He did not match well with De Jong, as opposed to what happened before Naples, nor did he know how to stagger with Sergi Roberto. They must make complementary movements and they were two photocopies. He was replaced at the break, so he could not take advantage of the occasion provided by Valverde.

4

Dembélé. One of the most active. It overflowed less than usual, but leaked good interior passes. It began on the right and then was seen on the left, where Griezmann was caged favored by the change of plans that forced Suárez's injury. He tried not to shoot at mid-range goal and was signaled in Athletic's goal by not doing his homework. It needs spaces to explode and in San Mamés there is no such thing. It hurts to see him take the ball off with other artists on the field.

Suárez. He left injured in the 35 'by a puncture in one of his twins. He was combative in the half hour he played, but he again failed too many seemingly simple passes for his insistence on playing first without being precisely a virtuoso in that fate. He did not show much coordination with Griezmann and Dembélé. His best occasion was in his last intervention. Renqueante in the area received a ball behind an Athletic defender who took the opportunity to crash it against the stick. 444444

Griezmann. 222222 Very discreet match that of his official debut. Something better inside than outside. In band he hindered Jordi Alba, did not find his teammates and never seemed a threat. As beforecenter contributed spark and good unchecking and set the centrals. However, he found no goal at any time. For now it shows an extreme shyness to face. He still has a hard time understanding each other with his teammates and is overwhelmed by locked defenses. 444444

Changes:

Rafinha. 222222 The best of Barça. He left Suárez after half an hour with the mission of breaking the monotony of the midfield and providing more arrival than what Sergi Roberto and Aleñá were offering. He joined the team much more association than there was, he moved well between the lines and stepped on the area a lot. Much self-esteem and physically showed a great level. That allowed him to shine above the rest, with a somewhat better rhythm. 444444

Rakitic. 2 He entered the break to shed some light in the midfield. In just ten minutes, the first ones did much more interesting things than the rest of their demarcation partners together throughout the game. He paused, he had a better spin on the inside with the top three, he knew how to alternate the short pass with the long one and, above all, he never got tired of changing the direction of the game over and over again with an always threatening look on his forehead. 444444

Carlos Pérez . He left Sergi Roberto to try to contribute some nerve to the attack. He played close to the right wing, where he faced and showed personality without being able to finish any play brilliantly. 444444



Photos from as.com