Xabi Alonso: "I do not want to be a copy-stick of the coaches I've had"
The tolosarra, that returns to Zubieta 15 years later, is presented like technician of the branch of the Real one for the two next seasons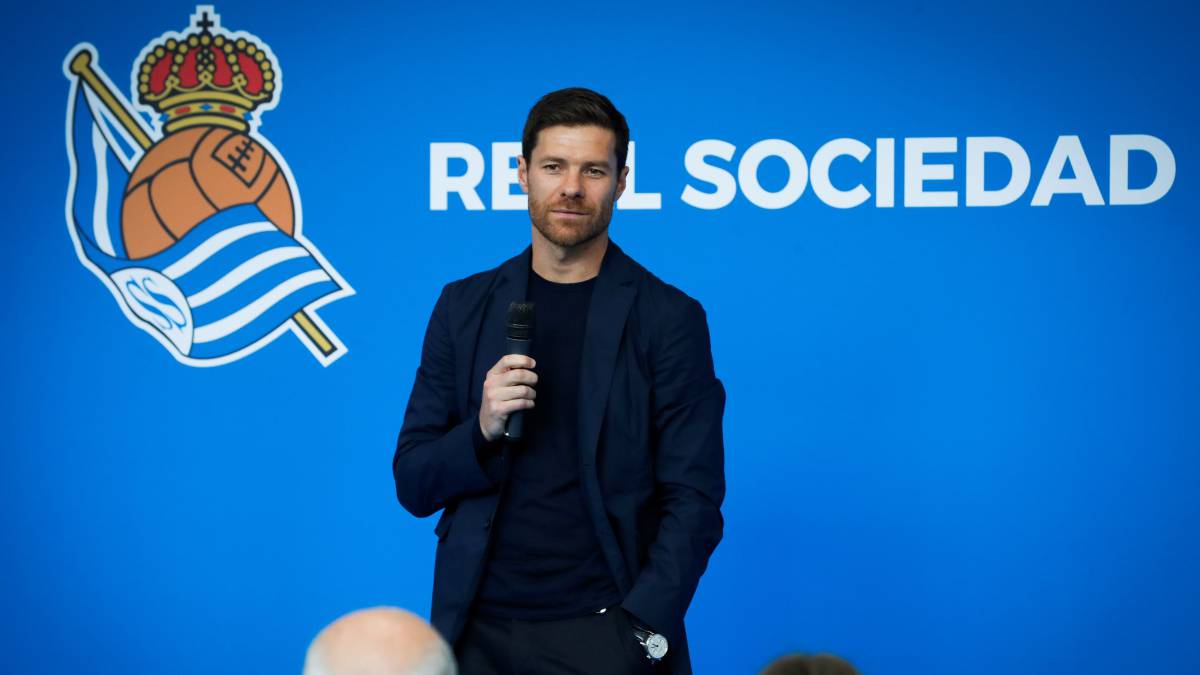 Xabi Alonso returns home. 15 years later, the tolosarra has returned to Zubieta to be presented as the new coach of the branch of Real Sociedad for the next two seasons. The realistic presidents, Jokin Aperribay, has welcomed him with words full of feeling. "That you return to the Real is like connecting the past with the present and the present with the illusions. It's hard for me to talk, because you've done a lot in your career and you've always carried the name of the Real for all the places you've gone. And that you've agreed to come to the Real for us is very important, because you're going to train the jewel from the crown of the club, to our homegrown players in their last formation step. And with that you teach them a part of what you have learned as a player and it will be a lot. "
Afterwards, Xabi Alonso himself has already explained the reasons to return home and to coach the subsidiary, taking another important step in his newly released career as a technician.
Reasons to sign for Real. "There are many reasons, after many years out, it was time to go home. The project that is being built here in Zubieta is beautiful and I want to get into that process and it is a responsibility to train the Sanse and help the players in that last step of their formation ".
Vital moment." There is a moment for everything in the life. There was a moment to leave and now to return. Sports reasons, to return home, to return to an exciting project and I have to adapt to that project. Getting into the dynamic that is in Zubieta is important for me. "
Xabi Alonso coach." I think you can not tell much from how you were as a player, I liked to read the games and prepare them well and then try to control them. And as a coach I would also like it to be that way, to be a versatile team and adapt to what the match asks of you. From what I see the team from the Real's academy, what I want as a coach is not going to be very different. "
Herencia of many coaches." I'll have taken something from everyone, starting with the ones I had here: Clemente That made me debut, Toshack, Olabe and Denueix, who was the first to change everything in my character as a player and it was a little special. Of all I have learned and I have tried to be close with them. But with all that, what I do not want to be is a copy-paste, because that always goes wrong. The idea is to apply everything you've learned to create your style. "
Creating with the homegrown Real." The two are united, I'm going to learn a lot from what the players are learning, I come here to help you, many players will have spent a lot of time in Zubieta and will be in the last step to make the leap to the first team, and it is the most complicated ".
Identified with the style of the Real." What I have seen of how teams play Real in Zubieta and how I like to play is similar. It's about knowing how to read the game and what is needed in each game, that's my idea. And that's where I'm going to start. "
Ambitious on the bench." He did not look any further, now I'm here, I'm starting, but I hope to have a long career and I hope it's here a long time. If I have started training and I like to train, it is because I want to make this career as a coach so that it is long, but where I want it to go I can not control it. What I can control is what starts here, because the field is the one that commands ".
Good moment in Real." There is great stability in the club so that it moves in sports, and that has made it happen Great Health at an individual level in all areas. And that so many players have come to the first team is a clear sign that is committed to the quarry. "
No pressure." The pressure always exists in football, is something that you have to live, is there, and do not dedicate yourself to this ".
What do you want to transmit to your players? 2" First you have to have passion. I have always liked soccer, the passion for the game and being able to sting to them why things happen. If I am able to put that to a player, I will have achieved gold and that is what I have to shape it. You have to control the processes ".
No look beyond." I mark the Real, because it is the best place where I can be. I feel at home and as if I had returned to where I came from as a player. The road is then made by walking. "
Alguacil." I see him very prepared, focused and passionate, with a very defined focus and my job will be that we can help you with players who can climb, there will be permanent communication to help you as much as possible ".
Aprendizajconstant. "Training and evolution never ends. And with the subsidiary you must know how to adapt to the message you launch, but if you do not compete and go for the matches, the first message remains empty of content. The players will be convinced of what you tell them with results. You can not cheat the players. "
Expectations." I am ambitious and want to try to do my best. And then the competition will tell us where we are. And then get them to understand the game and their own ambition and demand, because the talent already has it ".
Madrid's pace to Real." The changes you have to assume and it's not easy to do it. There in Madrid I have been very comfortable but you always think about what is coming and not about what you leave behind. And growing up and doing it at home is fundamental, I did not find a better scenario than this, and then time will see if I was successful in combining those two things, which excite me a lot ".
Photos from as.com