Sousa: first Portuguese in the second round, friend of Nadal and Cristiano; disciple of Roig ...
Joao Sousa (Guimaraes, 30 years old), has lived since he was 15 years old in Barcelona and was supervised in the BTT Academy by the coach of Nadal, his rival on Monday.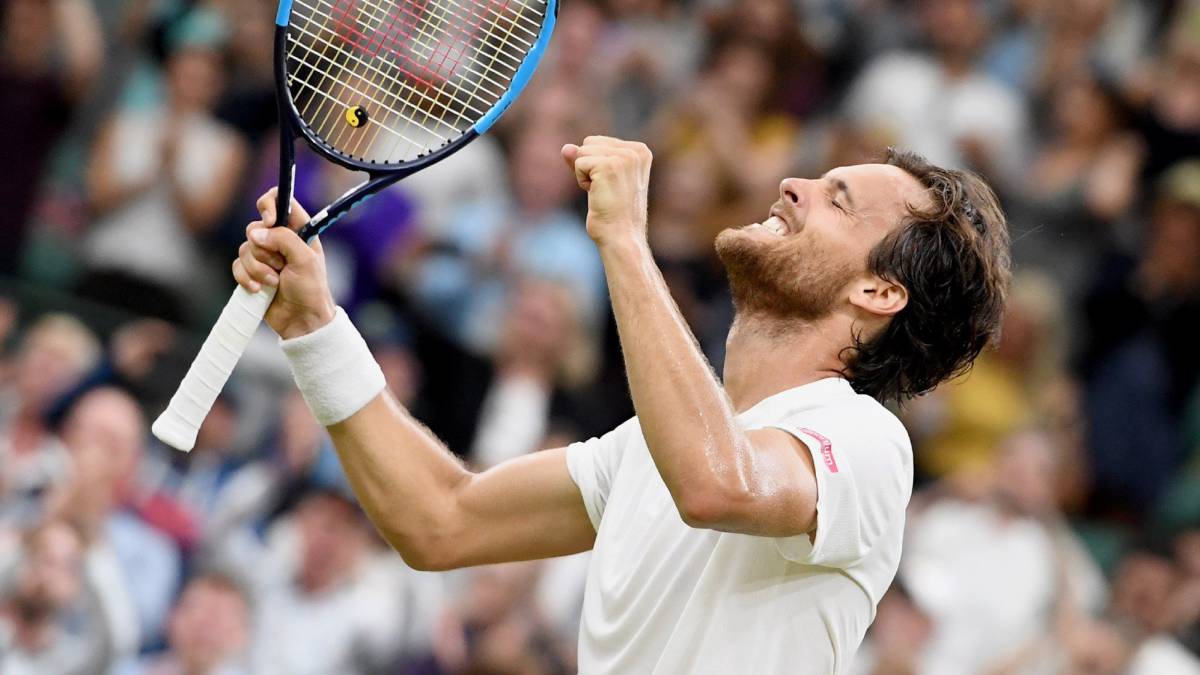 Joao Sousa (Guimaraes, 30 years old and 69th in the world) became the first Portuguese to reach the round of 16 in the history of Wimbledon on Saturday and on Monday he will face Rafa Nadal, with whom he has many ties, as well as a buena amistad. Sousa, son of a judge and a bank employee, moved to Barcelona at the age of 15 with the intention of becoming a professional tennis player and there he entered the BTT Academy, where he was supervised by the current Balearic coach, Francis Roig. Rafa, two years older than him, already stood out and was preparing at Real Club Tenis Barcelona with his uncle Toni. In Barcelona, both met and now Sousa regularly visits the world number two academy in Manacor.
"I have made history for my country and I am proud to be part of it. We are a small nation, but I am also proud to be from that small country, "said Sousa after beating the British Dan Evans with the encouragement of José Mourinho, who was supporting him from the stands of track 1 and with whom he came to share a representative, Jorge Mendes, agent also of Cristiano Ronaldo, another friend of Sousa who followed him on occasion. In fact, the Juventus footballer witnessed one of the two matches that the Luso has played against Nadal in the ATP, in the quarterfinals of the Mutua Madrid Open 2016, with victory in three sets of the Spanish (the other was in the Brazil Open of Rio 2016, also with Rafa's triumph) .
Sousa is able to speak in perfect Castilian, without an accent, and it handles well in English, French, Italian and Catalan. He grew up admiring Juan Carlos Ferrero, Pete Sampras and Roger Federer, and although he is a ground specialist, he has uncovered himself in Wimbledon with the help of the particular slowness of the grass. In the second round he got down to Marin Cilic and now he will see them with Nadal. "He's a great player, there are no words to describe him ... I'm sure he'll have people against me again (like against Evans), I hope I can play at a good level and give my best to win," he said. Joao, inveterate soccer fan, as an occasional player and as a spectator, in fact, if he had not been a tennis player, he would have liked to be a soccer player or a doctor. Y is a sex simbol in Portugal, where he has appeared several times on the covers of magazines such as Men's Health or GQ, which named him Man of the Year in Sports in 2018, the year in which he fulfilled one of his dreams, winning the title of Estoril (he has another two, Valencia 2015 and Kuala Lumpur 2013) .
It has its own website and it works well as a model. "The girls chase me a little, I'm aware that I have a good image, but I'm not a man who dazzles at first sight" , joked during an interview in 2015 Sousa, avid reader with the cultural background that gave him " leave home soon and travel a lot. " This Monday will have its moment of glory against Rafa Nadal and in the temple of the central Wimbledon.
Photos from as.com