Simeone test with the 4-3-3 ... very on top of Joao Félix
Saponjic passed the medical examination in the morning and in the afternoon trained in San Rafael although it is not official, with permission from Benfica.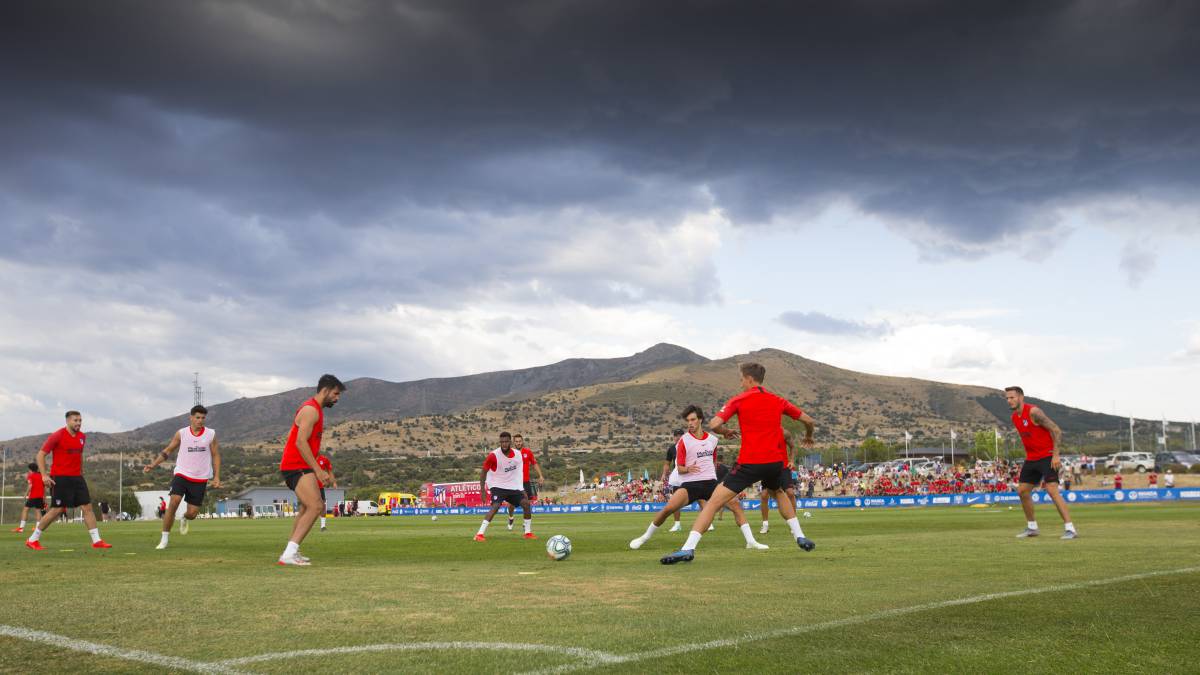 First training of Atlético in San Rafael with the ball and the plans of Cholo Simeone for season 2019-20 already fill the grass. The first is that the Argentine coach wants to have all his men from the first day. It happened with Lodi in the morning, it happened again in the afternoon with Saponjic. Although his signing is not yet official he passed the medical examination in the morning and in the afternoon he was there, the player number 23 of the Simeone field in San Rafael, with the permission of Benfica.
A session of an hour and a half that was very intense and left a stamp: the first game system that Simeone has begun to work is 4-3-3. The coach performed defensive tilt exercises for half an hour with the entire squad (except the goalkeepers, who worked separately with Pablo Vercellone, their preparation, which was the first Oblak session with the group) and with several players in the same position . On the right side were Carlos Isaac and Solano, the central right were Savic and Toni Moya, left Felipe and Montero while Lodi and Manu Sánchez were on the left side. In the center of the field, on the one hand Koke and Herrera, on the other Saul and Llorente while Sanabria accompanied Lemar. At the tip, Saponjic, Kalinic and Morata. On the right, Roro, Correa and Costa. On the left, Camello, Vitolo and Joao Félix. About the last one was very much on Simeone.
On top of Joao Félix
The first part of the session had already finished, with the physical circuit of the Profe, the exercises had passed to work on the control (between cries of "quality, quality", "all of first", repeated like a mantra) , docaba rondo. And defend, defend, defend. "To steal, not to look, to steal," Cholo directed the Portuguese. "Take out your leg," he insisted. "Look at the ball," he repeated, molding Portuguese as it happened with Griezmann. The ball occupied the last part of session . With Marcos Llorente blunt in the robbery, he had learned the lesson, Vitolo blunt in each action, including goals, and Oblak as always: the step was filled with 'ohhhhh' to see so close that always. One of its paradones. Right after the session ended. On time. A summer storm was unleashed at that time on Los Angeles de San Rafael.
Photos from as.com