Schedule, matches and dates of FC Barcelona in LaLiga 2019/2020
Check all the dates of the FC Barcelona matches in the First Division Championship that starts on the weekend of August 17 and 18.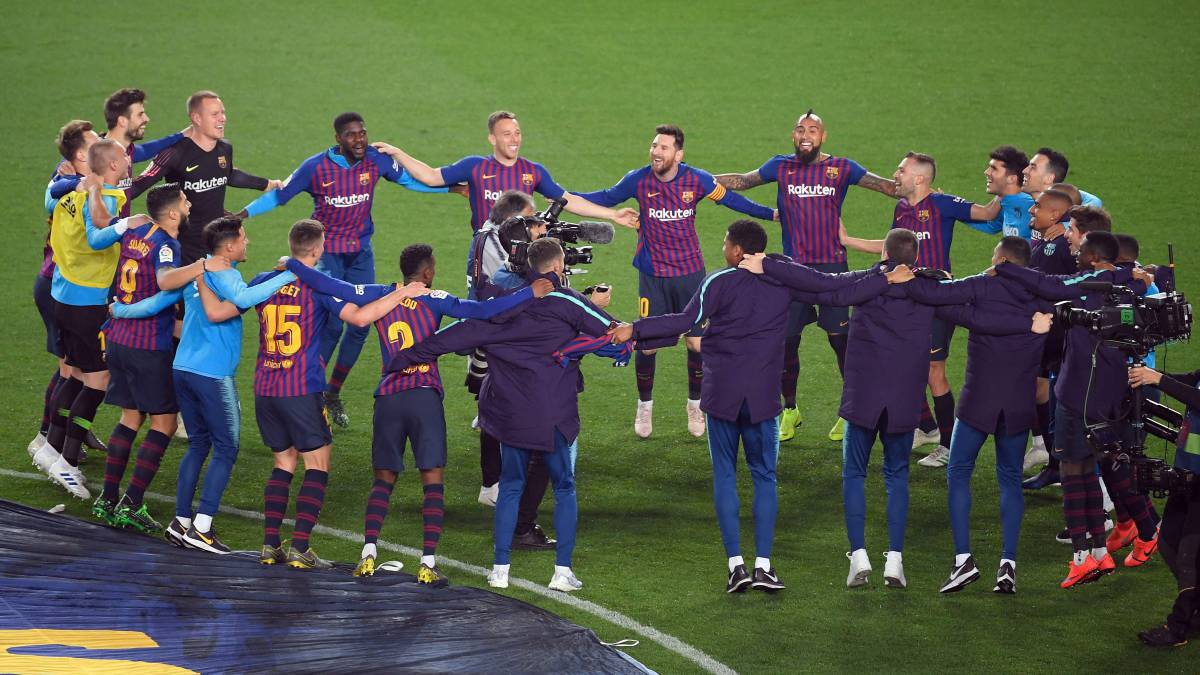 FC Barcelona will seek to re-raise the league title as it has done in four of the last five editions of the championship. The 2018/2019 season was not as expected in the club that plays its games at the Camp Nou. Although they were La Liga champions, they were eliminated in the Champions League semi-finals against Liverpool and were defeated by Valencia CF in the final of the Copa del Rey. Josep Maria Bartomeu, president of Barça, relied on Ernesto Valverde and the coach will remain on the Blaugrana bench. Leo Messi will seek to win the Pichichi Trophy for the fourth consecutive season.
In addition to the continuity of the 'Txingurri', Barça has signed Frenkie de Jong of Ajax and Neto del Valencia. All with the aim of choosing to return to raise the national league championship. Just like last season, the league calendar will be asymmetric. That means that the order of the days of the first round does not correspond to that of the second. Ernesto Valverde's team will start the championship in San Mamés visiting Athletic Club and will close it the weekend of May 23 and 24 visiting Deportivo Alavés.
First round LaLiga Santander Jornada 1: Athletic Club-FC Barcelona (17/18) August) Day 2: FC Barcelona-Real Betis (24/25 August) Day 3: Osasuna-FC Barcelona (August 31 / September 1) Day 4: FC Barcelona-Valencia (September 14/15) Day 5: Granada-FC Barcelona (21/22 September) Day 6: FC Barcelona-Villarreal (24/25 September) Day 7: Getafe-FC Barcelona (September 28/29) Day 8: FC Barcelona-Sevilla (October 5/6) Day 9: Eibar- FC Barcelona (19/20 October)
Jornada 10: FC Barcelona-Real Madrid (26/27 October)
Jornada 11: FC Barcelona-Real Valladolid (29/30 October) Day 12: Levante-FC Barcelona (2/3 November) Matchday 13: FC Barcelona-Celta de Vigo (9/10 November) Day 14: Leganés-FC Barcelona (23/24 November)
Jornada 15: Atlético de Madrid-FC Barcelona (November 30 / December 1)
Game 16: FC Barcelona-Mallorca (December 7/8) Day 17: Real Sociedad-FC Barcelona (December 14/15) Day 18: FC Barcelona-Alavés (December 21/22) Day 19 : Espanyol-FC Barcelona (4/5 January) Second round LaLiga Santander Day 20: FC Barcelona-Granada (18/19 January) Day 21: Valencia-FC Barcelona (25/26 January) Day 22: FC Barcelona-Levante (1 / February 2) Day 23: Real Betis-FC Barcelona (8/9 February) Day 24: FC Barcelona-Getafe (February 15/16) Day 25: FC Barcelona-Eibar (February 22/23)
Game 26: Real Madrid- FC Barcelona (29 February / 1 March)
Jornada 27: FC Barcelona-Real Sociedad (7/8 March) Day 28: Mallorca-FC Barcelona (14/15 March) Day 29: FC Barcelona-Leganés (21/22 March) Matchday 30: Sevilla-FC Barcelona (4/5 April) Day 31: FC Barcelona-Athletic Club (11/12 April) Day 32: Celta de Vigo-FC Barcelona (21/22 April)
Jornada 33: FC Barcelona-Atlético de Madrid (April 25/26)
Jornada 34: Villarreal-FC Barcelona (2/3 May) Day 35: FC Barcelona-Espanyol (9/10 May) Day 36: Real Valladolid-FC Barcelona (12/13 May) Day 37: FC Barcelona-Osasuna (16/17) May) Day 38: Alavés-FC Barcelona (May 23/24)
Photos from as.com